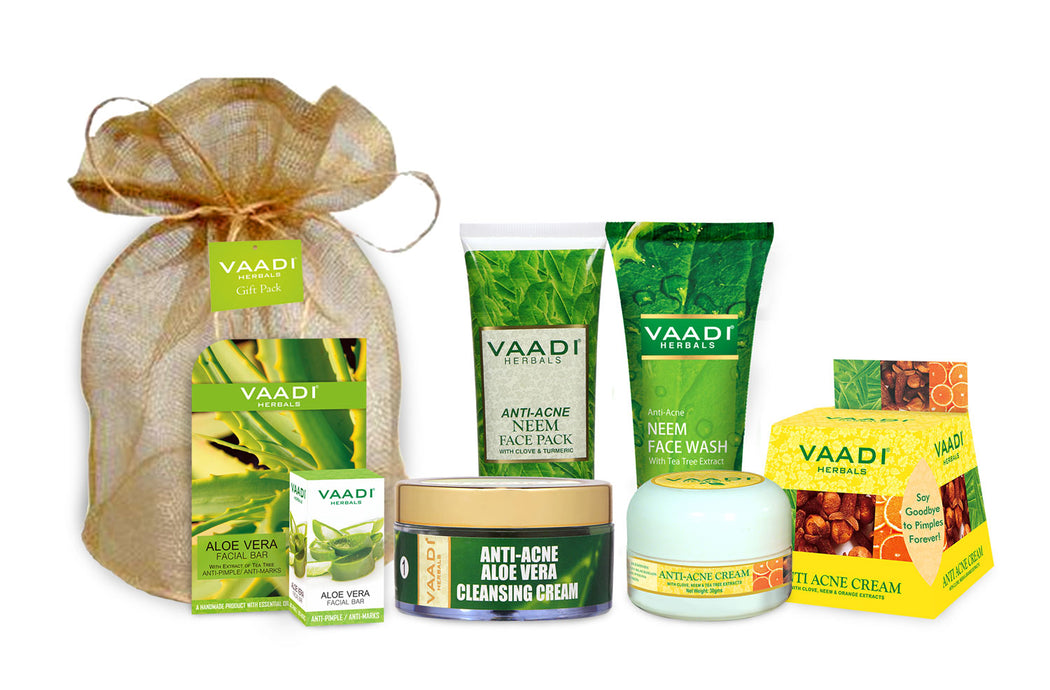 Acne Treatment Set - Aloe Vera - Removes Acne & Pimple Marks (285 gms)
M.R.P. incl. of all taxes.
This unique Acne Treatment set is specifically aimed to reduce acne and fade acne marks and scars. Its main ingredient Aloe Vera is gentle on the skin and disinfects the area around acne. It reduces redness and protects sensitive skin from sun exposure, pollution and dirt. It also helps regulate excess sebum while retaining the natural moisture in the skin, without making it excessively dry.

Ingredients : Neem Extract, Tea Tree Extract, Clove Oil, Aloe Vera Extract, Cedar Wood Oil, Grape Seed Extract, Lemon Peel Extract, Tea Tree Oil, Turmeric Extract, Honey

This skin care set comprises of the following 

Anti Acne Neem Face Wash (60 ml)

This double-action formulation controls acne by regulating sebum (oil) production, and killing the acne-causing bacteria. Neem's anti-bacterial and astringent actions also unclog pores and prevent recurrence of acne. Anti-oxidant Tea Tree Extract helps acne lesions heal faster and soothes skin, whilst its antimicrobial activity controls infection.

Anti Acne Cream (30 gms)

An innovative formulation, this cream tackles the acne problem at its very root. The anti-bacterial action of Clove Oil, along with Neem & Orange Extracts, kills the acne-causing bacteria. Their astringency further controls excess oil as well as unclogs and shrinks skin pores to prevent future eruptions too. Its regular use leaves your face healthy & acne-free!

Aloe Vera Cleansing Cream (50 gms)

Enriched with Aloe Vera extract & scientifically chosen herbal ingredients, this Cleansing Cream effectively removes Skin impurities and excess sebum. Aloe Vera hydrates the Skin and keeps it super soft and supple. 

 

Anti Acne Neem Face Pack (120 gms)

A potent anti-microbial formulation, this facial pack keeps the skin healthy and acne-free. It kills acne-causing bacteria, cleanses clogged pores, as well as removes excess oil from the surface. In short, it eliminates all the external causes of acne and blackheads; granting you lasting freedom from both! 

Aloe Vera Facial Bar (25 gms)

Aloe Vera in this facial bar supplemented with Tea Tree extracts acts as an anti-septic agent and rids the face of acne-causing bacteria. This specialised facial soap keeps the skin problem free and gently lightens marks.

Neem Face Wash - Squeeze A Small Quantity On Wet Palm Of Your Hand. Apply On Wet Face With Circular Motions. Wash Off. For Best Results Use Regularly Morning & Evening.

Neem Face Pack -  Apply A Generous Amount Of This Pack On Face And Neck, Avoiding Eyes. Relax Till Completely Dry. Rinse With Fresh Water. Follow With Vaadi Herbals Sun Shield Sunscreen Cream.

Anti Acne Cream -  Cleanse Your Face With Vaadi Face Wash Or A Mild Soap And Pat Dry. Apply This Anti-Acne Cream Gently All Over The Face. Apply Once Daily.

Aloe Vera Cleansing Cream -  Apply A Generous Layer On The Face And Neck. Massage Gently In Circular Motions For 5-7 Minutes. Rinse Thoroughly Or Remove With Moist Cotton.

Ingredients : Steam Distilled Aloe Vera Extract (Aloe Vera Callus Extract), Green Tea Extract (Camellia Sinensis), Lemon Peel Extract (Citrus Limon Peel Extract), Pure Neem Extract (Azadirachta indica), Steam Distilled Clove Extract (Eugenia Caryophyllus), Clove Oil (Eugenia Caryophyllus Stem Oil), Neem Leaf Extract ( Melia Azadirachta Leaf Extract), Steam Distilled Neem Extract (Melia Azadirachta), Tulsi Extract (Ocimum sanctum), Aloe Vera Gel (Aloe Barbadensis), DM Water (Aqua) 
Country of Origin: India
Manufacturer & Packer: Vaadi Herbals Pvt. Ltd.
Address: A-40, Jhilmil Industrial Area, Shahdara, East Delhi, Delhi - 110095.