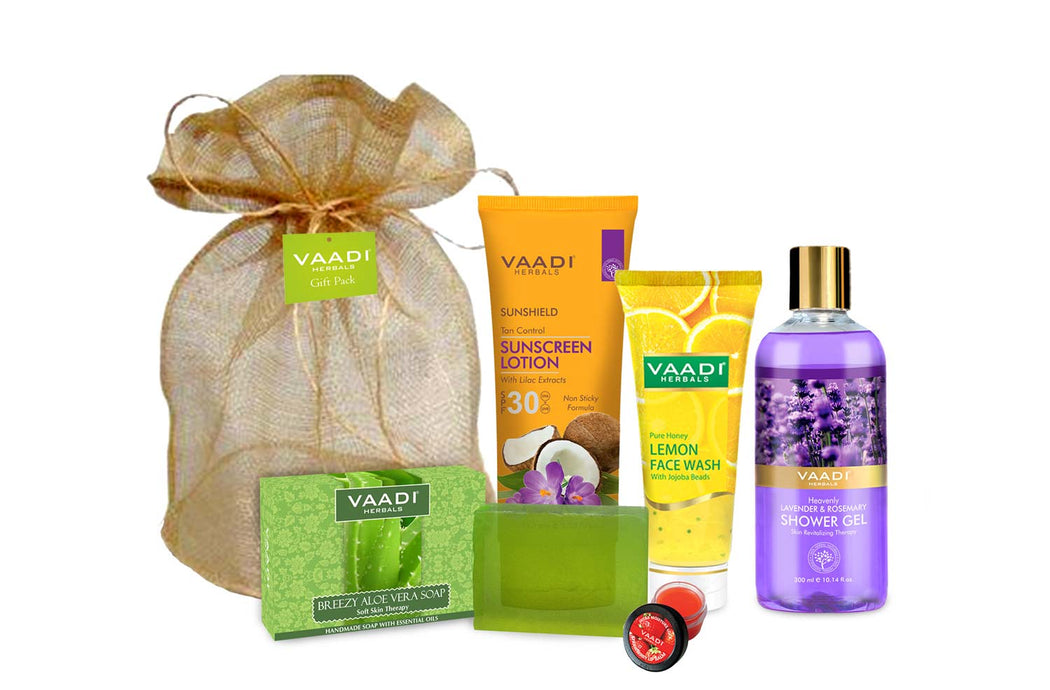 All Purpose Complete Skin Care Travel Kit (555 gms)
M.R.P. incl. of all taxes.
This Travel Set ensures that your skin is protected from sun, pollution and dirt and remains hydrated all day by locking in the natural moisture of the skin while you are on the move. Its products take care of your skin care needs while you travel and keeps you stress free about giving extra attention to your skin.

Ingredients : Lilac Extract (Syringa Vulgaris), Steam Distilled Lavender Extract (Lavandula Angustifolia), Birch Extract ( BETULA ALBA BARK EXTRACT), Coconut Oil Derivative (Cocos Nucifera), Steam Distilled Lemon Extract (Citrus Medica Limonum), Honey (Mel Extract), Coconut Oil Derivative (Cocos Nucifera), Extracts Of Lavender ( Lavandula Angustifolia Water), Rosemary Extract ( Rosmarinus Officinalis Extract), Lavender Essential Oil (Lavandula Officinalis Flower Oil), Steam Distilled Aloe Vera Extract (Aloe Barbadensis), Steam Distilled Strawberry Extract (Fragaria Vesca Fruit Extract), Strawberry Essential Oil (Fragaria Vesca Fruit Oil), DM Water (Aqua)

 

This skin care set comprises of the following

Honey Lemon Face Wash With Jojoba Beads (60 ML)

A perfect cleanser that only rids the face of excess oil, but also ensures that it doesn't dry up. Lemon's acidic nature breaks down the excessive oil molecules and unclogs the pores, thus fighting acne break-outs and blackheads. Honey, a natural humectant, keeps the skin hydrated and also fights acne.

Sunscreen Lotion SPF-30 with Lilac Extract (110 ml)

An all-season essential, this non-greasy lotion protects the skin from harmful UV rays of the sun and prevents it from tanning. The Lilac extract protects the skin against sun burn, while soothing it post exposure. Its anti-oxidant components act as a shield and prevent damage to the skin cells due to over-exposure to the sun's rays.

Breezy Aloe Vera Soap (75 gms)

This specialized formulation of a two layered soap provides you with the combined benefits of both Aloe Vera and Honey. The Aloe Vera extract in the soap acts as an anti-inflammatory and anti-infective, which along with its soothing property, makes this soap a must have in your cleansing regime. Honey in the soap hydrates dull, dry and chapped skin and helps to regain its natural glow from within.

Heavenly Lavender & Rosemarry Shower Gel (300 ml)

This shower gel is specially formulated to rejuvenate dull, parched skin. Lavender helps boost blood circulation; relieves puffiness in the skin and deeply moisturizes skin.

 

 Lip Balm - Strawberry & Honey (10 gms)

Vaadi Herbals Lip Balm Strawberry & Honey contains strawberry extracts, Vitamin-E, Honey and Almond Oil.

 

 

 

Lemon Face Wash - Squeeze A Small Quantity On Wet Palms. Crush Mili Capsules And Work Out Lather. Apply On Wet Face With Circular Movements. Wash Off.

Sunscreen Lotion SPF - 30 - Apply Liberally And Evenly On Face And Exposed Parts Of Body (Neck, Arms, Legs Etc.) Before Exposure To Sun.

Strawberry Lip Balm - Clean Lip Gently And Use Your Fingers To Apply The Lip Balm To Your Lips.

Breezy Aloe Vera Soap -  Take Soap And Lather In The Hands. Apply The Lather To The Entire Body, Gently Massage And Enjoy The Pure Delight Of Our Herbal

Lavender Shower Gel - Turn on the shower and step inside Pour some gel onto a ponge or washcloth Lather the soap Gently scrub yourself all over Rinse it all off.
Country of Origin: India
Manufacturer & Packer: Vaadi Herbals Pvt. Ltd.
Address: A-40, Jhilmil Industrial Area, Shahdara, East Delhi, Delhi - 110095.