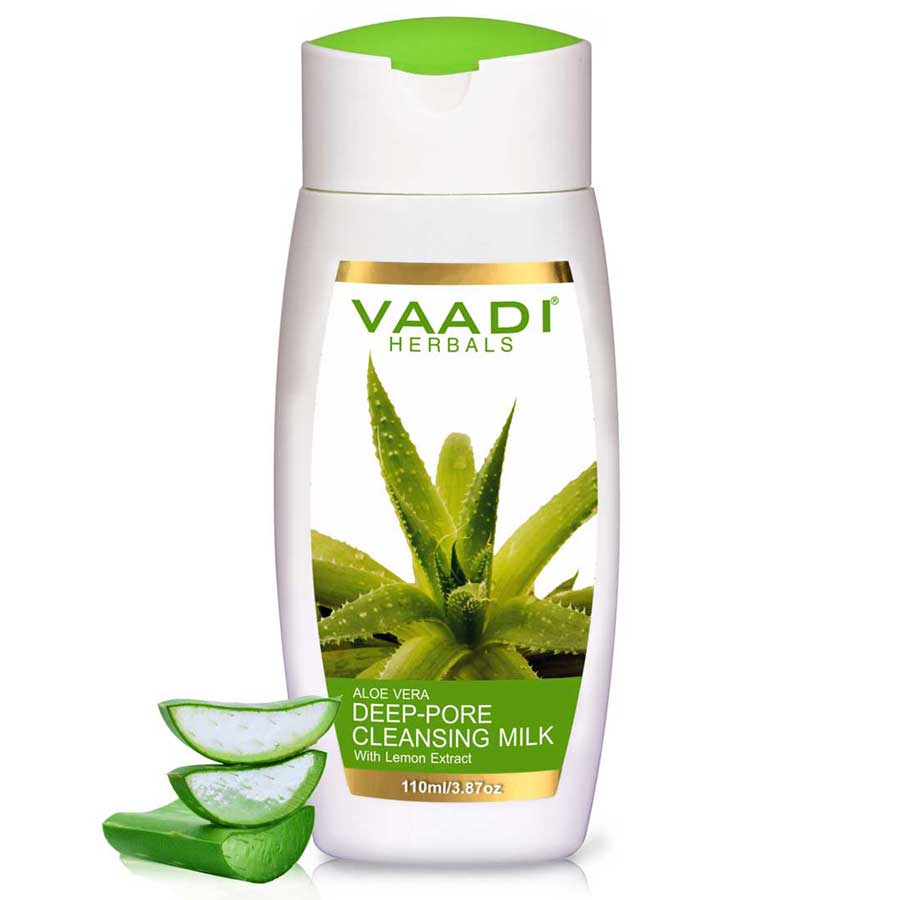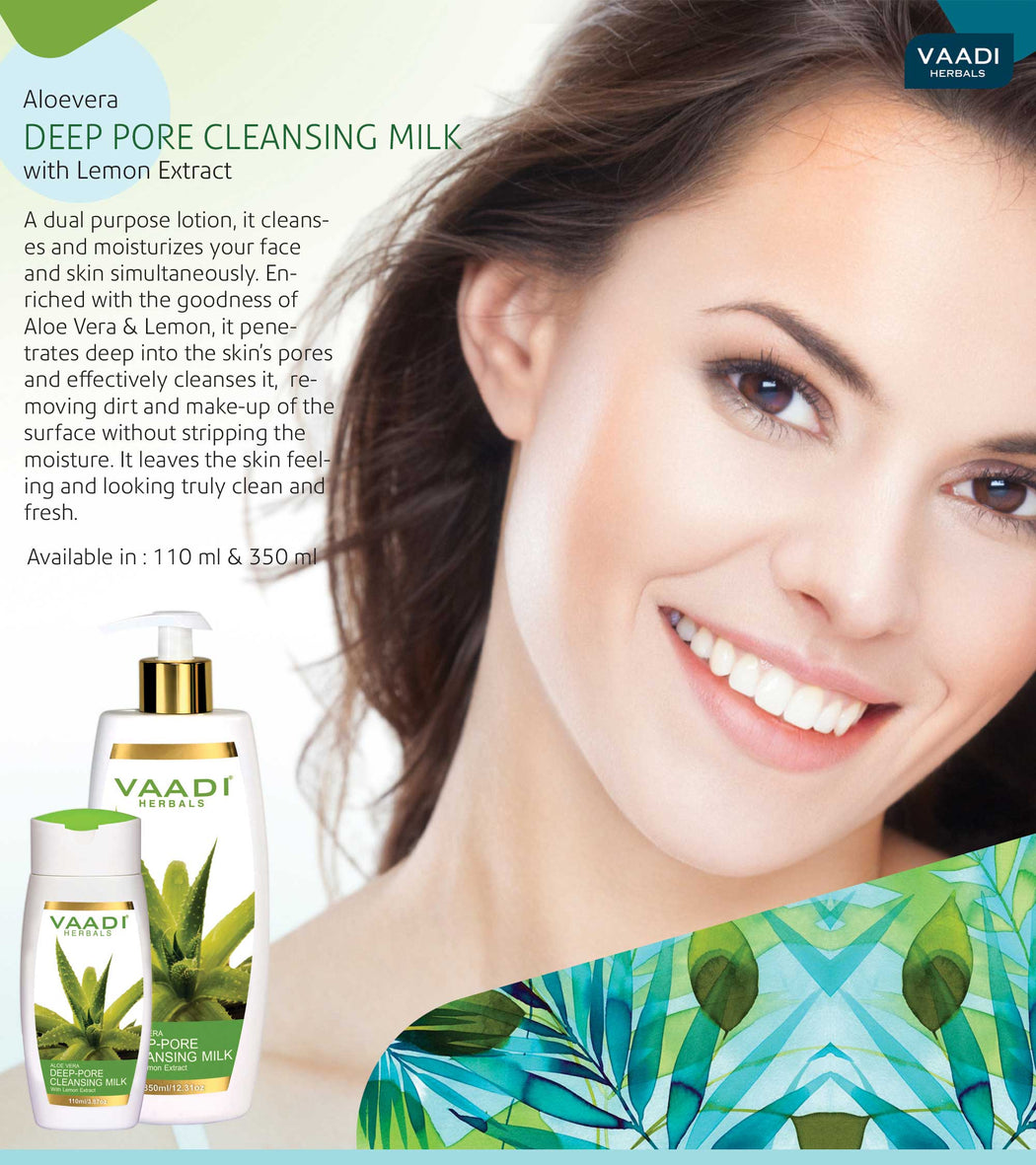 Aloe Vera Deep Pore Cleansing Milk With Lemon Extract (110 ml)
M.R.P. incl. of all taxes.
A dual purpose lotion, it cleanses and moisturizes your face simultaneously. Enriched with the goodness of Aloe Vera & Lemon, this penetrates deep into the skin's pores and effectively cleanses your face; ridding it of dirt & make-up; without stealing its moisture. You are left feeling and looking truly clean and fresh!

Ingredients : Steam Distilled Aloe Vera Extract (Aloe Barbadensis), Lemon Peel Extract (Citrus Medica Limonum), Coconut Oil Derivative (Cocos Nucifera), Pure Rose Water (Rosa Centifolia), Jojoba Oil (Simmondsia Chinensis), Organic Honey (Mel Extract), DM Water (Aqua)

Why is cleansing milk more effective than face wash ?

Skin Cleansing refers to cleaning the skin, remove the undesired dust particles, accumulated dirt on the surface of the skin, and rejuvenate the skin in the best possible way. Skin cleansing is also vital because skin, being forever exposes and prone to tanning, discoloration, wrinkles and skin break-outs, can lose it's nutrients and luster over a matter of hours. Thus, to ensure that skin stays safe damage, a regular regime of Cleansing is essential. Furthermore, Skin cleansing is the best way to pamper skin and prevent dry-dull and chapped skin. Perfect Cleansing milk ensures that skin becomes smoother, softer and is free from any skin problems. Cleansing milk with the added goodness of Lemon and Aloe-Vera perhaps the best combination which would not only cleanse the skin but also moisturize and nourish it to health.

How does Lemon ensure a perfectly cleansed skin ?

Concentrated lemon juice is extracted from the lemon (citrus) plant and further mixed in the right proportions to make sure it doesn't irritate the skin with it's acidic nature. Lemon is known to be the best naturally occurring cleanser, skin whitener and astringent. Lemon gently percolates down the skin's surface to the pores and unclogs them. This reduces the occurrence of blackheads, pimples and any kind of skin eruptions. Lemon is a great exfoliating agent. Being rich in Vitamin C grants Lemon the ease of playing with age. Lemon fades away wrinkles and fine lines adding life to your skin, reducing years on your face. With it's active skin-protection role, lemon safeguards the skin from the sun's strong UV rays which damage the skin to a great extent. Lemon neutralizes the effect of pollution, everyday wear and tear thereby helping in maintaining a supple and clear skin.

How does Aloe Vera prove to be beneficial in moisturizing the skin ?

Extracted from the medicinal Aloe Vera plant's leaves by process of squeezing, Aloe Vera gel is a skin-repair factory in itself. For every possible skin ailment that can occur, Aloe Vera gel holds the solution. Aloe-Vera is an excellent ingredient because it nourishes dull and dry skin from within, makes the skin softer. The skin looks graceful is thoroughly moisturized. Aloe Vera cures dry patches and treats post-acne rough skin. With lemon acting as a perfect cleanser, Aloe Vera makes sure to retain the suppleness and lock the moisture. Aloe Vera also catalyzes the action of lemon in facilitating the removal of accumulated dead cells, trapped impurities and dirt yielding a flawless sheen."

Apply All Over The Face And Neck With Circular Movement. Wipe Off With Either Damp Cotton Or Wash Off With Water.
Country of Origin: India
Manufacturer & Packer: Vaadi Herbals Pvt. Ltd.
Address: A-40, Jhilmil Industrial Area, Shahdara, East Delhi, Delhi - 110095.