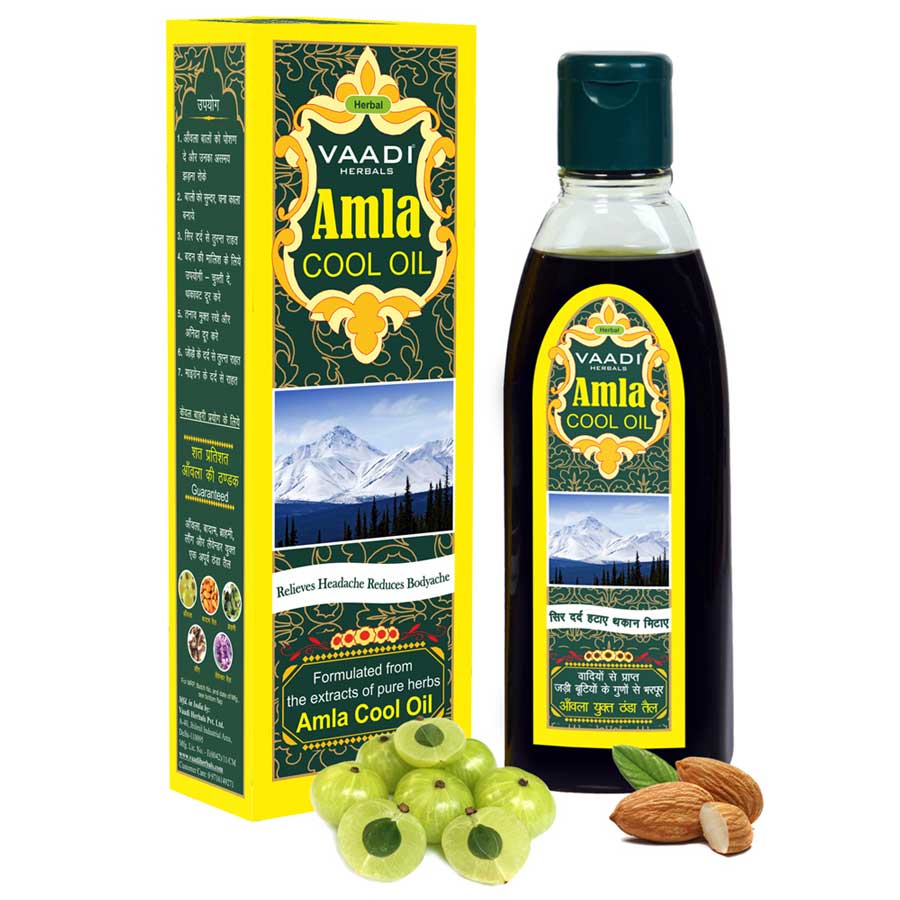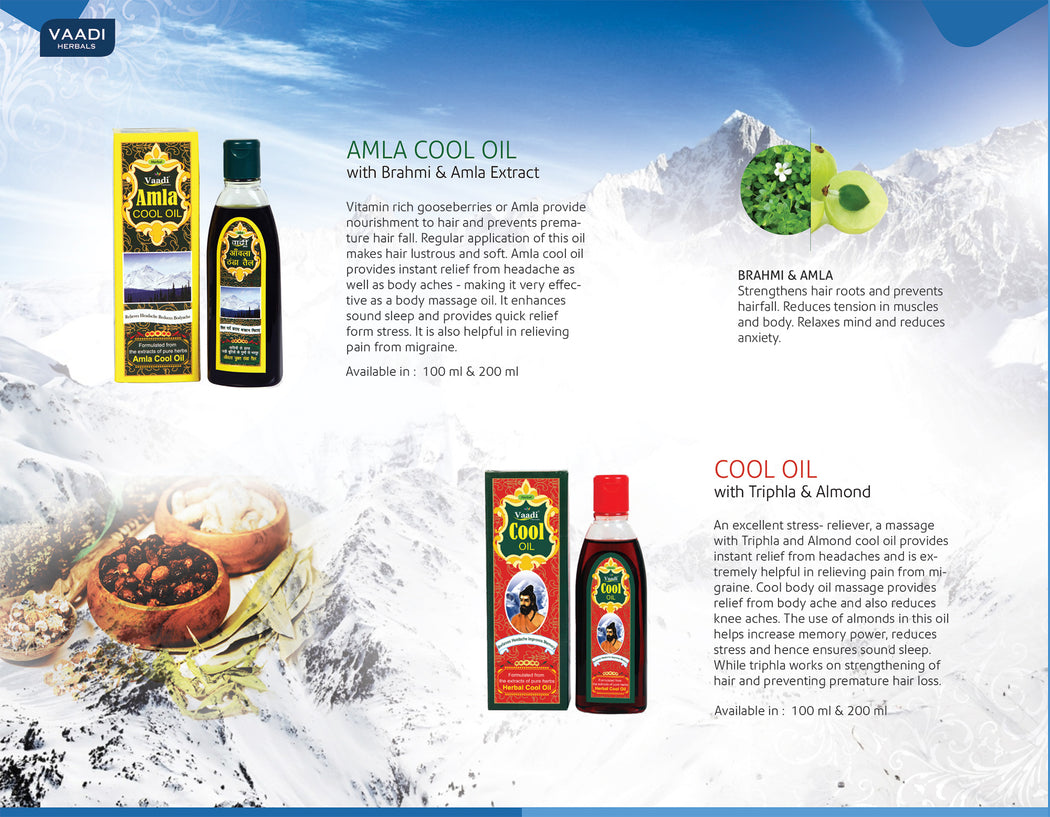 Amla Cool Oil with Brahmi & Amla Extract (100 ml)
M.R.P. incl. of all taxes.
A perfect combination of potent herbs, this oil takes care of your hair and body both. It nourishes your hair; softening and strengthening it. It prevents premature hair-fall; and helps in hair re-growth. Excellent for body massage as well, it instantly relieves body aches; and is especially great for migraines and joint pains.

Ingredients : Almond Oil (Prunus Amygdalus Dulcis Oil), Lavender Oil (Lavandula Officinalis Flower Oil), Clove Oil (Eugenia Caryophyllus Stem Oil), Hibiscus Extract (Hibiscus Rosa-Sinensis), Rose Flower ( Rosa Centifolia Flower), Agar, Ratanjyot (Onosma Echioides), Khas Khas, Bhringraj (Eclipta prostrata), Palas Pushp (Butea monosperma), Keora (Pandanus tectorius), Karpoor (Camphor), Brahmi (Bacopa Monnieri), Amla Extract (Emblica Officinalis Extract), Sat Pudina (Mentha spicata), Mustard Oil (Brassica Nigra Oil)

Oil Perfect Food for hair : When it comes to hair-care, it surely begins with oiling hair regularly with an effective oil that provides proper nourishment and treats any kind of irregularities or ailments of the scalp. Massaging hair oil that comprises of the essential ingredients will benefit the hair texture and make hair longer, healthier and stronger. Oil is for hair what food is for body.

Oil for body massage and as Stress Reliever: Juggling a hectic life ends up in pent up tension in neck and back muscles due to stress and every-day run. Constant pressure and coping up with the fast life leads to severe conditions where the body starts to give in.

Some of these are: Migraine Irritation, Sleeplessness Anxiety and Depression Frequent headaches Joint pain A frequent body massage with an effective oil will help keeping stress and pain at bay. With no muscle pain, a sound sleep will follow which will further help in cutting down the stress and built-up tension, aiding an improved, energetic and healthy life.

Benefits of Oil with Amla and Brahmi Extracts

Amla Oil ensures proper hair growth & uniform pigmentation. Prevents pre-mature aging of hair thus preventing greying. Amla Oil prevents hair fall by strengthening the hair follicles. Amla Oil prevents split-ends and provides natural shine and luster by rejuvenating dull and damaged hair. Amla Oil has a unique refreshing quality. It soothes and cools the mind ensuring proper sound sleep. Amla oil, along with various other formulations like Brahmi, Reetha & Shikakai provides a natural combination for curing body pain, headache and is a perfect combination for shiny healthy hair. Brahmi Extracts helps in bringing calm and sedation by reducing anxiety. It, thus, automatically diminishes the feeling of stress and depression. Brahmi contains chemical elements which further helps in increasing clarity of thoughts, proving relaxation to mind and body. Brahmi extracts reduces tension in the muscles and joints.

How Oil benefits Hair?

Badaam Oil due to its high nourishing ability makes hair smoother, preventing Hair fall and split ends. This strengthens hair from roots, thus making hair stronger and aids growth. Its added benefit is that it makes hair lustrous. Badaam oil is a great base as it is a great emollient and moisturiser. It quickly gets absorbed and doesn't feel greasy or weight hair down. Badaam Oil is light and nourishing thereby adding volume to the hair.

Some ingredients which helps relieving pain and stress

Lavang Tel Lavang tel or Clove oil is known for its pain relieving properties. When applied on the forehead, it gives a cooling effect and helps in getting relief from headache and migraine pain. Lavender Oil Extracted from certain species of Lavender flowers by method of distillation, Lavender oil relives the joint pains and other pains caused by sore muscles, join pain and sprains. Lavender acts as a refreshing agent which helps in providing relief from stress and anxiety and relaxes the mind. Joint stiffness, pain and cramps are cured with Lavender Oil in no time. Gulab Phool Tel Gulab Phool Tel or Rose Oil results in a youthful, glowing and clear skin. The natural aroma of Gulab Phool induces a happy and energetic feeling thereby helping in relieving stress. Gulab Phool Tel is known to be a very effective cure for headache and relaxing the mind with its fruity and soothing aroma. Bhringraj Bhringaraj is the answer to any ailments associated with the hair. Scalp problems, dandruff, flaking, thinning, hair texture improvement, etc. Bhringraj cures all. It easily gets absorbed in the roots thereby providing the essential nutrients that help in curing the ailments of the hair. Bhringraj improves blood circulation in the head which helps in relieving anxiety, stress and sleeplessness. Bhringraj also cures join pains. Kapoor (Camphor) It has a unique property of refreshing and relaxing the mind and body by providing peace and unique feeling of freshness. It relaxes the brain by temporarily desensitizing the brain. The process of detoxification is catalyzed by Kapoor as it stimulates a proper blood circulation. Swelling and pain, particularly that of Arthritis, are effectively cured by Kapoor."

Apply All Over The Head. Gently Massage The Oil Onto The Scalp Using Your Fingertips.
Country of Origin: India
Manufacturer & Packer: Vaadi Herbals Pvt. Ltd.
Address: A-40, Jhilmil Industrial Area, Shahdara, East Delhi, Delhi - 110095.