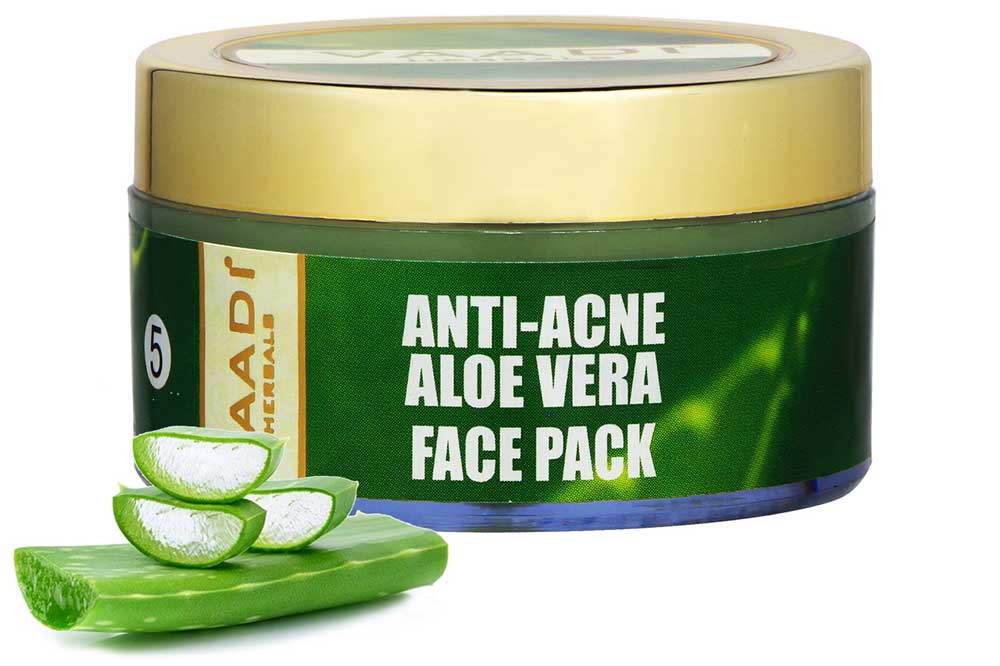 Anti-Acne Aloe Vera Face Pack (70 gms)
M.R.P. incl. of all taxes.
Enriched with Manjistha and Aloe Vera extract, this face pack reduces under eye circles and prevents premature skin ageing. Tomato and Rosemary Oil reduce dark spots

Ingredients : Steam Distilled Aloe Vera Extract (Aloe Barbadensis), Green Tea Extract (Camellia Sinensis), Tomato Extract (Solanum Lycopersicum), Fullers Earth (Fullers Earth), Manjistha Extract (Rubia Cordifolia), Pure Rosemary Oil (Rosmarinus Officinalis Oil), DM Water (Aqua)

How does a face pack help in rejuvenation ?

With regular cleansing and exfoliation, one does get rid off the impurities and dirt on the skin surface. But what about the impurities under the epidermal layer of the skin? Deep pore cleansing is very much needed for the perfect glowing skin. This is where Face Pack comes into play. A weekly session of Face Pack not only helps in detoxifying the skin from within but also thoroughly moisturizes the skin and soothes any allergies or irritations. Applying a face pack imparts the goodness of ingredients in the layers of the skin, enriching it with the vital nutrients. Also, a face pack re-energizes the skin as massage is a stress reliever in itself. A Face Pack every week ensures proper circulation of blood to the skin which yields a shining flawless complexion and healthy skin.

What is the special action of Aloe Vera on the skin ?

Aloe Vera is the perfect remedy for any problems associated with the skin. Be it sun burn, irritation, allergies or be it the natural weather conditions going against the skin. Winters take away the suppleness by drying the skin out. Aloe Vera helps in the easy absorption of other essential skin nutrients thereby aiding the nourishment of the skin in harsh weather conditions. Aloe Vera gel which is taken from the leaf of Aloe plan is rich in all vital Vitamins that make up for a perfect shield against the chill. With the goodness of Vitamin A, F, C and B-12, Aloe Vera brings back the flawless suppleness to the skin. By aiding pore opening, Aloe Vera helps in the percolation of important nutrients to the layers of skin thereby healing from within. The skin is restores, nourished and at its attractive best ever.

How does Manjishtha help in skin rejuvenation ?

Rubia Cordifolia or Manjishtha is an ayurvedic blood herb which acts as a perfect remedy for skin infections including eczema, acne, scabies and any kind of allergic reactions. Purifies Blood: The main reason for skin problems is the blood which gets contaminated by harsh climatic and external conditions namely pollution, dirt and sun. Manjishtha works miraculously in a way that it purifies the blood by percolating down the layers of the skin. It instantly cures major skin problems like acne, pimples and other break-outs. Trusted Skin Care Herb: The skin diseases associated with oozing or edema are also treated with Manjishtha. It clarifies the skin from inside, leaves a beautiful shiny glow on the skin, cures all visible freckles, blemishes and marks. A flawless skin is visible.

hat are the benefits of Tomato ?

Not many know that this everyday kitchen food, rich in Vitamin C proves to be an excellent natural astringent. Application of the face pack rich in Tomato extracts brightens dull and lifeless skin, imparts a kissable glow and also helps in clearing acne and post-acne scarring. Tomato juice is acidic in nature. Hence, it helps in the regulating the secretion of oil. The following are the miracle benefits of Tomatoes: Shrinks pores: Large pores trap dirt and produce in excess oil formation. Regular pampering of the skin with Face pack rich in Aloe Vera and tomato extracts shrinks the pores gradually which reduces the chances of acne and skin infections. Clears Acne and Scars: Tomatoes are acidic in nature. This makes them excellent remedy for acne prone skin. Also, Tomato helps in fading away pigmentation, scars and blemishes bringing out a beautiful flawless skin. It is an effective skin-whitening solution. Natural Astringent: Oily skin is instantly relieved with regular masking of the face with pack enriched with Tomato extracts. Tomato controls the production of oil and makes the face appear less greasy.

Cooling agent: Tomato juice is known to be an effective cooling agent for the skin. It cools sun burns, tanned and inflamed skin. Also, it accelerates the healing process by providing Vitamin C to the skin.

What is Rosemary and how is it beneficial for the skin ?

Rosmarinus officinalis or Rosemary is a fragrant herb found mostly in Asia and the Mediterraneans. The essential Rosemary Oil is extracted from the leaves of this medicinal herb. This oil is therapeutic in nature and helps in clearing the skin by seeping deep in the layers of the skin and improving blood circulation on the skin. Known for it's great stimulating effect on the brain, Rosemary oil soothes the skin and relaxes tense facial muscles resulting in utmost skin treatment and rejuvenation.

Apply A Generous Amount Of This Pack On Face And Neck, Avoiding Eyes. Relax Till Completely Dry. Rinse With Fresh Water. Follow With Vaadi Herbals Sun Shield Sunscreen Cream.
Country of Origin: India
Manufacturer & Packer: Vaadi Herbals Pvt. Ltd.
Address: A-40, Jhilmil Industrial Area, Shahdara, East Delhi, Delhi - 110095.