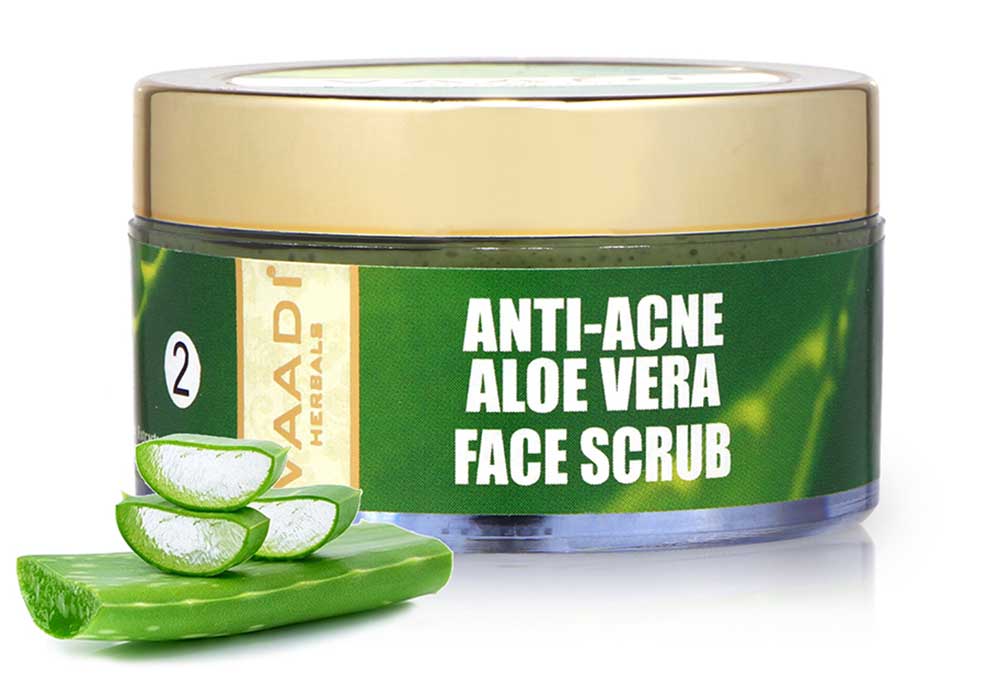 Anti-Acne Aloe Vera Face Scrub (50 gms)
M.R.P. incl. of all taxes.
This uniquely designed Scrub effectively exfoliates the facial akin while stimulating circulation which improves the texture and softness of the Skin

Ingredients : Steam Distilled Aloe Vera Extract (Aloe Vera Callus Extract), Turmeric Extract (Curcuma Longa Extract), Finely Crushed Fenugreek Seeds Powder (Trigonella Foenum Graecum Powder), Vitamin E (Tocopheryl Acetate), Apricot Extract (Prunus Armeniaca Kernel Extract), Coconut Oil Derivatives ( Cocos Nucifera Oil), DM Water (Aqua)

What makes the skin dry and rough and how does exfoliation help against it ?

The smooth and clear look of our skin is the result of the skin-renewal process. Continuously, new skin cells are formed; die; and naturally shed off. However, as we age, the turnover rate of our skin cells gets upset. This causes dead cells to accumulate on the skin's surface. The result: our skin is dry and rough. This is where exfoliation comes into play. A gentle scrubbing of our face helps in removing these dead cells from the surface. It not only smoothens out the former rough appearance of the face; but also brings out the younger skin (cells) to the surface. Exfoliation also helps in the softening of the skin, as our creams etc can then penetrate better into the skin. Furthermore, the very process of exfoliation stimulates blood circulation; which encourages growth of new cells; and thus promotes healthier skin.

What is fenugreek's importance in exfoliation ?

Fenugreek, or as is commonly known in India, methi is a source of min C. Vitamin C, firstly, is a powerful anti-oxidant, fighting signs of skin aging. Secondly, it helps in flushing out of toxins; cleansing deeply. Thirdly, it also makes the skin glow. Fenugreek is also an anti-inflammatory agent, reducing pain, swelling and redness of the skin; and as such has been useful for treating acne, boils, sunburns and other skin problems. It has even proven useful in maintaining the pH level of skin and in combating dark circles. Also a natural emollient, it helps in keeping the skin well hydrated.

How does Aloe vera affect the skin ?

Among the benefits of Aloe vera plant extract is its effectiveness in removing dead skin cells from the skin's surface. This smoothens out the skin; as well as allows nutrients to penetrate deeper into the skin, strengthening the tissues. Also popular because of its anti-oxidant concentration, including Vitamins A and C, it helps rejuvenate skin cells, keeping skin from aging. An anti-inflammatory in nature, aloe vera extract, soothes dry and irritated skin. Its anti-bacterial properties take care of minor skin infections, including acne; and also prevent its recurrence. Its activity as a moisturizer hydrates the skin; while reducing oiliness; also effective against acne. This non-toxic substance also helps reduce dark spots and pigmentation.

What is Turmeric Extract and how does it work toward exfoliation ?

Commonly known as haldi in India, is ground roots of plant Curcuma longa. Curcumin is the mainly active ingredient in it. It is both an anti-oxidant, as well as anti-inflammatory. This renders turmeric an anti-aging and soothing substance for the skin. It is also known to have anti-bacterial and anti-septic properties; making it effective in disinfecting burns and cuts; as well as against skin infections, including acne and blackheads. It not only clears the skin off acne, but also of its blemishes; due to its skin-lightening properties; which also gives the skin a natural glow. The latter of this is also accredited to the improved blood circulation, which is stimulated by turmeric.

What is the advantage of using Vitamin E for exfoliation ?

Vitamin E is a powerful anti-aging constituent. It boosts the production of collagen; maintaining skin's elasticity and preventing wrinkle formation. It also neutralizes free radicals, and reduces the effects of photo-aging. Thirdly, it enhances regeneration of cells; fading away wrinkles. It also helps lighten acne marks and other scars. Vitamin E is non-comedogenic too; i.e. it does not clog pores. Rather it helps cleanse and tone the skin, from within. It also protects the epidermis from sun-damage, toxins and pollutants; while keeping it hydrated. And thus keeps the skin soft, supple and protected.

What is apricot's role as an exfoliating agent ?

Since ancient time apricot's fruit, kernel and flowers have all been used for skin-care. Apricot (or Prunus armeniaca) is rich in Vitamin A and E, as well as beta-carotene; all known as potent anti-oxidants. The fruit is also an excellent skin hydrator and revitalizing agent. It also aids in the treatment of a number skin problems; including itching, sunburn and eczema. Furthermore, hard, crushed nuts of the fruit are mild, yet great exfoliants.

Moisten Face And Neck, Then Take Appropriate Amount Of The Scrub. Scrub Gently With Circular Movements With Upward Strokes For Atleast 5 Minutes. Wipe Off With Damp Cloth.
Country of Origin: India
Manufacturer & Packer: Vaadi Herbals Pvt. Ltd.
Address: A-40, Jhilmil Industrial Area, Shahdara, East Delhi, Delhi - 110095.