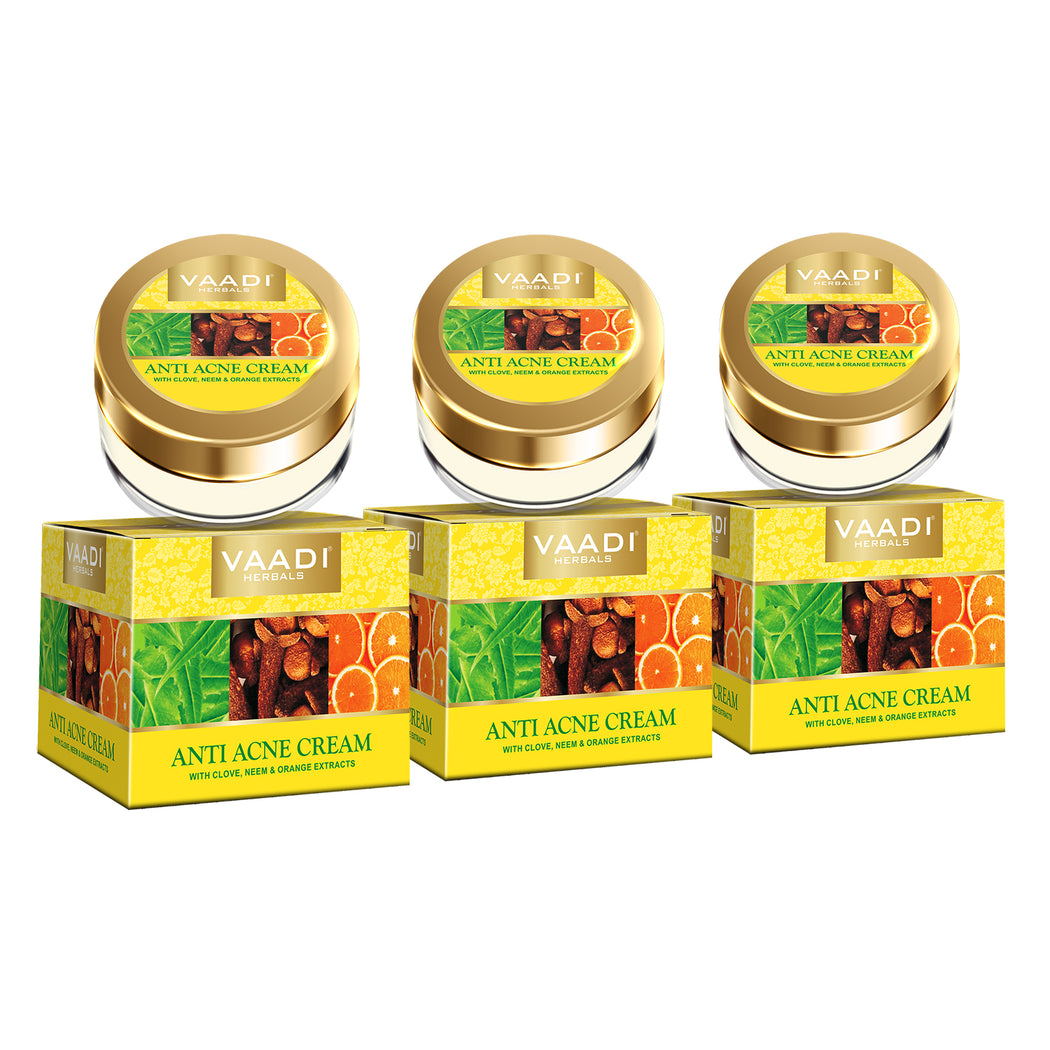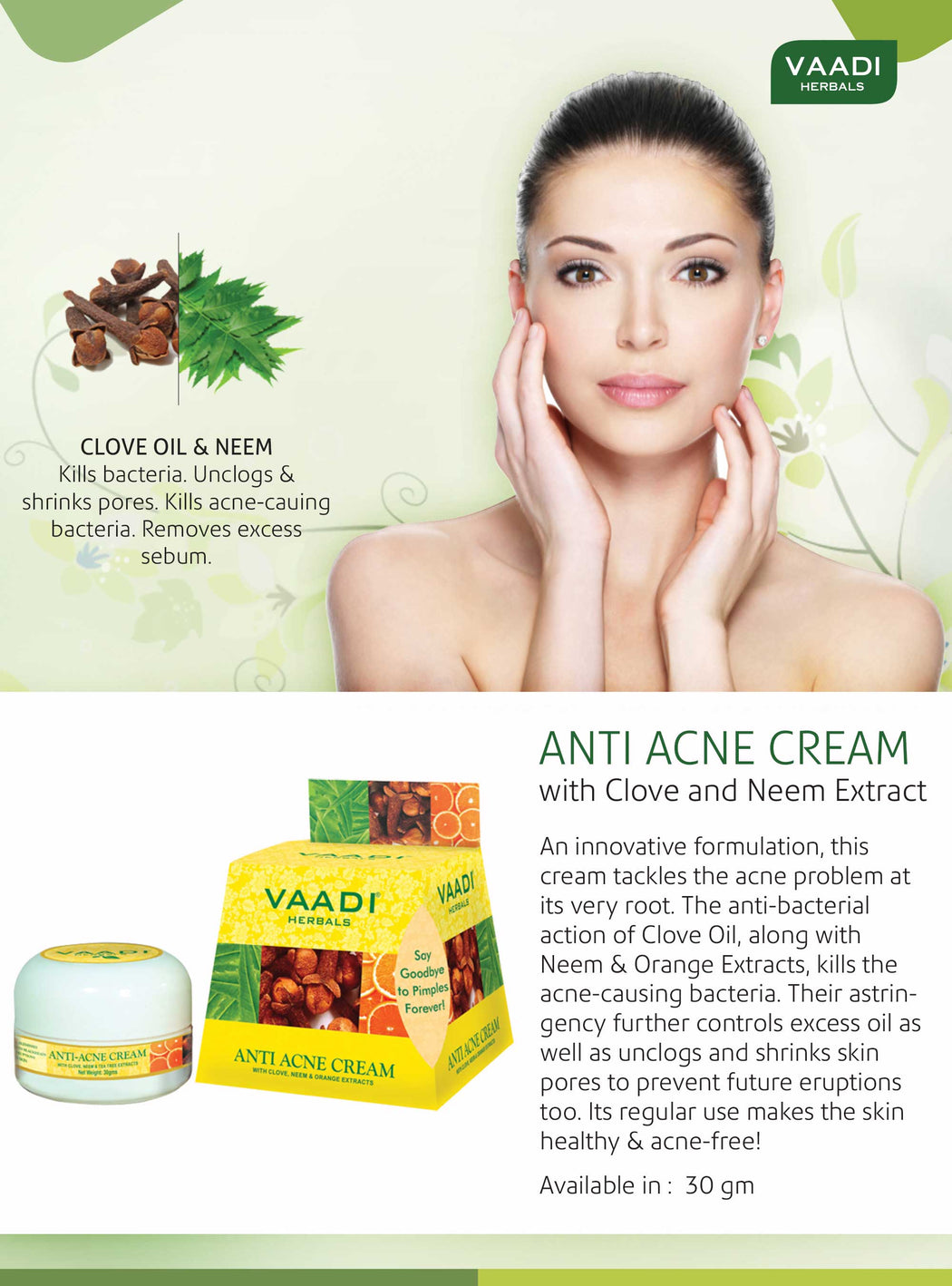 Pack of 3 Anti-Acne Cream - Clove & Neem extract (30 gms x 3)
M.R.P. incl. of all taxes.
An innovative formulation, this cream tackles the acne problem at its very root. The anti-bacterial action of Clove Oil, along with Neem & Orange Extracts, kills the acne-causing bacteria. Their astringency further controls excess oil as well as unclogs and shrinks skin pores to prevent future eruptions too. Its regular use leaves your face healthy & acne-free!

Ingredients : Clove Oil (Eugenia Caryophyllus Stem Oil), Neem Leaf Extract ( Melia Azadirachta Leaf Extract), Tea Tree Oil ( Melaleuca Alternifolia Leaf Oil), Orange Peel Extract (Citrus Aurantium Amara Peel Extract),Coconut Oil Derivative ( Cocos Nucifera Oil), DM Water (Aqua)

How is Acne caused ?

These are a few causes which lead to Acne which further ends up in scarring and blemishes. Everyday beauty products like sunscreen, make up items and excessive exfoliation can lead to Acne. Oil gets trapped in pores and the skin cannot breathe which causes skin irritation and pimples. External factors such as air-pollution, exposure of skin in excessive sunlight for a long period of time causes Acne.

Clove+Neem Oil: The Acne clearing combo

Extracted from Syzygium aromaticum, which is found in Indonesia's Maluku Islands, Clove Oil's anti-bacterial property helps in keeping off the microbial activity from the skin surface, thus helping in preventing acne and pimples. Azadirachta indica or Neem is found in India and many parts of Southeast Asia. Neem is an evergreen tree and is often called the 'pharmacy of villages' in praise of its medicinal properties.

How do Neem+Clove Oil fight Acne and bring out a flawless skin ?

Natural Healing Properties: Neem Oil's excellent anti-inflammatory and anti-bacterial property cures the redness and itchiness caused on skin by Acne or Pimples. Clove oil kills the bacteria that starts to feed on the sebum generated, thereby reducing all possible chances of spreading of acne by nipping it in the bud. Exfoliation and Moisturizing Properties: Clove oil is a natural exfoliant that clears off the dead skin and excess oil to make way for a healthier, clearer and glowing skin. Neem Oil is rich in Vitamin-E, fatty acids & emollients. All these nutrients combine to moisturize skin from within and revive the skin's natural elasticity, making it softer and supple. Prevents Premature Aging: Another major skin problem most commonly seen is pre-mature aging. Clove Oil unclogs pores and helps the skin breathe making way for Neem Oil to seep in and detoxify the skin, helping in proper regulation of blood, thus preventing pre-mature aging. Wrinkles and fine lines fade away in no time.

What is Tea Tree Oil and how does it treat Acne ?

Tea Tree Oil is a leaf-extract of Melaleuca Alternifolia which is found in the northeast coast of Australia, towards New South Wales. Tea Tree Oil is an excellent germ killer with antiseptic and antibacterial properties. Tea Tree Oil proves to be unfailingly useful for the following: Moisturizing and Cleansing: Tea Tree Oil helps in opening up the clogged pores. It removes the dead cells accumulated on the surface of the skin, without damaging the skin. The skin is left supple, flawless and tempting to touch. Toning: Tea tree Oil is a natural skin toner as it gently removes the blemishes and fine wrinkles and takes you a step ahead in skin care. Removing excess oil and Preventing Blemishes: This oil is mild but strong enough to reduce the production of sebum which leads to bacterial activity on the skin, thereby leading to pimples and furthermore, blemishes and scars.

How is Orange Peel effective in clearing off Acne ?

Not many know this but s have more to them than meets the eye. The juice, rich in Vitamin C helps in cleansing toxins and the outside skin can do wonders for your skin. Orange peels are dried and used in powdered form. Combining with Clove Oil, Neem Oil and Tea Tree Oil, Orange Peel fights acne by: Unclogging Pores: Orange Peel extract very gently unclogs pores by removing dirt and excess oil. Also, Orange Peel regulates the formation of oil by the sebaceous glands so as to prevent greasiness and furthermore, acne. Clears Acne and blackheads: Active pores trap dirt which results in formation of blackheads and excess oil further makes them rigid. Orange peel extracts gently clear off blackheads and acne by opening the pores and removing dirt. Makes skin Flawless: Orange Peel contains Vitamin C which clears off scars and blemishes. It's natural bleaching action fades away dark patches and tough pigmentation yielding a clearer, fairer skin."

Cleanse Your Face With Vaadi Face Wash Or A Mild Soap And Pat Dry. Apply This Anti-Acne Cream Gently All Over The Face. Apply Once Daily.
Country of Origin: India
Manufacturer & Packer: Vaadi Herbals Pvt. Ltd.
Address: A-40, Jhilmil Industrial Area, Shahdara, East Delhi, Delhi - 110095.