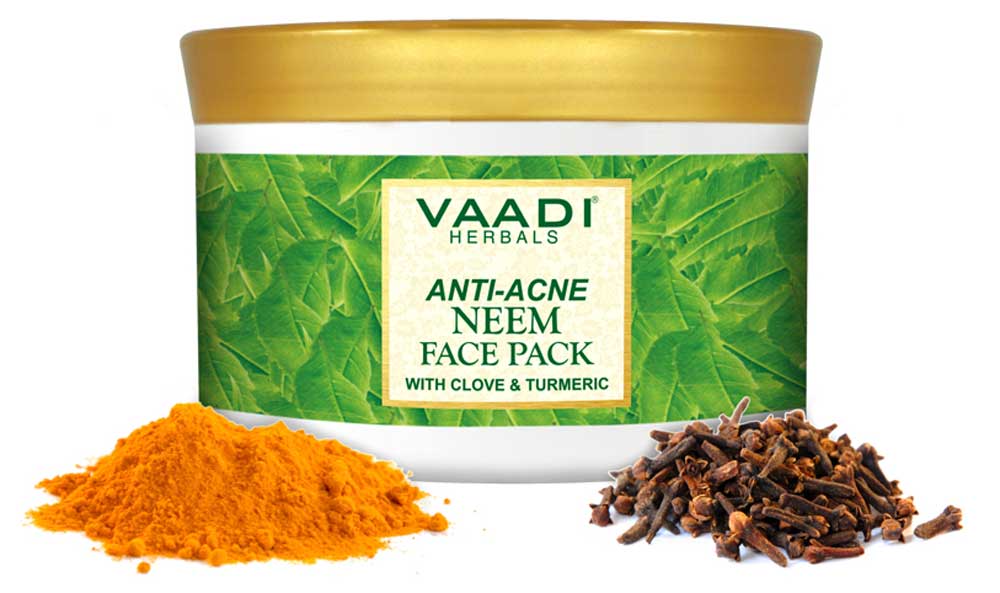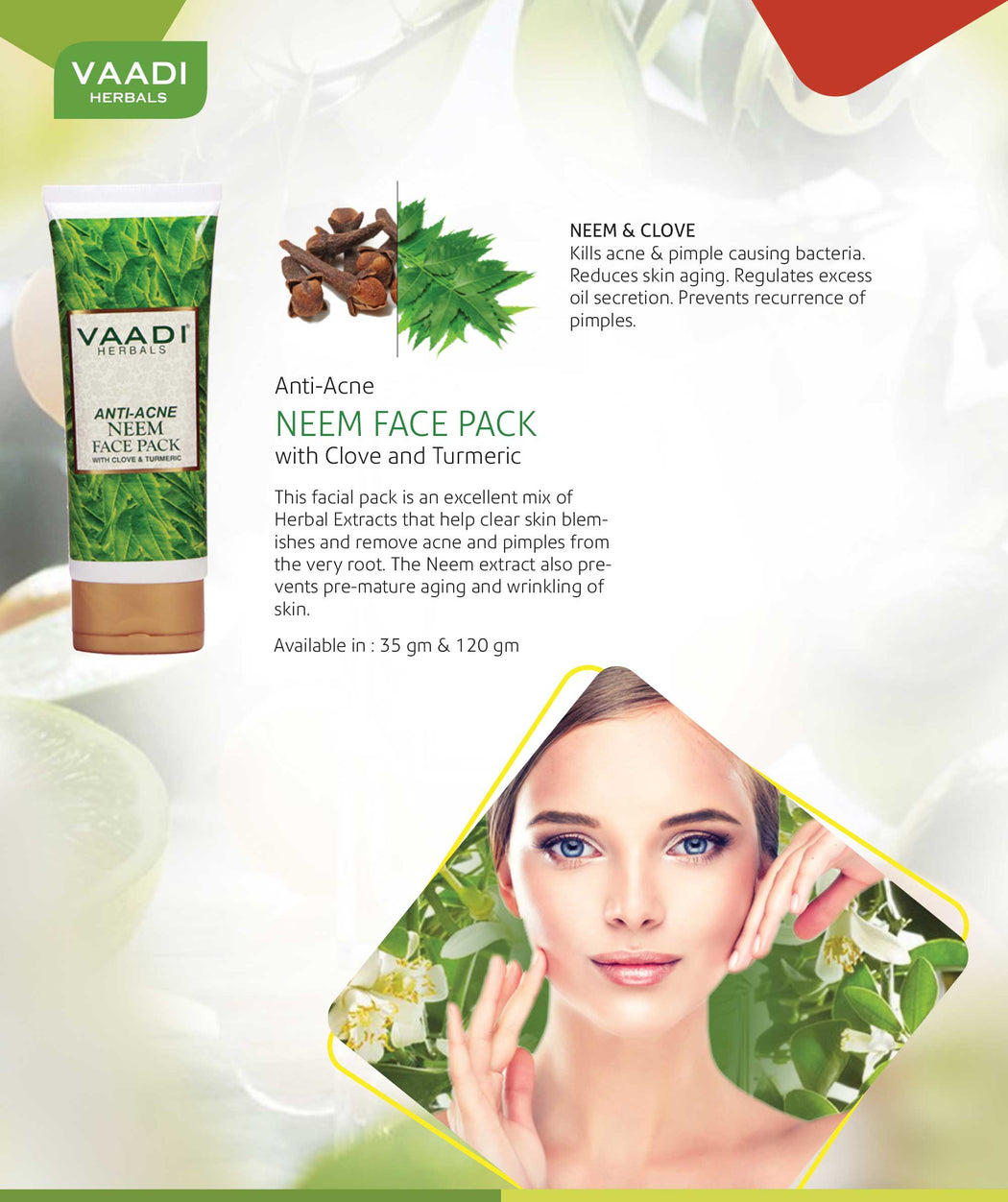 Anti Acne Neem Face Pack With Clove And Turmeric (600 gms)
M.R.P. incl. of all taxes.
A potent anti-microbial formulation, this facial pack keeps the skin healthy and acne-free. It kills acne-causing bacteria, cleanses clogged pores, as well as removes excess oil from the surface. In short, it eliminates all the external causes of acne and blackheads; granting you lasting freedom from both!

Ingredients : Pure Neem Extract (Azadirachta indica), Steam Distilled Clove Extract (Eugenia Caryophyllus), Turmeric Extract (Curcuma Longa), Tea Tree Oil (Melaleuca Alternifolia), Vitamin E ( Tocopheryl Acetate), Fullers Earth (Fullers Earth), DM Water (Aqua)

How does a face pack help in rejuvenation ?

With regular cleansing and exfoliation, one does get rid off the impurities and dirt on the skin surface. But what about the impurities under the epidermal layer of the skin? Deep pore cleansing is very much needed for the perfect glowing skin. This is where Face Pack comes into play. A weekly session of Face Pack not only helps in detoxifying the skin from within but also thoroughly moisturizes the skin and soothes any allergies or irritations. Applying a face pack imparts the goodness of ingredients in the layers of the skin, enriching it with the vital nutrients. Also, a face pack re-energizes the skin as massage is a stress reliever in itself. A Face Pack every week ensures proper circulation of blood to the skin which yields a shining flawless complexion and healthy skin.

How does Neem fight Acne and premature aging ?

One solution to battle all the skin odds is Neem. The Neem tree is also called Azadirachta indica. Neem is found in many parts of Southeast Asia,, including India. Neem is an evergreen tree and is often called the 'pharmacy of villages' in praise of its medicinal properties. Neem has the following benefits: Effective Healing: Neem's excellent anti-inflammatory and anti-bacterial property cures the redness and scars which are caused by Acne. Blemishes and pigmentation fade away as Neem makes the skin visibly clearer and prevents further breakouts. Thorough moisturizing: Neem Leaves are rich in Vitamin-E, fatty acids & emollients which combine to soothe cracked skin, moisturize it from within and revive the skin's natural elasticity, making it supple. Safeguard against premature aging: Neem cleanses the skin from within and helps in proper regulation of blood, thus preventing pre-mature aging. Fine Lines and wrinkles fade away in no time.

How does Clove Oil regulate the oil secretions by the Skin ?

Extracted from Syzygium aromaticum, which is found in Indonesia's Maluku Islands, Clove oil is a natural exfoliant that clears off the dead skin and excess oil to make way for a healthier, clearer and glowing skin. With Clove Oil, the skin breathes as the pores are unclogged and bacteria-free. Also, Clove Oil's anti-bacterial property helps in keeping off the microbial activity from the skin surface, thus helping in preventing acne and pimples. Clove oil kills the bacteria that starts to feed on the sebum generated, thereby reducing all possible chances of spreading of acne by nipping it in the bud.

What is special about Turmeric? How does it beautify the skin ?

Apart from adding flavor to the food, Turmeric possesses every possible solution to yield a beautiful, sun-kissed skin. Growing mostly in South Asia, Curcuma longa or Turmeric has more to it than what meets the eye. Reduces Scars and Pigmentation: Turmeric helps in the lightening of post-acne scars and blemishes. Black spots caused due to sun exposure also clear off leaving a beautiful, flawless you. Cleanses the skin inside out and gives a radiant natural glow. Reduces Inflammation: Turmeric is one of the best anti-oxidants for the skin. It provides a quick relief from skin inflammations and nips allergies in the bud. Anti-Bacterial & Antiseptic Properties Turmeric prevents and fights breakouts & Pimples. Reduces inflammations, breakouts and balances skin discolorations and patches. Good for Oily Skin: Turmeric regulates the production of sebum which is produced in the sebaceous glands of the skin. This helps in deep pore cleansing leading to a fairer, flawless skin.

How does Tea Tree Oil cure Acne ?

Tea Tree Oil is a leaf-extract of Melaleuca Alternifolia which is found in the northeast coast of Australia, towards New South Wales. It is an excellent germ killer and proves to be unfailingly useful for the following: Toning: Tea tree Oil is a natural skin toner as it gently even tones the skin texture and helps in soothing Acne prone skin. Regulate the oil and prevent scars/blemishes: This oil is mild but strong enough to regulate the production of sebum which leads to bacterial activity on the skin, thereby leading to pimples and furthermore, blemishes and scars. Moisturizing and Cleansing: Tea Tree Oil moisturizes and cleanses the skin. It helps in opening up the clogged pores. Tea Tree oil removes the dead cells accumulated on the surface of the skin, without damaging the skin. The skin is left supple, flawless glowing with health."

Apply A Generous Amount Of This Pack On Face And Neck, Avoiding Eyes. Relax Till Completely Dry. Rinse With Fresh Water. Follow With Vaadi Herbals Sun Shield Sunscreen Cream.
Country of Origin: India
Manufacturer & Packer: Vaadi Herbals Pvt. Ltd.
Address: A-40, Jhilmil Industrial Area, Shahdara, East Delhi, Delhi - 110095.