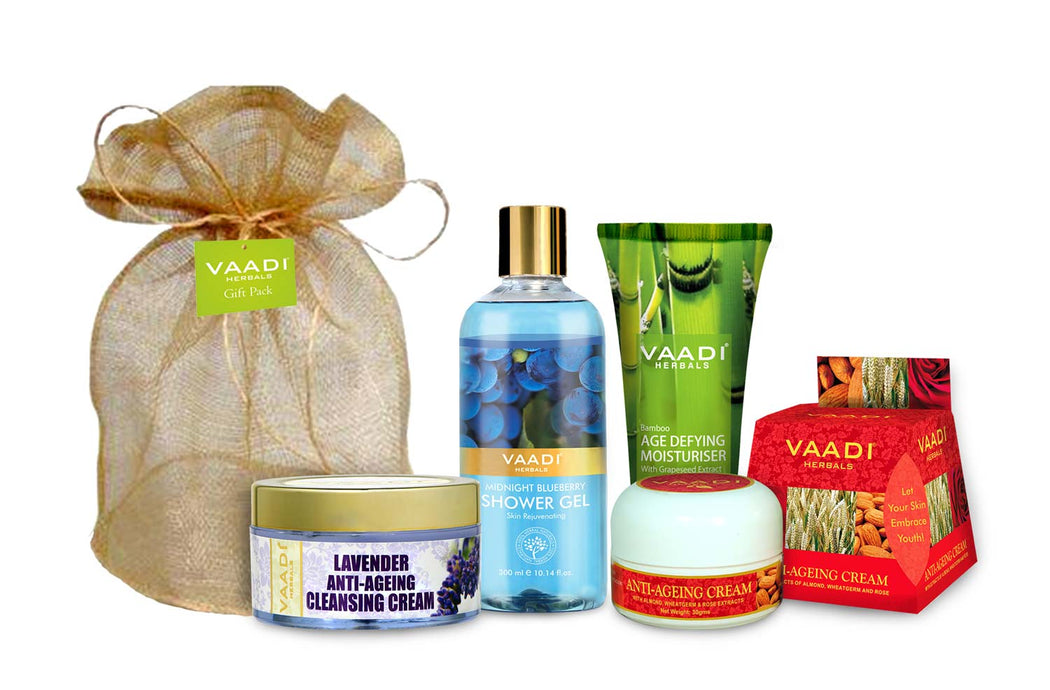 Anti Ageing Set (440 gms)
M.R.P. incl. of all taxes.
The Anti Ageing set is formulated to keep the facial skin and body youthful and radiant with a natural glow. It comprises of a cleansing cream that purifies and tones the facial skin and a cream as well as moisturiser that hydrates and smoothens the skin after the cleansing regime. The shower gel improves the bathing experience with its aroma and nourishing ingredients.

Ingredients : Pure Lavender Oil (Lavandula Officinalis Flower Oil), Rosemary Oil (Rosmarinus Officinalis Oil), Orange Peel Extract (Citrus Aurantium Amara Peel Extract) Almond Oil (Prunus Amygdalus Dulcis Oil), Wheatgerm Oil ( Triticum Vulgare Germ Oil), Manjistha Extract (Rubia Cordifolia), Coconut Oil Derivative ( Cocos Nucifera Oil), Shea Butter (Butyrospermum Parkii Butter), Pure Aloe Vera Juice (Aloe Barbadensis Leaf), Wheatgerm Oil ( Triticum Vulgare Germ Oil), Bamboo Extract (Bambusa Vulgaris Extract), lueberry Extract (Vaccinium Corymbosum Fruit Extract), Steam Distilled Mint Extract (Mentha Aquatica Leaf Extract), DM Water (Aqua)

This skin care set comprises of the following

Anti Ageing Cream (30 gms)

Enriched with the multi-vitamin content of Almonds, Wheatgerm& Rose, this cream has been specially developed to fight signs of aging. With Vitamin A & E, potent anti-oxidants, this cream promotes cellular renewal, while boosting production of collagen & delaying wrinkles. It keeps your skin supple & youthful.

Lavender Cleansing Cream (50 gms)

A luxurious blend of aromatherapy oils of Lavender & Rosemary, this cleanser gently rids the face of excess sebum (oil) and impurities. The Anti-septic & Anti-toxic properties of its ingredients, further helps soothe inflammation and keep acne under control.

Blueberry Shower Gel (300 ml)

Vitamin rich blueberries in this shower gel prevent pre-mature aging, reduce fine lines, wrinkles and help improve skin elasticity.

 

 

Bamboo Age Defying Moisturiser (60 ml)

An anti-oxidant rich composition, this moisturizer keeps the skin soft and smooth, while delaying the signs of aging. A high concentration of Vitamin E and flavonoids, in Bamboo & Grape Seed Extract, promote the production of collagen; keeping the skin firm and delaying wrinkles. It also promotes cell regeneration; making your skin soft, supple and forever youthful!

Anti Ageing Cream - Cleanse Face. Apply Lavishly All Over The Face And Neck. Gently Massage In Upward Direction. Use Daily Morning And Before Going To Bed At Night.

Lavender Cleansing Cream - Apply A Generous Layer On The Face And Neck. Massage Gently In Circular Motions For 5-7 Minutes. Rinse Thoroughly Or Remove With Moist Cotton.

Blueberry Shower Gel - Turn on the shower and step inside Pour some gel onto a ponge or washcloth Lather the soap Gently scrub yourself all over Rinse it all off.

Bamboo Moisturizer - Cleanse Skin Thoroughly. Apply All Over The Face, Arms And Neck In The Morning And At Night. Makes A Perfect Make-Up Base.
Country of Origin: India
Manufacturer & Packer: Vaadi Herbals Pvt. Ltd.
Address: A-40, Jhilmil Industrial Area, Shahdara, East Delhi, Delhi - 110095.