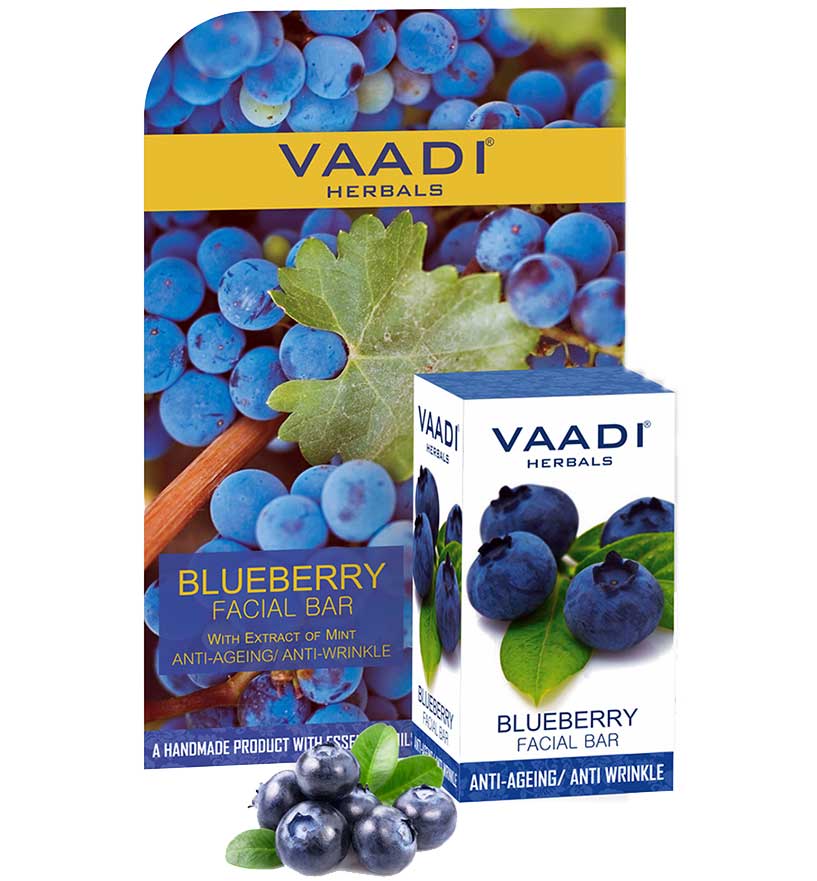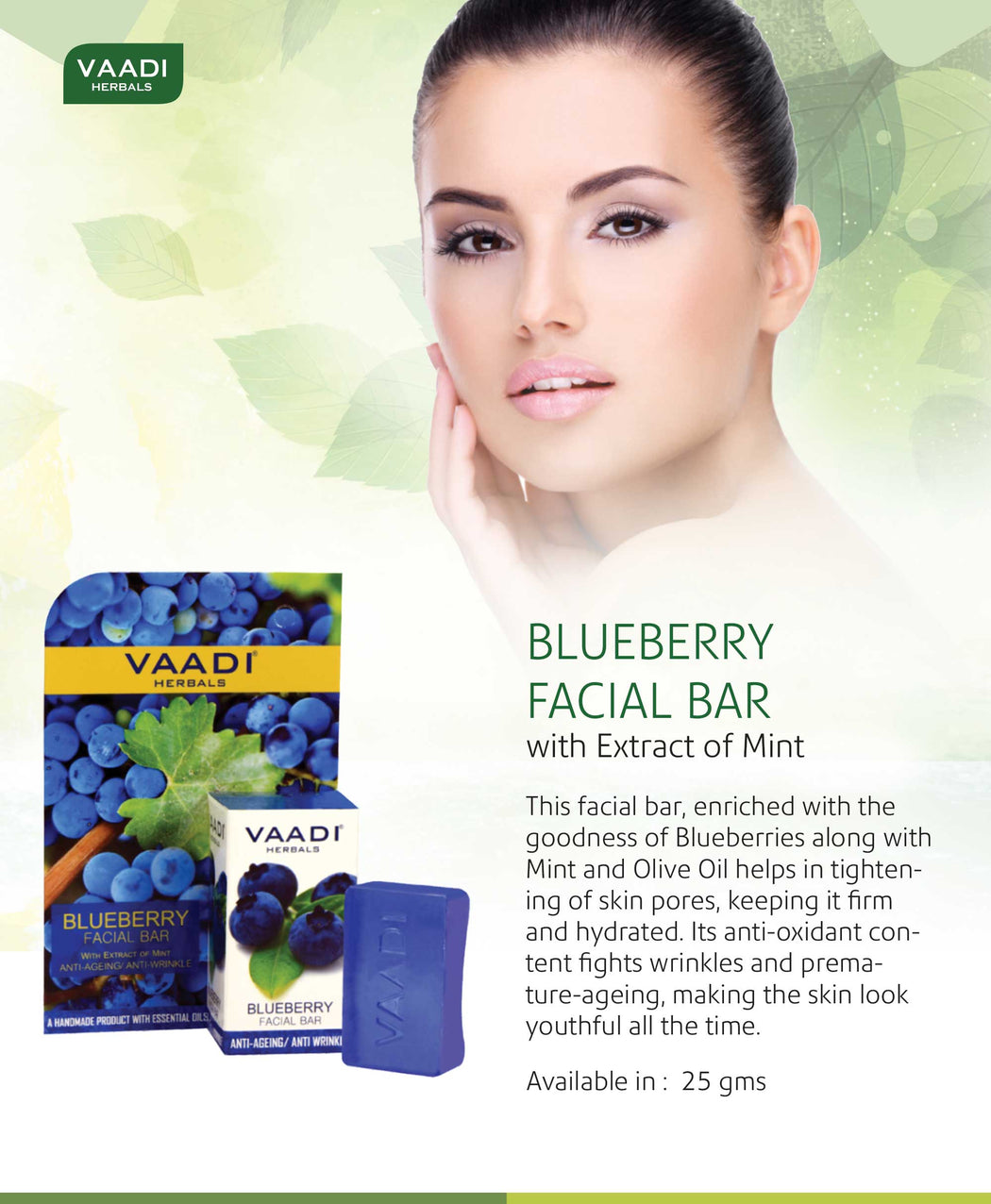 Blueberry Facial Bar with Extract of Mint (25 gms)
M.R.P. incl. of all taxes.
This facial bar enriched with the goodness of Blueberries along with Mint and Olive Oil helps in tightening of skin pores, keeping it firm and hydrated. Its anti-oxidant content fights wrinkles and premature-ageing, making the skin look younger with time.

Ingredients : Steam Distilled Blueberry extract (Vaccinium Corymbosum), Mint Extract (Mentha Aquatica Leaf Extract), Coconut Oil Derivative (Cocos Nucifera), Olive Oil (Olea Europaea), Pure Honey (Mel Extract), DM Water (Aqua)

"What are the causes of a lack-luster complexion and skin-darkening?

Regular sun exposure, water sports, unhealthy eating habits and lack of a proper skin care regime ends up making the skin unattractive, blotchy and possess an uncared for look. Excessive oiliness leads to acne which further deteriorates the condition of the skin, marring the texture and complexion in one go. Acne leaves scars which make the skin appear unhealthy and not worth an appreciation. If the skin is excessively dry, dry patches are formed and this also triggers premature skin aging. Wrinkles, fine lines, discoloration, pigmentation and freckles mar the beauty of your youthful, beautiful and healthy skin. Sun's UV rays trigger the production of melanin which keeps the skin from skin cancer. This melanin production leads to the darkening of the skin contour.

How is Blueberry beneficial in skin care?

Highly rich in antioxidants and Vitamins A and C, Blueberries have changed the skin care regime remarkably. The nutrients present in blueberries fight off the hormonal changes that cause pimples. They also keep the skin's oil regulation in check. Blueberries normalize the accumulation and production of oil and does not let sebum stay on the surface. Blueberries fight early signs of aging and keep skin healthy, supple and wrinkle free. The vitamin C in blueberries helps in strengthening the blood vessels. Weak blood vessels are prone to damage and breakage. These make the skin sensitive and a perfect target for numerous allergies and discoloration. Vitamin C works at the capillary level and provides strength to the vessels beneath the skin surface. Blueberries lighten the skin complexion by cleansing and polishing the skin at the same time.

What effect does Mint have on the skin?

Listed as ""Menthe"" in many products, this cooling aromatic ingredient has more to it than its soothing effect and pleasant refreshing taste. Mint improves the skin's texture, tones it and deeps moisturizes the skin. Mint is an anti-pruritic agent, which means mint's juices calm itchy, irritated skin which is suffering from any kind of allergy, inflammation (from mosquito, bees or wasp bites) or just braving the extreme heat or cold conditions. Rich in Vitamin A, Mint cures rashes, wounds and it's high content of salicylic acid makes it a great natural astringent. It regulates the oil production by the sebaceous glands, preventing pimples, tough acne and excess oiliness or dryness. Mint helps in skin renewal as the salicylic acid helps get rid off the dead cells. It unclogs pores making it easier for the essential ingredients to get absorbed in the skin faster and work their magic to give you a fresh, supple and infection-free skin.

Why is Olive Oil an important part of skin care regime?

Olive oil is a rich source of anti-oxidants; including Vitamin E, poly phenol and hydroxytyrosol. These safeguard the skin against free radicals as well as repair any damage done by them. Sun exposure makes it worse and triggers the aging of the skin. Olive oil keeps these free radicals at bay thereby retarding the premature aging. Olive oil stimulates cellular regeneration. This makes it an excellent scar reducing agent; almost making marks and scars disappear in thin air. Its hydrophilic nature, fatty acid content as well as it deep penetrative ability makes it an excellent moisturizer for dry flaky skin. The best thing about olive oil is that it caters to every skin type: dry, normal, oily or combination skin. It prevents blackheads and keeps the skin moisturized for long. The hot winds, winter chill or the monsoon will never show up on your skin as long as Olive Oil is shielding you. Olive oil heals sunburns, prevents tan and reverses the sun's effects with regular use."

Apply Over Wet Face And Neck. Gently Work Up Rich Lather. Massage Gently In Circular Motion. Rinse Off And Pat Dry.
Country of Origin: India
Manufacturer & Packer: Vaadi Herbals Pvt. Ltd.
Address: A-40, Jhilmil Industrial Area, Shahdara, East Delhi, Delhi - 110095.