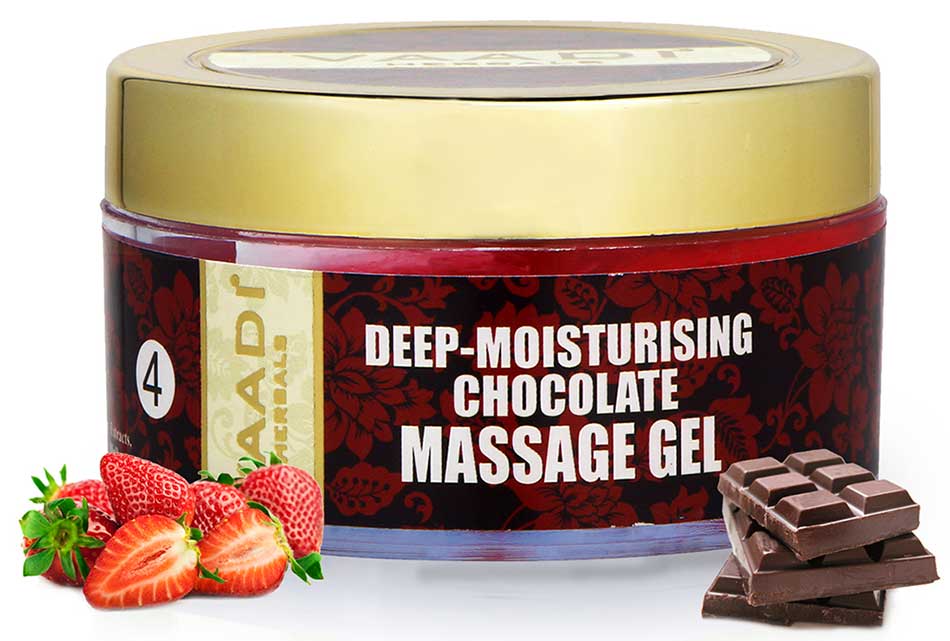 Deep-Moisturising Chocolate Massage Gel (50 gms)
M.R.P. incl. of all taxes.
A rich composition of strawberries, chocolate, mulberry extract & honey, this gel helps restore the moisture balance to the skin, while fighting imperfections. The Vitamin E content helps lighten marks & pigmentation, while its anti-bacterial action helps in controlling acne. Result is an enhanced complexion.

Ingredients : Steam Distilled Strawberry Extracts (Fragaria Vesca), Liquorice Extract (Glycyrrhiza Glabra Extract), Organic Honey (Mel Extract), Pure Mulberry Extract (Morus Alba Extract), Strawberry Essential Oil (Fragaria Vesca Fruit Oil), DM Water (Aqua)

In what way can a Massage Gel be beneficial for the skin ?

Today, the life is on the move. One hardly gets time to sit and relax, leave alone spend time in parlors getting expensive skin treatment and spa done. A Massage Gel comes in handy as an ultimate resort to get that flawless, impressive skin within a matter of minutes. Enriched with the goodness of Strawberry Extracts and Cocoa, this Massage Gel helps in rejuvenating the skin from deep within, providing a moisture lock so as to retain the suppleness throughout the run. Also, a regular skin Massaging regime will improve the texture and complexion, thereby bringing out a beautiful, gorgeous you!

What is the role of Strawberry Extracts in enhancing your beauty ?

Being rich in salicylic acid arms strawberries with the ability to exfoliate dead skin off the skin's surface which when accumulated, results in a dull and dry, less-attractive skin. Also, skin looks dark and unhealthy. Strawberry Extracts help bring back the lost sheen and also are a perfect cure for acne prone skin. With it's gentle cleansing and pore-exfoliation action, Strawberry Extracts aid clearing pimples and acne in no time. Strawberry granules are particularly rich in Zinc and Vitamin C. This helps in providing rapid cell rejuvenation and cure flakiness, dry patches and allergies by stripping off the impurities and providing the necessary moisture to the skin. Strawberry Extracts facilitate skin whitening over a period of time and are a perfect shield from the sun's UV rays.

How is Cocoa Butter beneficial for the skin ?

Cocoa butter is one of the most sought after ingredient for skin nowadays. With that chocolaty, mesmerizing aroma, cocoa butter provides nourishment to the skin and keeps it hydrated for hours. An all natural ingredient, Cocoa butter does not harm the skin and aids in neutralizing the effect of harsh chemicals on the skin acting on a reversal mechanism. Deep pore rejuvenation is another powerful function of Cocoa Butter. Although it's name contains butter, it does no clog the pores. Rather opens them up for nourishment and cleansing. It melts in no time and keeps the moisture locked in the skin's layers. Skin elasticity improves drastically and wrinkles disappear. Cocoa Butter can do the kind of miracles on the skin which one can only dream of. A renewed, beautiful skin is Cocoa Butter's main undertaking.

What is the role of Licorice Extracts in the Massage gel ?

The roots of glycyrrhiza glabra yield Licorice extracts. These are rich in flavinoids and glycyrrhetic that are powerful skin-rejuvenatory agents. Apart from this, the presence of powerful anti-oxidants helps in lightening the skin contour by curbing down the process of melanogenesis. Providing an anti-inflammatory shield to the skin, Licorice extracts help in smoothing the skin texture and also cure allergies, break outs and are perfect remedy for acne-prone skin. Regular use of these extracts ensures beautiful, flawless skin.

What is the importance of Mulberry Extracts ?

Mulberry Extracts are known to be gentle skin-lighteners that go deep down the layer of the skin and inhibit the tyrosinase which causes skin darkening and tan. On regular application of this Mulberry rich Massage Gel, the skin is more flawless than ever, bearing a pinkish healthy glow. The skin tone is many a shades lighter. Mulberry Leaves do not irritate the skin at all. Rather, they have skin-soothing effect which further improves the texture of the skin. Mulberry Extracts are rich in free radicals which impart a beautiful glow providing oxygen to the skin cells, helping in the rejuvenation. Melanin production is drastically retarded and a blemish-free, gorgeous skin is up for the world to admire.

How honey helps in bringing out a radiant skin ?

Bees make honey by the process of regurgitation. This honey collected is a great treat for the skin. Being an ideal cleansing agent, Honey absorbs trapped impurities from within the skin surface and deeply cleanses the pores. With its anti-bacterial properties giving it a plus, Honey treats Acne, break-outs and skin irritation. Regular use of honey on the skin reduces wrinkles, blemishes and fine lines. Honey reverses the action of UV rays of the sun which damage the skin to such an extent that it looks dull, blotched and unhealthy. Honey rejuvenates the skin, repairs the sun damaged skin and even tones the skin's texture, making it soft & supple."

Apply A Scoop Of The Gel, Gently Massage All Over The Face And Neck In Circular Upward Direction Until It Gets Absorbed In The Skin Completely.
Country of Origin: India
Manufacturer & Packer: Vaadi Herbals Pvt. Ltd.
Address: A-40, Jhilmil Industrial Area, Shahdara, East Delhi, Delhi - 110095.