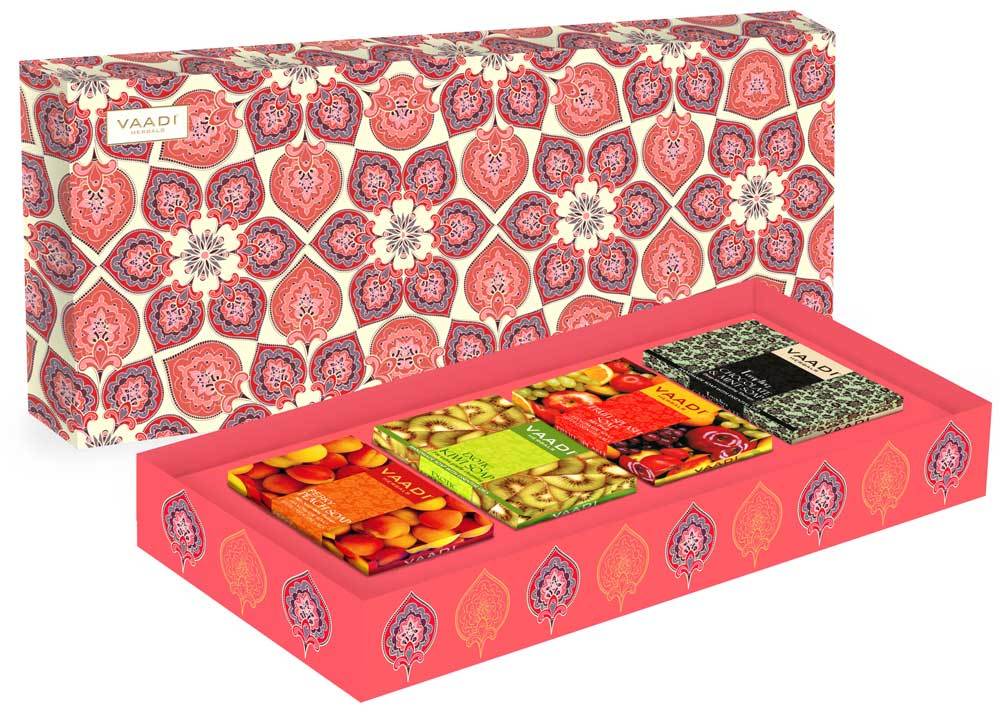 Classic Fruit Collection - 4 Premium Herbal Handmade Soap Gift Box (75 gms x 4)
M.R.P. incl. of all taxes.
Spread the magic and beauty of aroma with this refreshing gift pack of natural and handmade soaps, made with herbs, essential oils and fruit extracts. This collection of lusciously aromatic soaps from Vaadi Herbals is just perfect for a truly fresh, new start everyday!

Ingredients :Cocoa Butter (Theobroma Cacao), Steam Distilled Extract of Mint (Mentha Piperita Leaf), Olive Oil (Olea Europaea), Coconut Oil Derivative ( Cocos Nucifera Oil), Steam Distilled Extract of Peach (Prunus persica), Pure Almond Oil (Prunus Amygdalus Dulcis), Coconut Oil Derivative (Cocos Nucifera), Kiwi Extract (Actinidia Chinensis),  Orange Extract (Citrus sinensis), Peach Extract (Prunus Persica), Green Apple Extract (Pyrus Malus), Lemon Extract ( Citrus Medica limonum), DM Water (Aqua)

What comprises of proper skin nourishment?

Glowing or radiant skin is a sign of healthy skin. The health of the skin is further dependent on proper nourishment; which includes proper cleansing, along with hydration and nutrient supply. Milder soaps cannot properly cleanse the skin. And harsher ones do rid the skin of impurities; but also steal away its moisture. But, neither cleansing nor moisturizing can be ignored. This is because proper cleansing betters the nutrient supply to the cells, while keeping skin free of infections and acne. Adequate nutrient supply helps skin repair faster, and stay healthier. As for hydration, it strengthens the cells, maintains skins elasticity, delays wrinkling. And a well hydrated skin is less prone to damage from external factors. Natural Soap v/s Chemical Soaps When we go to market to choose soap suitable for the skin, we may have an option of over thousand of variety of soaps. Fragrances play a very important role. No one prefers a soap with an unpleasant odor. But the chemical soaps available in the market at high prices falsely claim to be benefiting the skin. The chemical ingredients which are added to improve the skin prove to be a curse for the skin in long run.

Fruit Splash Soap (75 gms)

The perfect combination of multivitamin-rich fruit extracts; this soap is bound to nourish your skin from within. While cleansing, its molecules penetrate deep into the skin to feed the skin cells with essential nutrients; granting your skin health inside & beauty outside!




Exotic Kiwi Soap (75 gms)

This crystal clear soap is an effective formulation to truly & deeply cleanse your skin; this soap owes its efficacy to the rich Vitamin C content of Kiwis & Green Apples. They rid the skin surface as well as the pores of dirt, germs & excess oil; while keeping it well moisturized & pampered!

Perky Peach Soap (75 gms)

A unique combination of natural essentials, this soap makes your skin luminous from within. It boosts blood circulation & cellular renewal, while keeping skin well hydrated. Thus it promotes newer & healthier cells; granting your skin a natural radiance!




Tempting Chocolate & Mint Soap (75 gms)

A double-action soap, it cleanses and deeply moisturizes your face simultaneously. The fatty acids of cocoa provide the necessary moisturizing; while mint relieves skin congestion and facilitates moisture penetration into the deeper layers of the skin; keeping your skin soft and supple.

Take Soap And Lather In The Hands. Apply The Lather To The Entire Body, Gently Massage And Enjoy The Pure Delight Of Our Herbal
Country of Origin: India
Manufacturer & Packer: Vaadi Herbals Pvt. Ltd.
Address: A-40, Jhilmil Industrial Area, Shahdara, East Delhi, Delhi - 110095.