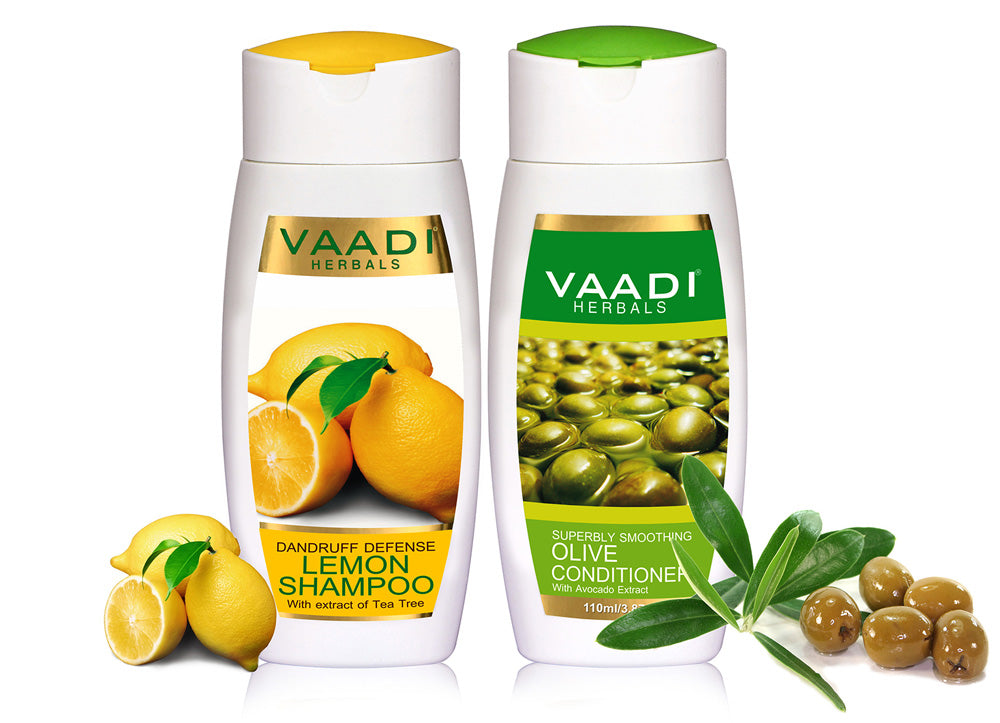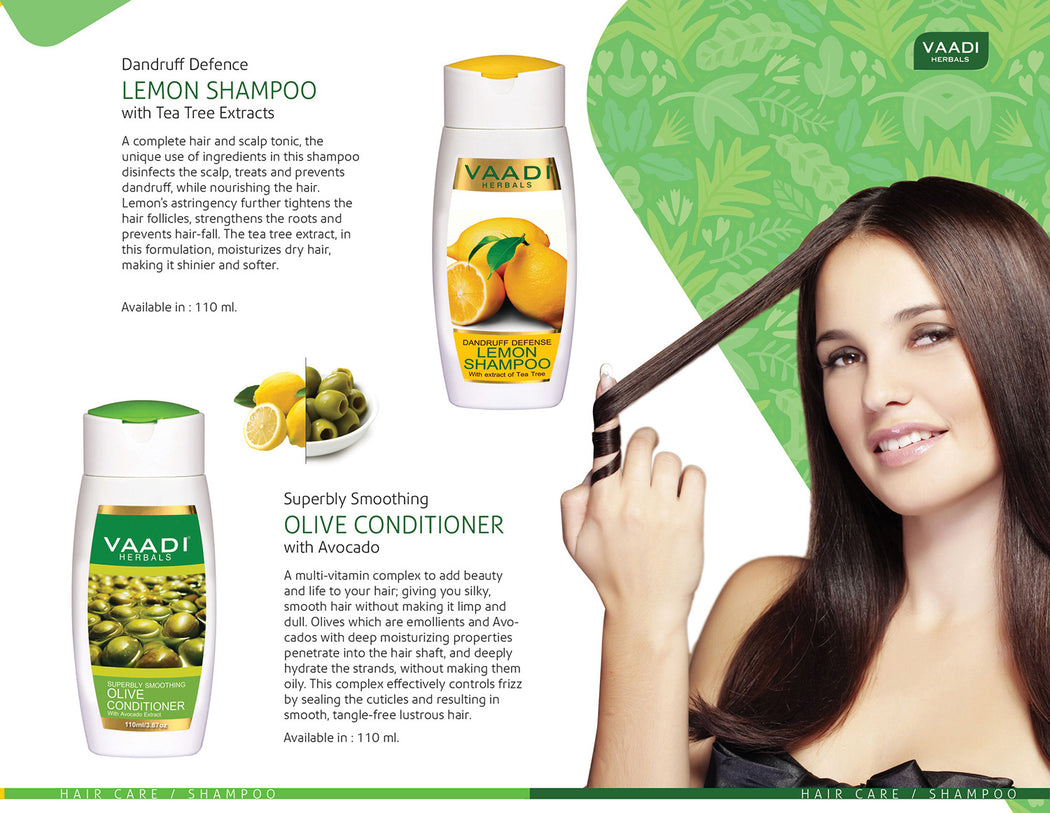 Dandruff Defense Lemon Shampoo with Olive Conditioner (110 ml x 2)
M.R.P. incl. of all taxes.
The shampoo in this combination is a hair and scalp tonic, which disinfects the scalp and prevents dandruff, while nourishing the hair. Lemon's astringency tightens the hair follicles while the tea tree extract moisturizes dry hair. The multi-vitamin rich conditioner, its Olives and Avocados penetrate into the hair shaft, deeply hydrating the strands, without making them oily. This complex effectively controls frizz and gives smooth, tangle-free & lustrous hair.

Ingredients : Pure Extracts of Lemon (Citrus Medica Limonum), Steam Distilled Tea Tree Extract (Melaleuca Alternifolia), Coconut Oil Derivative (Cocos Nucifera), Raspberry Leaf Extract (Rubus Idaeus), Neem Extract ( Melia Azadirachta Leaf Extract), Lemon Essential Oil (Citrus Medica Limonum), Steam Distilled Extract of Olive (Olea Europaea), Pure Avocado Extract (Persea Gratissima), Coconut Oil Derivative (Cocos Nucifera), Organic Honey (Mel Extract), Fullers Earth (Fullers Earth), Shea Butter (Butyrospermum Parkii), Coconut Extract ( Cocos Nucifera Oil),  DM Water (Aqua)

What causes Dandruff? How can it be treated ?

Body's general health is directly reflective on the hair and skin. Weather changes, diet alterations, stress levels, hormonal ups and downs and a lot more factors come into play when it comes to texture of hair and suppleness of the skin. When talking about scalp care, dandruff is one of the most frequent conditions faced by majority. While some deal with oily dandruff, others have a hard time keeping the dry flakes off. Malassezia is a yeast-like fungus that breeds on the scalp and consumes fat (or oil). When present in a high concentration, Malassezia tends to consume the oil generated by hail follicles for maintaining a moisture balance in the scalp. This causes excessive dryness of the scalp. Since the skin cells die on a faster rate than of which they can be renewed, the dead cells fall off. These club in together with oil on scalp, moisture in the air and form flakes which eventually leads to excessive itching. Dandruff can be treated effectively with natural herbs and essential oils. Use of chemical-based shampoos can further aggravate the dryness, thereby increasing chances of a relapse. Regular oiling and cleansing with a proper anti-dandruff shampoo containing a perfect mix of exfoliating and moisturizing agents will help attain the oil balance in the scalp helping get rid off dandruff.

How is Lemon beneficial in fighting dandruff ?

Extracted in its concentrated juice form, Lemon is nature's answer to dandruff. Being highly acidic in nature, lemon exfoliates excess oil on the scalp which houses the fungus and dirt. Stubborn dandruff can be treated well with a regular Lemon juice wash so as to keep the scalp clean and oil-free. Lemon juice is anti-bacterial in nature. This helps in preventing microbial activity on the scalp thereby preventing dandruff. Harsh chemicals, extreme temperatures and wind rip off the natural moisture from hair. Lemon helps in maintaining the pH balance of the scalp so as to keep it guarded against external stimuli. Rich in Vitamin C, Lemon Juice Extract keeps the scalp healthy and facilitates the proper regulation of oil by sebaceous glands, strengthening hair follicles and prevents hair fall and premature greying. Lemon extracts bring about that dazzling shine.

What is Tea Tree Oil and how is it effective against dandruff ?

Melaleuca oil or Tea Tree Oil is a highly potent anti-fungal, antiseptic and anti-bacterial oil taken from the leaves of Melaleuca alternifolia, predominantly found in Australia. Tea Tree Oil is known for it's oil balancing and cleansing properties. It gently seeps through the layers of the scalp, regulating the sebaceous glands secretion thereby treating dandruff from its root cause- oil. With tea tree oil, one can ensure a cleansed and thoroughly moisturized scalp, thanks to tea tree oil being an essential non-pore clogging oil that provides nourishment while exfoliating at the same time. Tea Tree oil is a hair volumizer as well. It gives hair the necessary nutrients needed for that glossy bounce and no-frizz look. With oil at bay, one can see an immediate reduction in dandruff in the first wash. With regular use, dandruff disappears yielding a healthier and happier scalp."

Apply Vaadi Shampoo On Wet Scalp And Hair. Massage It Gently Into The Scalp. Rinse And Repeat If Required.For Best Results Use Vaadi Herbals Red Flower Nourishing Conditioner. After Shampooing, Take An Appropriate Amount Of Conditioner On Your Palm. Apply All Over The Hair Working Through Ends. Wait 3-5 Minutes. Rinse Thoroughly. For Best Result Use With Vaadi Herbals Shampoo.
Country of Origin: India
Manufacturer & Packer: Vaadi Herbals Pvt. Ltd.
Address: A-40, Jhilmil Industrial Area, Shahdara, East Delhi, Delhi - 110095.