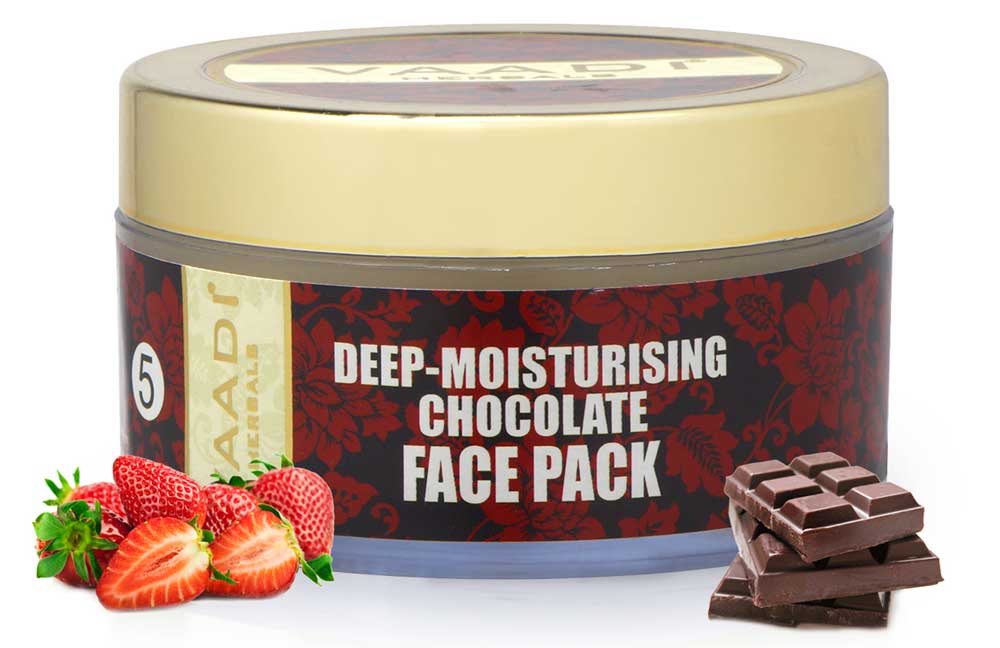 Deep-Moisturising Chocolate Face Pack (70 gms)
M.R.P. incl. of all taxes.
A rich chocolaty face pack, it has been specially formulated with a high percentage of cocoa's fatty content, to provide you pore deep hydration. It refreshes both your mind and body, providing you unimaginable relaxation; and a brighter more radiant skin.

Ingredients : Pure Cocoa Butter (Theobroma Cacao Seed Butter), Strawberry Essence Oil (Fragaria Ananassa Fruit Oil), Steam Distilled Cucumber Extract (Cucumis Sativus Extract), Fullers Earth, Organic Honey (Mel Extract), Pure Turmeric Extract (Curcuma Longa), Dm Water (Aqua)

How does Chocolate and Strawberry Face Pack help in healing, replenishing and rejuvenating the skin ?

The skin acts as a protective covering and nullifies the attack of harmful toxins on the body. This protector too needs safeguarding so as to function it's best. After a good session of exfoliation with the Chocolate and Strawberry cleansing cream, this Face pack will seep in the essential nutrients providing in-depth hydration which helps in beautifying the skin's texture. Furthermore, with the aroma of chocolate and strawberry, this Face Pack is sure to provide relaxation, help in stress-relief and at the same time, polish your skin to a perfect kissable glow.

How does Cocoa Butter ensure the moisture lock on the skin surface ?

This amazing naturally occurring moisturizer is a sure-shot hit among everyone. With its intoxicating chocolate aroma, Cocoa Butter is known for its soothing and calming effect on the skin as well as mind. Being a great emollient, Cocoa Butter penetrates in the skin's surface providing high level of hydration, curing dry patches and skin rashes of any kind and helps in bringing about a gorgeous, rosy soft skin. As the skin is hydrated well, wrinkles stay at bay and so do blemishes and scars. Skin rejuvenation takes place form the deep-pore level and any kind of flaking, irritation and even stretch marks are cured in no time by this very useful ingredient.

What is the role of Strawberry Extracts in the Face Pack ?

Strawberries are known as 'the skin fruit' as they help in curing skin ailments and superficial problems from inside out. The most important thing about strawberries is the presence o salicylic acid which has a very powerful cleansing action. By exfoliating the dead skin, strawberry extracts polish, replenish, heal and cure the skin. Also, blemishes, patches and pigmentation vanish away in no time. By improving the circulation of blood, strawberries serve as age-retarders as a distinctive reduction is seen in wrinkles, lines and age spots. Rich in Zinc and Vitamin C, Strawberries clear the complexion and whiten the skin giving a beautiful, fresh look.

How do Cucumber Extracts benefit the skin ?

Cucumber, packed with silica, is apt for a complete natural makeover of the skin. It helps in reduction of dark circles and under-eye puffiness. Also, a remarkable reduction is seen in wrinkles after application of Cucumber. Cucumber is a natural moisturizer and is a great relaxant. It cools the sensitive skin, under eye contour and gradually fades away the dark circles, scars and brightens the skin. Pigmentation and blemishes that are caused due to the sun or lack of nutrition lighten up and gradually diminish. Cucumber is rich in anti-oxidants and it takes special care of the delicate skin providing extreme hydration and soothing care.

In what way does Honey play the role of an excellent cleanser and rejuvenate the skin ?

From flower's nectar to pure sweet honey, the bees surely do a lot of hard work to get us this extremely helpful natural product. Known for it's anti-bacterial properties, Honey helps in the rejuvenation of the skin and prevents any excessive harm which the sun damage could cause, thereby leaving skin soft, supple and shiny. The sun's UV rays cause immense damage to the skin in ways which may not be externally visible at first. Honey counters the adverse effect of UV thereby giving the skin a new life. Honey regulated the production of oil by the skin. It seeps deep within the pores and traps out impurity hidden in the layers of skin. Honey unclogs pours and clears blemishes, scares and wrinkles by hydrating the skin thoroughly.

What is special action of Turmeric extracts in dazzling the skin with health ?

Turmeric possesses every possible solution to bring out a beautiful you. Turmeric grows mostly in South Asia. Turmeric has more to it than what meets the eye. It is a multipurpose ingredient that tackles a lot many difficult problems of the skin. By aiding skin lightening and fading post-acne scars, Turmeric also cures the dark spots and pigmentation which happens due to over exposure of the sun. Turmeric reduces any kind of inflammation, cleanses at the deep-pore level and acts as a shield from acne, break outs and scars. By regulating the production of sebum, Turmeric ensures a mirror shine, gorgeous look and velvety soft skin."

Take The Pack On Your Finger Tips. Apply A Thick Layer Evenly All Over The Face And Neck Avoiding The Eye Area. Keep It On For About 30 Minutes Or Until Dry. Rinse Off With Water. Pat Dry.
Country of Origin: India
Manufacturer & Packer: Vaadi Herbals Pvt. Ltd.
Address: A-40, Jhilmil Industrial Area, Shahdara, East Delhi, Delhi - 110095.