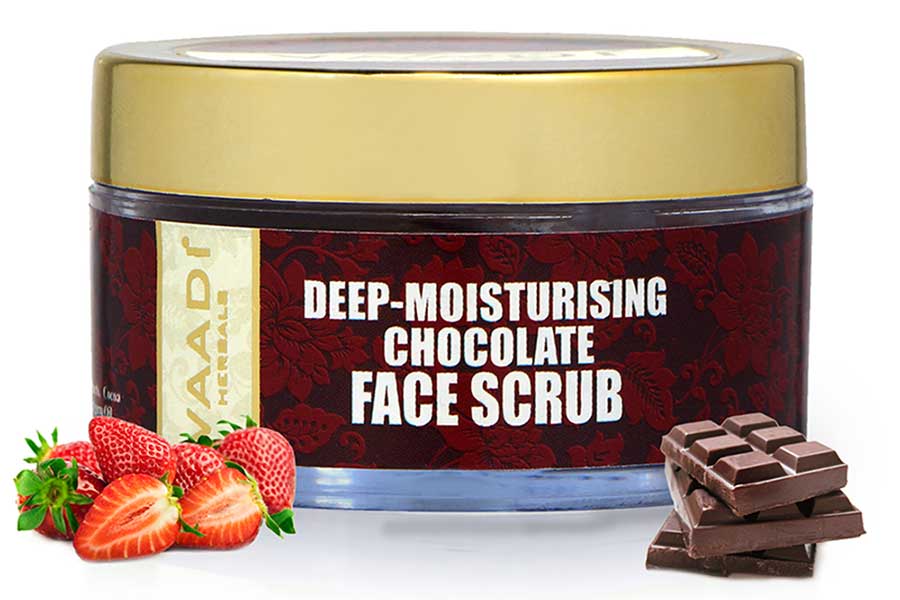 Deep-Moisturising Chocolate Face Scrub (50 gms)
M.R.P. incl. of all taxes.
A special formulation, this scrub has been developed for effective exfoliation of dead skin cells, but with gentle moisturizing action on the skin itself. Apart from smoothing the surface, it works to lighten blemishes too; improving both the tone and texture of the skin.

Ingredients : Steam Distilled Strawberry Extracts (Fragaria Ananassa Fruit Extract), Cocoa Butter (Theobroma Cacao Seed Butter), Coconut Oil Derivative (Cocos Nucifera Oil), Finely Grilled Walnut Scrub (Juglans Regia), Organic Honey (Mel Extract), Wheatgerm Oil (Triticum Vulgare Germ Oil), DM Water (Aqua)

Why is regular scrubbing necessary for the skin ?

The skin, being the most exposed organ of the body, needs to be regularly cleansed, toned and moisturized so as to keep it in the perfect condition, safe from forever attacking microbes, sun rays and pollutants. The skin tends to lose its moisture and is prone to acne, blemishes, excessive oiliness or dryness and blackheads. Regular scrubbing keeps the skin healthy by cleansing the skin from deep within. A mild scrub penetrates down to the skin's pores, clears off excess oil and dirt and gives the skin a healthy, kissable glow. Also, one should refrain from over-scrubbing as it causes harm to the epidermal layer of the skin. The skin loses moisture more often and appears blotchy and patched up. A mild scrub should be used thrice a week to ensure skin's suppleness and keeping the beautiful you intact, safe from external factors that may cause damage.

How do Strawberry Extracts detoxify the skin surface ?

Salicylic acid containing Strawberries are effective skin cleansers. They ward off the accumulated dead skin on the skin's surface which causes pigmentation, dullness and a lack-luster look. Also, the soothing effect of fresh strawberry extracts helps rejuvenate skin cells and maintains a fresh and clean look throughout. Strawberry Extracts are an apt cure for acne. Pimples disappear with a regular use of Strawberry on the skin. Strawberry Extracts gently exfoliate the skin, even-tone the texture and drive away dry patches and allergies by providing the necessary moisture and cool to the skin. The presence of essential oils takes care of the skin from within. Flakiness is a thing of past with Strawberry Extracts acting as the perfect moisture lock for the skin. Presence of Zinc and Vitamin C helps in whitening the skin's contour and keeps the regulation of blood smooth.

What role does Cocoa Butter play in skin care ?

Silky smooth skin takes nothing more than Cocoa Butter pampering. With its heavenly, intoxicating aroma, Cocoa Butter has been an effective moisture locking ingredient over centuries. Cocoa Butter is non-greasy and does not mess up the pores. Rather, it melts fast and percolates down the skin's layers making it supple, soft and hydrated for hours. Skin rejuvenation is further facilitated by exfoliating impurities and removing tan. Cocoa Butter is non-abrasive and hence it does not harm the skin. It gently cleanses and fades off marks and scars. Skin elasticity increases and signs of aging miraculously disappear within few days of use. Cocoa Butter is a full skin therapy in itself.

What are the benefits of Walnut Extracts on the skin ?

The non-abrasive scrubbing with fine walnut extracts proves to be highly efficient for skin rejuvenation. Walnut Extracts contain particles from the bark, leaves and the fruit. Walnut Extracts are highly recommended for their astringent properties which gives the skin an oil-free healthy scrubbing. Also, Walnuts contain omega 3 and 6 fatty acids which encourage cell growth and improve the regulation of blood, thereby yielding a blemish-free, soft and refreshed skin. Copper, Magnesium and Tryptophan make Walnut Extracts furthermore potent for providing the necessary protection of the skin from external factors such as the sun, wind and pollution. Walnut Extracts tame the inflammations and break-outs, thereby ensuring a thorough cleansing and protection of the skin.

How is Honey effective in skin polishing ?

Honey has been known to be a great cleansing agent over the years. With its unique action, honey traps impurities, absorbs them within and yields a squeaky clean skin within no time. Also, Honey is an effective anti-bacterial agent. It kills the microbes and keeps the skin protected from acne and allergies. Acne and pimples cannot live on the surface where honey reigns. Scars and blemishes lighten up thanks to Honey's skin cell rejuvenating properties. Sun damaged, dry and patches skin breathes in health with regular use of honey. Honey locks the moisture and nabs aging in the bud. The skin appears younger, healthier and brighter with the use of honey.

How does Wheatgerm Oil benefit the skin ?

Wheatgerm Oil is a highly effective essential oil that caters to the skin like no other. Highly rich in Vitamin E, Wheatgerm Oil is a potent antioxidant that keeps the skin safe from the action of the sun, minimizing the tan within no time, fades off scars and blemishes, yielding a beautiful you day after day. The damaged skin cells are rejuvenated thereby decreasing skin aging and wrinkling. Effective for all skin types, Wheatgerm Oil is the super-food for the skin as it replenishes, nourishes and helps providing the much needed protection from external factors. Highly rich in Vitamin A, E and D and a series of essential fatty acids, wheatgerm adds up to be an important ingredient in the skin regimen. Power-packed with Vitamins, minerals, lecithin and proteins, this essential oil aids the functioning of other ingredients helping in a dryness-free exfoliation."

Moisten Face And Neck, Then Take Appropriate Amount Of The Scrub. Scrub Gently With Circular Movements With Upward Strokes For Atleast 5 Minutes. Wipe Off With Damp Cloth.
Country of Origin: India
Manufacturer & Packer: Vaadi Herbals Pvt. Ltd.
Address: A-40, Jhilmil Industrial Area, Shahdara, East Delhi, Delhi - 110095.