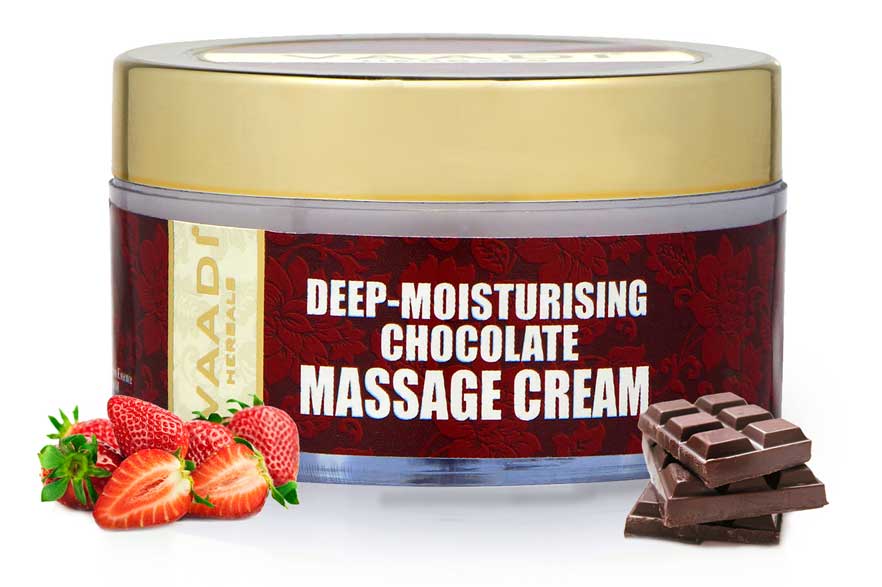 Deep-Moisturising Chocolate Massage Cream (50 gms)
M.R.P. incl. of all taxes.
A luxuriant massage cream, with mineral rich ingredients like cocoa, strawberry & wheat germ oil, it moisturizes the deeper layers of the skin, rendering a supple and glowing complexion. It even rejuvenates the skin to make it visibly youthful and radiant.

Ingredients : Pure Cocoa Butter (Theobroma Cacao Seed Butter), Strawberry Essence Oil (Fragaria Ananassa Fruit Oil), Steam Distilled Liquorice Extract (Glycyrrhiza Glabra Extract), Coconut Oil Derivative (Cocos Nucifera), Wheatgerm Oil (Triticum Vulgare Germ Oil), Vitamin E (Tocopheryl Acetate), DM Water (Aqua)

What are the benefits of a good skin massage ?

Skin acts as a safeguarding mechanism, taking in the everyday dirt, pollution and UV from the environment, acting as our safe armor. But the skin needs pampering too. A rich massage will not only make the skin ready but also make it stronger and more resistant towards external factors, not to forget the beautiful fruity fragrance it will bear all day long. Massage calms the nerves and improves the blood circulation which keeps the skin supple, healthy and very importantly, beautiful.

How does Wheatgerm Oil benefit the skin ?

From the core of wheat grain, wheatgerm oil in it's unrefined form. Wheatgerm oil contains large concentrations of natural Vitamin E which makes it a very powerful antioxidant that acts on the sun-damaged skin cells, acting as an anti-scarring agent and healing the skin in no time. On a regular application of the massage cream, premature aging stops and a younger-looking, even toned skin is visible. Sun and pollution exposure leads to black spots and pigmentation which are effectively cured by Wheatgerm Oil. It soothes the skin and works on cell renewal and fighting wrinkles. It works perfect on all skin types.

How does Vitamin E enhance the skin's texture ?

Vitamin E is a powerful anti-oxidant that acts as a protective shield over our skin and also repairs the everyday damages caused due to Sun, wind, experimentation with make up and unhealed scars and blemishes. Since the human body does not synthesize Vitamin E, the massage cream doubles up for the same furthermore, nullifying effects of harsh chemicals being an all-herbal cream. Vitamin E acts as a shield as well as a healer. While forming a protective layer over the skin, Vitamin E repairs the damage done. Vitamin E prevents damage and degradation of the skin. For dry and flaky skin, Vitamin E is a boon as it locks the skin's moisture and lets nourishment in yielding a patches-free and supple skin that shines with health.

How does Strawberry Essential Oil beautify the skin ?

Apart from the nutritional value that strawberries are known for, beauty is another department where strawberries excel. Rich in salicylic acid, Strawberries clear off the dead skin that gets accumulated on the epidermal layer resulting in dullness and skin-darkening. Also, a perfect cure for acne prone skin, Strawberry Essential Oil clears off pimples within few days of use. Since strawberry extracts are finely amalgamated with essential oils, the flakiness, allergies and dry patches disappear as the skin is thoroughly moisturized. Strawberry is gentle and helps in regulation of blood in the skin. Also, Strawberry Essential Oil effectively whitens the skin tone as it is rich in Vitamin C and Zinc content.

What are Licorice extracts and how do they benefit the skin ?

Taken from the roots of glycyrrhiza glabra, Licorice extracts have flavinoids and glycyrrhetic which are powerful skin-rejuvenatory agents. Highly rich in anti-oxidants, Licorice extracts curb melanogenesis which further helps in lightening the skin tone. Licorice extracts soothe and smooth the skin as they are great anti-inflammatory agents thereby reducing any allergies or possible break-outs yielding a beautiful and fabulous skin.

How is Cocoa Butter an important part of skin care ?

Bearing an intoxicating sweet smell, Cocoa butter is highly sought after or it's skin hydration and anti-tan properties. Since cocoa butter is all natural, it heals any chemical damage and further penetrates deep into the pores giving the skin a total rejuvenation from within with it's aromatherapy. Cocoa butter does not clog pores as it melts fast and moisturized the skin from within. With a regular use, the elasticity of the skin improves which prevents wrinkles and early signs of aging. Also, stretch marks are prevented. Worn out skin cells are renewed and calloused skin breathes with health."

Take An Appropriate Amount Of The Cream On Your Finger Tips And Apply All Over The Face And Neck. Massage With Firm Circular, Upward And Outward Movement Till It Is Completely Absorbed In The Skin.
Country of Origin: India
Manufacturer & Packer: Vaadi Herbals Pvt. Ltd.
Address: A-40, Jhilmil Industrial Area, Shahdara, East Delhi, Delhi - 110095.