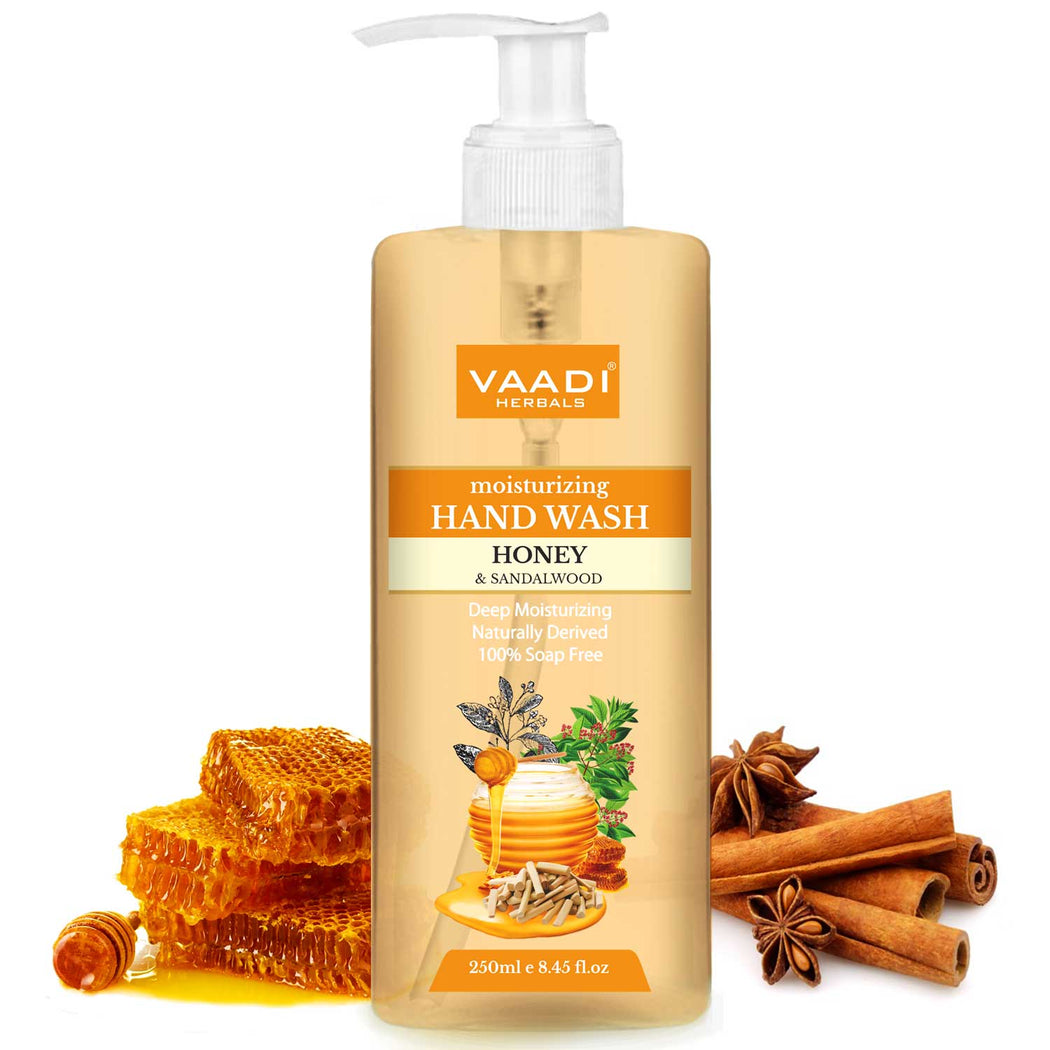 Deep Moisturizing Honey & Sandal Hand Wash (250 ml)
M.R.P. incl. of all taxes.
Inspired by the warmth of Honey and rich Sandalwood, this hand wash adds indulgence to your routine and gives soft, pampered hands. Honey helps retain natural moisture in skin, heals sun burnt and tired hands while Sandalwood protects and hydrates skin, also has anti-microbial properties.

Ingredients : Steam Distilled (Santalum Album) Sandalwood Extract, Organic Honey, Pure Turmeric Extract, Manjistha Extract, Pure Sandal Essential Oil, Coconut (Cocos Nucifera) Oil Derivatives, DM Water (Aqua).

Honey and Sandal hand wash is an effective cleanser that leaves your skin feeling fresh, healthy and clean. The gentle frangrance leaves behind a trail of freshness and calms senses. This hand wash helps maintain the natural moisture balance in skin and the hands feel beautifully soft and conditioned.

Honey ensures that the hands retain the natural moisture and do not look excessively dry. Honey traps the moisture and keeps the skin hydrated for a long time. Also, honey safeguards the skin from external factors such as sun, pollution and dust.

This oil helps in keeping skin hydrated and thus supple. It is also astringent in nature, thus it works at contracting the pores and keeping the skin firm. Its anti inflammatory and anti irritant action also makes it beneficial for sensitive skin; while its anti-septic properties help treat minor infections. It even heals damaged skin, including extra dry hands. Also known for its sedative, soothing and cooling properties it greatly helps relax tired hands.

Wet your hands and take a coin sized amount of the liquid wash. Rub to form lather and wash hands fully. Rinse under running water
Country of Origin: India
Manufacturer & Packer: Vaadi Herbals Pvt. Ltd.
Address: A-40, Jhilmil Industrial Area, Shahdara, East Delhi, Delhi - 110095.