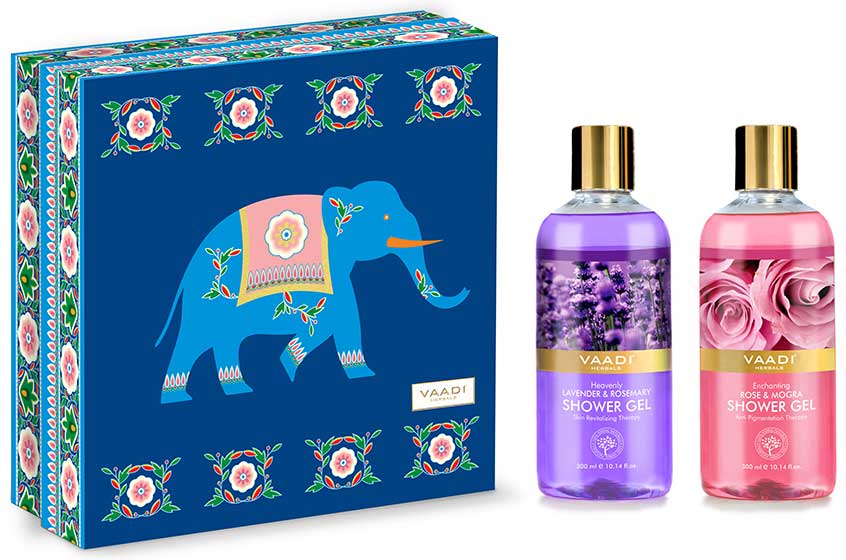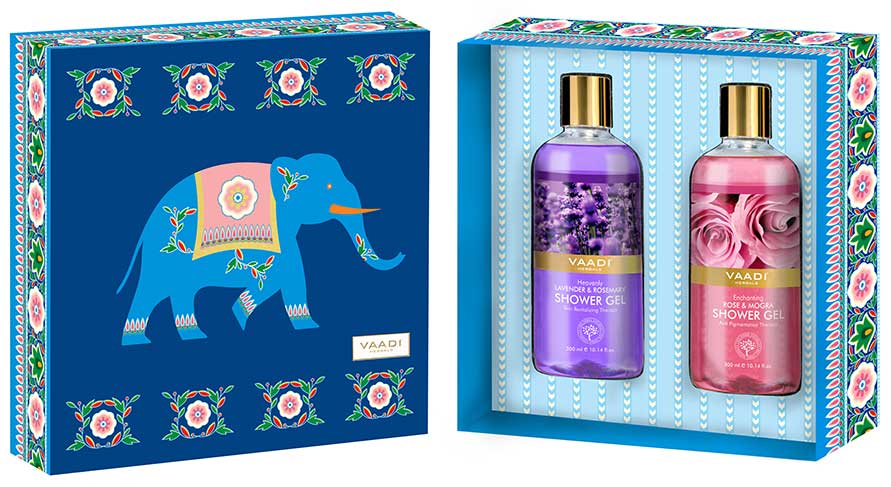 Exotic Floral Shower Gels Gift Box - Enachanting Rose & Mogra 300 ml & Heavenly Lavender & Rosemary 300 ml ( 300 ml x 2 )
M.R.P. incl. of all taxes.
This traditional gift box, delicately crafted and made by hand, consists of authentic herbal Shower gels that have been made using rich Indian oils, herbs and plant extracts. It brings together a floral combination of Rose-Mogra and Lavender-Rosemary that will make your bathing experience fresh and dewy as spring and make your skin super smooth!

 

Ingredients : Extract Of English Rose ( Rosa Centifolia Flower Extract), Steam Distilled Mulberry Extract (Morus Alba Extract), Rose Oil (Rosa Damascena Essential Oil), Extracts Of Lavender ( Lavandula Angustifolia Water), Rosemary Extract ( Rosmarinus Officinalis Extract), Lavender Essential Oil (Lavandula Officinalis Flower Oil), Olive Oil Derivatives, Virgin Coconut Oil ( Cocos Nucifera Oil), Lavender Water ( Lavandula Angustifolia Water), DM Water (Aqua)

This unique gift box consists of -

Enchanting Rose & Mogra Shower gel (300 ml)

Enriched with English Rose and gentle Mogra extracts, this powerful anti-pigmentation formula helps lighten dark spots and patches in your skin as it cleanses it. English Rose's astringency and rich Vitamin C content helps fade pigmentation marks; while Mogra moisturises and nourishes the skin. This shower gel rejuvenates the skin and soothes aches and tiredness

Heavenly Lavender & Rosemary Shower gel (300 ml)

Lavender & Rosemary shower gel is specially formulated to rejuvenate and replenish dull and parched skin with essential nutrients. This gel makes bathing a spa like experience at home with its calming fragrance. Lavender and rosemary together help boost the blood circulation; relieving congestion & puffiness in the skin. They also moisturize the skin and promote cellular regeneration.

Turn on the shower and step inside Pour some gel onto a ponge or washcloth Lather the soap Gently scrub yourself all over Rinse it all off.
Country of Origin: India
Manufacturer & Packer: Vaadi Herbals Pvt. Ltd.
Address: A-40, Jhilmil Industrial Area, Shahdara, East Delhi, Delhi - 110095.