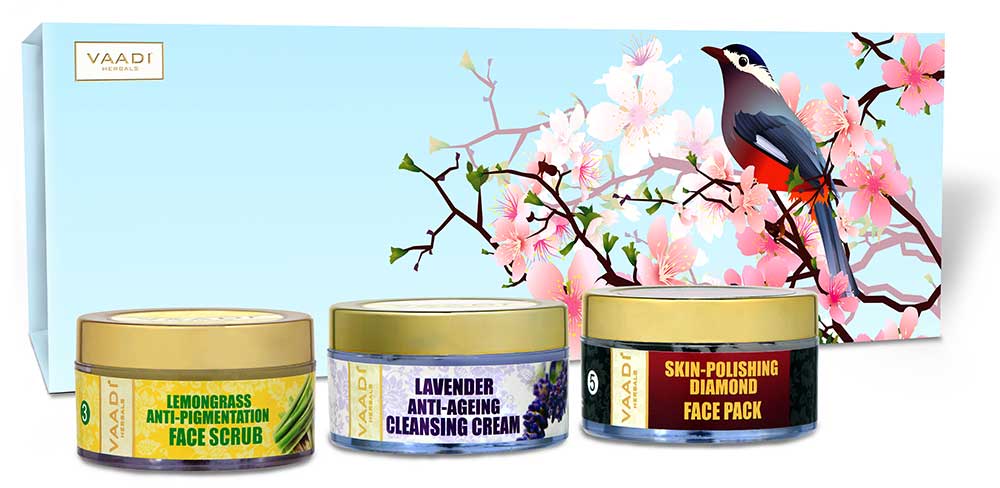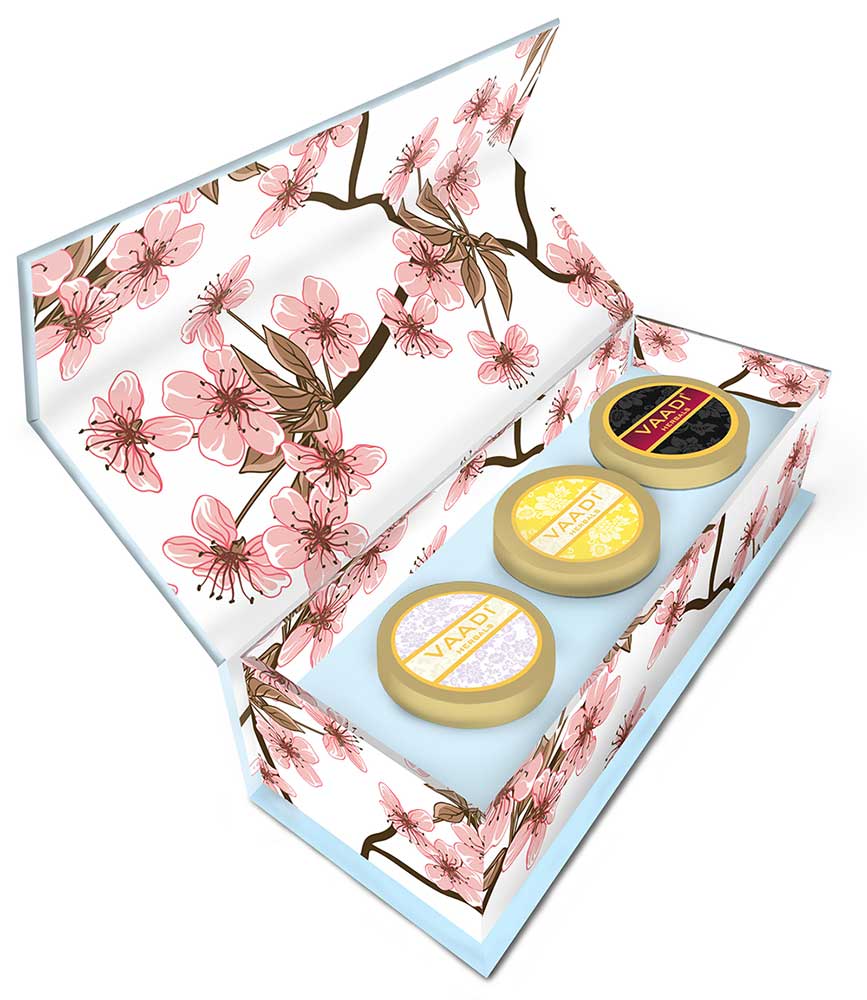 Exotic Radiance Skin Care Herbal Gift Set (170 gms)
M.R.P. incl. of all taxes.
This exotic combination of skin care products in a beautifully crafted handmade gift box is an excellent way to show your loved ones you care! Comprising of a nourishing cleansing cream, a gentle and exfoliating scrub and soothing and rejuvenating face pack, this set ensures that your skin radiates with natural health and goodness of herbs, fruits and essential oils.

Ingredients : Lemongrass Essential Oil (Cymbopogon Schoenanthus Oil), Pure Cedar Wood Oil (Cedrus Atlantica Bark Oil), Pure Lavender Oil (Lavandula Officinalis Flower Oil), Rosemary Oil (Rosmarinus Officinalis Oil), Orange Peel Extract (Citrus Aurantium Amara Peel Extract), Steam Distilled Sandal Extract (Santalum Album Extract), Fullers Earth (Fullers Earth), Organic Honey (Mel Extract), Diamond Powder, Jojoba Oil (Simmondsia Chinensis Seed Oil), DM Water (Aqua)

What role does Lavender Oil play in this cleansing cream?

Lavender Oil is anti-bacterial in nature; as such it cleanses the skin not only of dirt but kills germs also. It also removes excess sebum and dead cells from the surface. This helps the skin fight against acne, blackheads, and whiteheads, as well as other minor skin infections. Cleansing with this oil decongests the skin and improves blood circulation. This allows toxins to flush out & betters supply of nutrition to cells. It renders your skin truly clean and healthy. The presence of linalool further makes this derivative of Lavandula officinalis, an effective healing agent as well.

How does Rosemary Oil prove to be a good cleanser?

Extracted from Rosemarinus officianalis plant of the mint family, this oil is an excellent anti-microbial agent. It thus clears the skin of acne-causing bacteria and other infective microbes. Its anti-inflammatory action further helps soothe the skin as well as heal wounds. Rosemary oil is also known to nourish and renew the skin. It boosts circulation which improves the supply of essential nutrients to the skin cells. It also helps detoxify & decongest the skin; which reduces puffiness and grants health to the cells. Its skin re-generating activity further contributes towards gently cleansing and refreshing the skin.

Why is Lemongrass face scrub beneficial?

This essential oil is known to be a great toner for the skin and a very efficient astringent that helps in cleansing the skin from deep within. Extracted from Cymbopogon citratus, Lemongrass Oil controls the secretion of oil by the sebaceous glands thereby keeping a tab on irregular eruptions and acne. Clogged pores are sign of an unhealthy skin that cannot breathe free and hence is prone to all sorts of infections and attack of microbes. Being a potent antiseptic, Lemongrass Oil is a treat for the skin as it seeps down the skin's layers and unclogs pores. Being fungicidal in nature, this oil kills the microbes than are a threat to the skin. Lemongrass Oil smells sweet and is a muscle as well as skin relaxant. It helps in revitalizing stressed skin and brings out a beautiful you everyday.

What is Cedar wood oil and how is it good for the skin?

Cedar wood oil is a powerful astringent and sedative that keeps the skin cleansed and microbe-free. For skin that is prone to acne, Cedar Wood oil is a boon in disguise as it keeps the oil regulation in control. This helps in driving away impurities and infections and keeping the skin healthy and glowing, minus pimples and break-out. Treating marks and blemishes with its efficient action, this a-cedrene and b-cedrene rich oil gently exfoliates the skin, treating it and protecting it. Cedar Wood oil is antiseborrhoeic and antiseptic. Any possible infection fails to act up when Cedar wood oil is in action.

How does Diamond Powder make the skin clearer?

The diamond powder in beauty products exfoliates very gently to remove the skin surface right before the whitening. It opens up the skin pores in order to allow better penetration of the peroxide so that it can break down the stain molecules that are deeper. Skin care products containing extra-fine diamond powder gently exfoliated the top layer of skin, allowing the vitamins, moisturizers, botanicals, and age-defying ingredients to penetrate deeper and more effectively.

How is Honey beneficial for the skin?

Honey ensures that the lips retain the natural moisture and do not look dry or chapped. Honey traps the moisture and keeps the hips hydrated for a long time. Also, honey safeguards the lips from external factors. When it comes to almond oil, being thin, it penetrates easily and heals chapped lips giving them a smooth and lustrous appeal. And when combined with honey, it benefits the lips in the most subtle and effective way. Almond oil is an effective cure to dryness and sun burns. It leaves lips petal soft.

How does Jojoba oil contribute to a healthier skin?

Jojoba tree yields this highly moisturizing Jojoba Oil. It is commonly called as wax ester. Jojoba tree plantations are found in North-west Mexico, South Arizona and South California. Out of all the oils found in nature, Jojoba Oil is most comparable to the oil produced by sebaceous glands of the human skin. Providing lips with high level of nutrients and moisture, Jojoba oil regulates the oil balance in lips, which naturally do not contain the oil glands. Jojoba Oil removes dryness and cures chapped lips. Also, lips are softer, healthier and have a natural gloss. The Oil does not evaporate and hence keeps the lips hydrated round the clock. Jojoba Oil has a high percentage of anti-oxidants which keep lips safe from external factors Easily absorbs and provides intensive nourishment.

Lavender Cleansing Cream :- Apply A Generous Layer On The Face And Neck. Massage Gently In Circular Motions For 5-7 Minutes. Rinse Thoroughly Or Remove With Moist Cotton.

Diamond Face Pack :- Take The Pack On Your Finger Tips. Apply A Thick Layer Evenly All Over The Face And Neck Avoiding The Eye Area. Keep It On For About 30 Minutes Or Until Dry. Rinse Off With Water. Pat Dry.

Lemongrass Face Scrub :- Moisten Face And Neck, Then Take Appropriate Amount Of The Scrub. Scrub Gently With Circular Movements With Upward Strokes For Atleast 5 Minutes. Wipe Off With Damp Cloth.
Country of Origin: India
Manufacturer & Packer: Vaadi Herbals Pvt. Ltd.
Address: A-40, Jhilmil Industrial Area, Shahdara, East Delhi, Delhi - 110095.