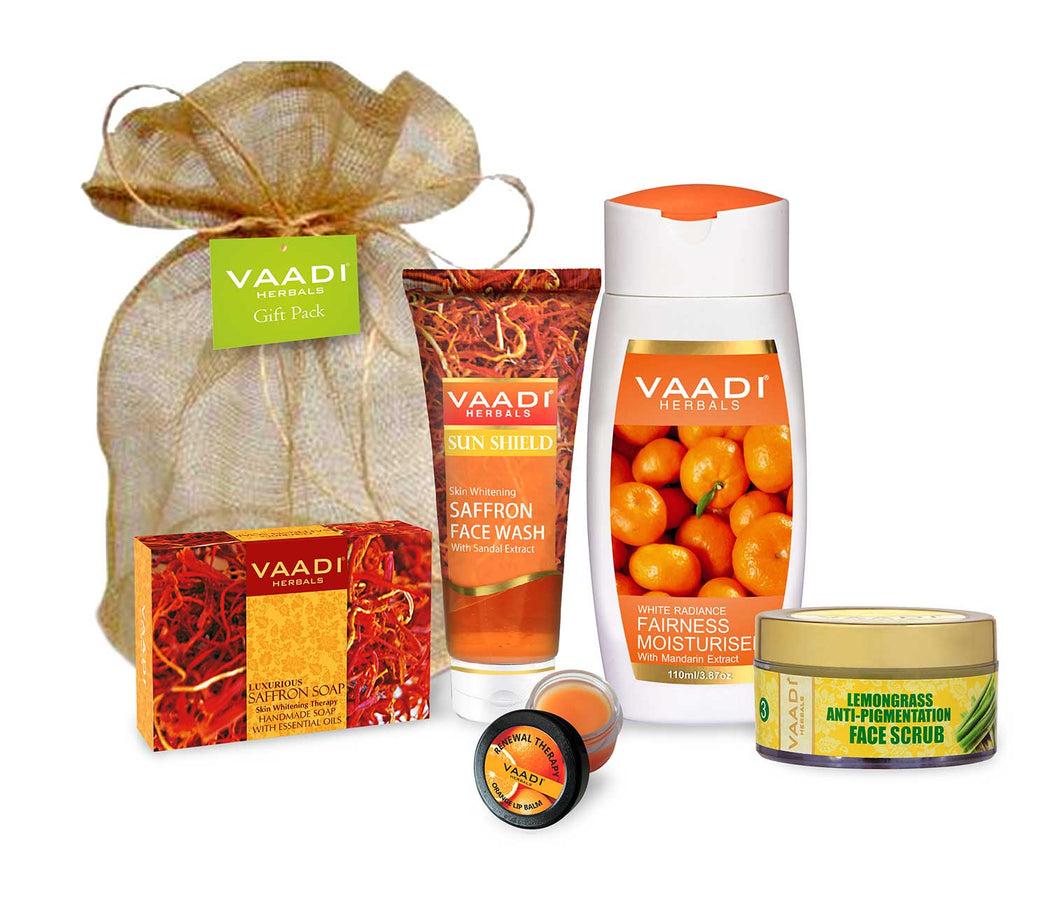 Fair Skin Gift Pack (355 gms)
M.R.P. incl. of all taxes.
This amazing Fair Skin Gift Pack would add not just glow, but confidence and compliments in your lives thanks to the real goodness of natural ingredients.

Ingredients : Lemongrass Essential Oil (Cymbopogon Schoenanthus Oil), Pure Cedar Wood Oil (Cedrus Atlantica Bark Oil), Saffron Extract (Crocus Sativus), Coconut Oil Derivative (Cocos Nucifera), Goat Milk (Caprae Lac), Palm Oil (Elaeis Guineensis), Steam Distilled Saffron Extract (Crocus Sativus), Turmeric Extract (Curcuma Longa), Steam Distilled Mandarin Extract, Shea Butter (Butyrospermum Parkii), Mulberry Extract (Morus Alba), Coconut Oil Derivative (Cocos Nucifera), Orange Seed Oil (Citrus Aurantium Dulcis), Honey (Mel Extract), DM Water (Aqua)

Skin Whitening Saffron Face Wash (60 ml)

An innovative after-sun-care herbal formulation, this face-wash fights and reverses the UV damage to the skin, while leaving it feeling cool and refreshed. Anti-oxidants, Saffron and Sandal, further soothe the exposed skin, as well as miraculously fade away sun-tan and pigmentation, granting you a fairer and smoother complexion.

Fairness Moisturizing Lotion with Mandarin Extract (110 ml)

This dual-action formulation effectively lightens your skin tone while deep-moisturizing it. The presence of Vitamin-C-rich Mandarins externally lightens the complexion. On the other hand, the Silk Extract works from the inside, by controlling the production of skin-darkening pigment, melanin. Together they grant you a softer, smoother & fairer complexion.

Luxurious Saffron Soap (75 gms)

Enriched with multi-mineral-rich content of Saffron & goat Milk, this soap lightens and evens your skin tone, while cleansing away pore-deep impurities. It gently fades away pigmentation marks and blemishes; and grants you a fairer & flawless complexion! 

Orange Lip Balm (10 gms)

This specially formulated lip-balm grants a long-lasting moisture to your lips; while satisfying your senses with a lip smacking tangy orange flavor you can't get enough of.

 

 

Lemongrass & Cedarwood Scrub (50 gms)

The combined goodness of aromatherapy oils, of Lemongrass & Cedarwood, exfoliates your skin while gently pampering it. Dead cells on the surface are sloughed off, and excessive oiliness and impurities are removed. This scrub leaves your face clear, smooth & acne-free.

Saffron Face Wash :- Before You Apply Sun Block Cream/Lotion, Wash Face With This Anti-Tan Gel. Squeeze Out A Small Quantity. Apply On The Face And Workout Lather. Rinse Off, Pat Dry.

Fairness Moisturizing Lotion :- Cleanse Skin Thoroughly. Apply All Over The Face, Arms And Neck In The Morning And At Night. Makes A Perfect Make-Up Base.

Saffron Soap :- Take Soap And Lather In The Hands. Apply The Lather To The Entire Body, Gently Massage And Enjoy The Pure Delight Of Our Herbal.

Lemongrass Face Scrub :- Moisten Face And Neck, Then Take Appropriate Amount Of The Scrub. Scrub Gently With Circular Movements With Upward Strokes For Atleast 5 Minutes. Wipe Off With Damp Cloth.

Orange Lip Balm :- Clean Lip Gently And Use Your Fingers To Apply The Lip Balm To Your Lips.
Country of Origin: India
Manufacturer & Packer: Vaadi Herbals Pvt. Ltd.
Address: A-40, Jhilmil Industrial Area, Shahdara, East Delhi, Delhi - 110095.