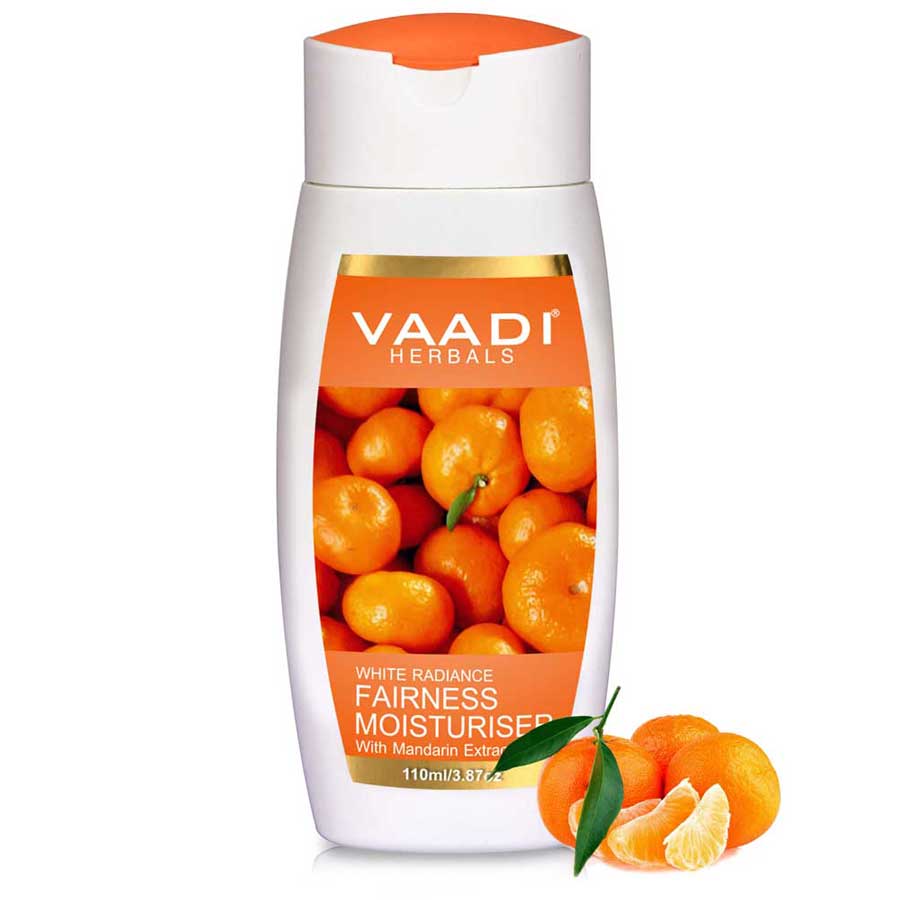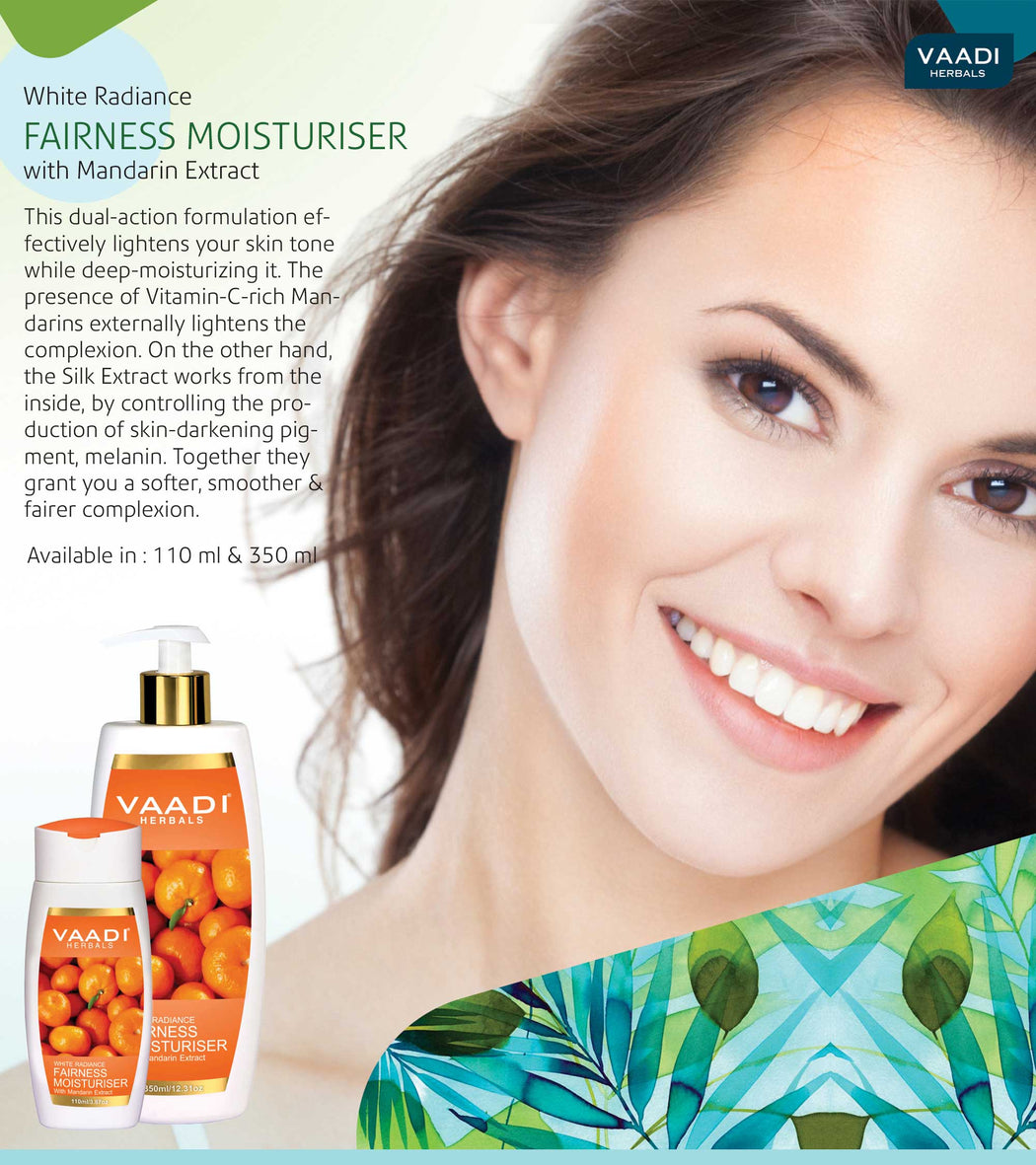 Fairness Moisturiser With Mandarin Extract (110 ml)
M.R.P. incl. of all taxes.
This dual-action formulation effectively lightens your skin tone while deep-moisturizing it. The presence of Vitamin-C-rich Mandarins externally lightens the complexion. On the other hand, the Silk Extract works from the inside, by controlling the production of skin-darkening pigment, melanin. Together they grant you a softer, smoother & fairer complexion.

Ingredients : Steam Distilled Mandarin Extract, Shea Butter (Butyrospermum Parkii), Mulberry Extract (Morus Alba), Coconut Oil Derivative (Cocos Nucifera), Pure Aloe Vera Juice (Aloe Barbadensis Leaf), Milk Enzymes(Caprae Lac), DM Water (Aqua)

What causes skin-darkening and a lack-luster complexion ?

In today's world where skin care, personal health care regime, etc have shifted to the back burner because of non-availability of time, the stressed lifestyle eventually starts to show on the face. The skin loses its shine and tends to fall prey to allergies, pigmentation, sun's harmful UV rays, pollution, acne, etc. As a counter effect to UV rays of the sun, the skin produces Melanin to keep the skin safe from tanning and sun burns. This Melanin causes the skin to darken. Moreover, the skin loses moisture and dry patches, dark spots, blemishes and pimples become an everyday thing. To keep the skin safe from damage, a regular skin care Cleansing-toning-moisturizing routine is important. After proper cleansing and toning, it is important to lock the lost moisture and keep pores from clogging. This purpose is served with a proper moisturizing lotion that not only keeps the skin hydrated throughout the day but also keeps it safe from external attack of microbes and sun.

What are Mandarin Extracts and how do they Lighten the skin tone ?

Tangerine or Mandarin Orange grows in China and is then taken to Europe to retrieve the most useful extracts from it- the Mandarin Essential Oil. Known for its vivid medicinal properties, Mandarin Oil is a great anti-septic and anti-bacterial making it a great safeguard ingredient from allergies, microbes and acne. Mandarin Oil seeps down the layers of the skin and improves blood and lymph circulation. This rejuvenates the skin and helps in proper hydration. The skin stays supple and vibrant. By promoting cell growth and renewal, Mandarin Oil reduces tanning, pigmentation and blemishes thereby giving you a renewed look altogether. The Vitamin-C rich Mandarin Extracted Oil polishes the skin to renewal and lightens the complexion from within by purifying the blood and facilitating removal of toxic substances.

What is Silk Extract and how does it benefit the skin ?

Silk is known for its silken sheen and beauty. With advancement of technology, now Silk Extracts are being used to enhance the enigma of the skin. Silk Extracts are highly rich in proteins. These proteins make the skin lustrous and act as a powerful protection from external factors that can possibly harm the skin. The sun's UV rays accelerate the production of Melanin in the skin which results in darkness of the skin.Extracts instantly get absorbed in the skin and boost the metabolism of epidermis and corium, hydrate the skin and also regulate the production of Melanin. Silk Extracts promote cell regeneration and promote smoothing of wrinkles moisturizing well. Providing an active sun protection and skin whitening effect, Silk Extracts contain amino acids that aid even toning the skin's texture thereby making it soft to touch and tempting to watch."

Cleanse Skin Thoroughly. Apply All Over The Face, Arms And Neck In The Morning And At Night. Makes A Perfect Make-Up Base.
Country of Origin: India
Manufacturer & Packer: Vaadi Herbals Pvt. Ltd.
Address: A-40, Jhilmil Industrial Area, Shahdara, East Delhi, Delhi - 110095.