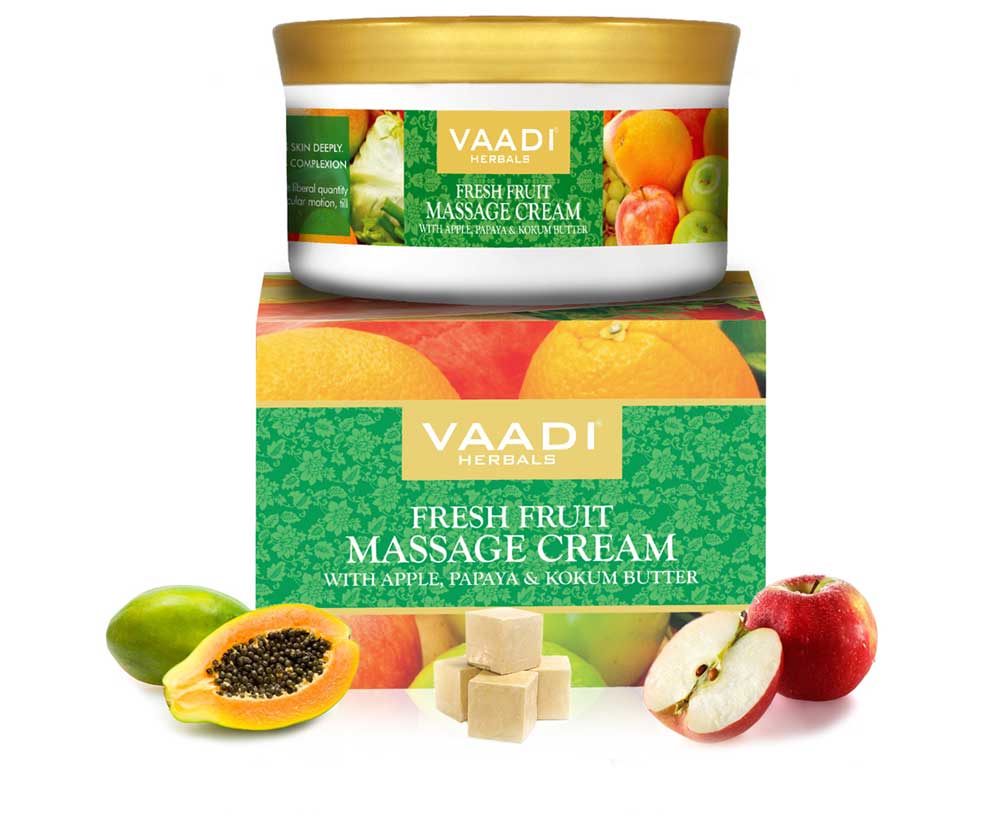 Fresh Fruit Massage Cream with Apple, Orange, Papaya & Kokum Butter (150 gms)
M.R.P. incl. of all taxes.
A nutrient-rich cream; it pampers as well as enhances your complexion. Its vitamin content deep nourishes & moisturizes your skin, and boosts circulation, keeping it in good health. The anti-oxidants constituents in the cream further help improve the complexion and even the skin tone, by reducing wrinkles and fading patches.

Ingredients :Almond Oil (Prunus Amygdalus Dulcis Oil), Orange Extract (Citrus Aurantium Amara Extract), Papaya Extract (Carica Papaya Fruit Extract), Coconut Oil Derivative (Cocos Nucifera), DM Water (Aqua)

What causes skin to become unhealthy and lose its glow ?

Healthy skin is itself a barrier against skin infections. Healthy skin is one, which is neither too oily nor too dry. The former blocks the pores and is responsible for skin infections like acne and blackheads; which finally result in ugly scars. As for dry skin, it loses elasticity and gets wrinkled earlier; and if cracked too, it is more susceptible to infections. Inadequate or improper hydration causes skin to lose its glow. Moreover, as we age, the basic health of our skin takes a toll. The outermost layer of the skin thins out; newer cells develop slowly; dead cells accumulate. This combined with the years of sun-exposure make our skin dull; patchy and pigmented. To add to this, poor blood circulation means poor supply of nutrients to the cells; also resulting in poor health of the skin.

What are the benefits of Apple in skincare ?

Apples are very useful in lightening, tightening and brightening the complexion. A rich source of antioxidants, due to the presence of Vitamins A, B and C; its helps the skin fight against premature aging. Their natural healing property helps in the treatment of cracked skin and sun-burn; as well as in soothing inflamed and/or irritated skin. As gentle exfoliants, apples also help clear the surface of dirt, chemicals as well as dead skin cells; while shrinking enlarged pores. And this effectively treats acne as well as smoothens out the complexion.

How do Apricots contribute in maintaining healthy skin ?

Apricots, or Prunus armeniaca, are excellent moisturizers for both oily and dry skin. A number of skin problems, including eczema, sunburn as well as itching can be effectively treated with this. This is partly possible because of the presence of skin rejuvenating nutrients, including beta-carotene, as well as Vitamins A and E. Along with nourishing the skin, they also improve the turnover of cells; and stimulate the production of collagen. These help delay the signs of skin aging.

How do Oranges help in making skin healthier ?

Oranges are a rich source of Vitamin C. This grants oranges the properties of an astringent and a toner. It reduces the oiliness of the skin, while cleansing out the impurities from the skin pores. This is a great benefit for acne and blackhead-prone skin. It also helps tighten the pores, and in firming up the skin. Vitamin C is also a mild bleaching agent and helps lighten the skin tone; as well as reduce the appearance of dark spots, scars and blemishes. Apart from this, Vitamin C also moisturizes the skin and helps fight the signs of aging; along with Vitamin A and flavonoids; which are all constituent anti-oxidants of Oranges.

What makes Papaya a good skincare agent ?

Papaya, or Carica papaya, is rich in anti-oxidants; in the form of Vitamins A, C and E. They help in rejuvenating the skin, by repairing and inhibiting skin cell damage; as well as stimulating the regeneration of cells. It helps maintain the elasticity of the skin and delays the onset of wrinkles and fine lines. Due to its astringent action, papaya is helpful in treating acne and lightening of sun-tan, scars, blemishes and even freckles. It unclogs and tightens the pores; as well as removes the dead cells from the surface to reveal healthier and smoother skin.

How are Almond Oil and Kokum Butter beneficial for skin ?

Almond Oil is extracted from the kernels of sweet almonds; while kokum butter is sourced from the seeds of plant Garcinia indica. The oil and butter are both rich sources of Vitamin E; which is a natural anti-oxidant. Thus, they help delay aging of the skin; including appearance of wrinkles. Almond oil and kokum butter are both excellent moisturizers for both dry and oily skin. They are both emollients; meaning, they help skin absorb moisture, from the air and keep it hydrated. They even soothe dry and irritated skin, and lessen inflammation. The emolliency of almond oil is owed to the presence of olien glyceride and linoleic acid. As for the oily skin, almond oil maintains the moisture balance of the skin, while treating and preventing its most common problems, i.e. acne and blackheads. Kokum butter is non-comedogenic, i.e. it does not clog pores. Thus, this too is safe for use for oily skin. Both these substances are also effective in controlling sun-caused damage to the skin; including sun-tan, sunburn, sun-spots as well as skin peeling. Almond oil is additionally helpful in reduction of dark-spots and under-eye circles. It even stimulates blood circulation, apart from cleansing the skin off dead cells and impurities. As for kokum butter, it aids in oxygenation of cells, helping in healthy growth of skin tissues; by making essential nutrients more readily available to them."

Cleanse Face. Apply Liberal Quantity Over Face Neck. Massage Gently In Circular Motion, Till Well Absobred
Country of Origin: India
Manufacturer & Packer: Vaadi Herbals Pvt. Ltd.
Address: A-40, Jhilmil Industrial Area, Shahdara, East Delhi, Delhi - 110095.