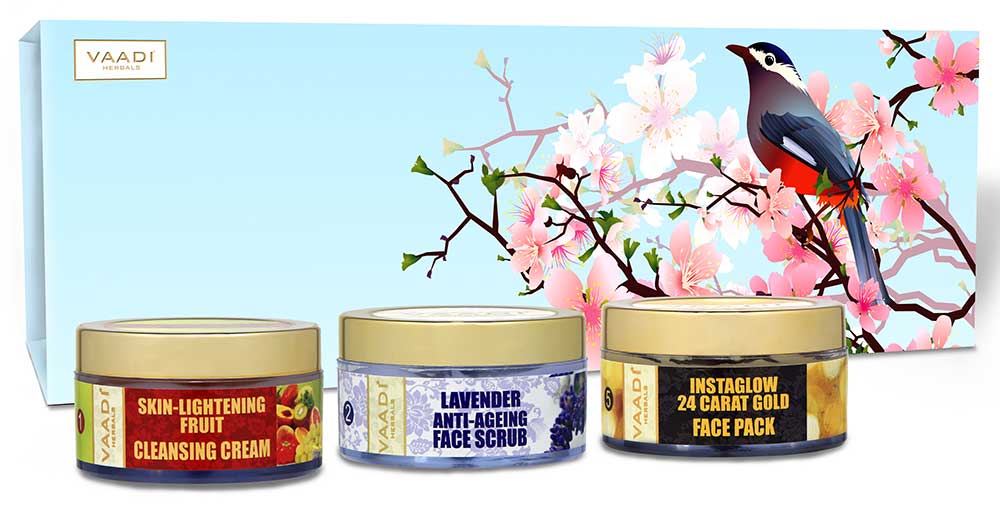 Glamorous Glow Skin Care Herbal Gift Set (170 gms)
M.R.P. incl. of all taxes.
This exotic combination of skin care products in a beautifully crafted handmade gift box is an excellent way to show your loved ones you care! Comprising of a nourishing cleansing cream, a gentle and exfoliating scrub and soothing and rejuvenating face pack, this set ensures that your skin radiates with natural health and goodness of herbs, fruits and essential oils.

Ingredients : Steam Distilled Orange Extract (Citrus Sinensis Extract), Pure Turmeric Extract (Curcuma Longa), Coconut Oil Derivative (Cocos Nucifera Oil), Coconut Milk (Cocos Nucifera Milk), Lavender Essential Oil (Lavandula Officinalis Flower Oil), Rosemary Oil (Rosmarinus Officinalis Oil), Walnut Scrub (Juglans Regia), 24 Carat Gold Leaves Powder, Vitamin E (Tocopheryl Acetate), DM Water (Aqua)

Skin Lightening Fruit Cleansing Cream (50 gms)

The unique blend of orange extract, turmeric and coconut milk gently removes away the tanned layer of the skin. It deeply yet gently cleanses to bring even skin tone and clarity to the upper layer of the skin. Active Ingredients: Orange Extract, Turmeric Extract, Coconut Milk and Wheat Germ Oil. 

Why is Lavender Oil included in this scrub?

Oil from the Lavandula officinalis flower, enriched with linalool, is known to decongest the skin and improve blood and lymph circulation. This helps flush out toxins from the skin as well as better the supply of nutrients to the cells; thus improving the health of skin cells. A potent anti-oxidant, it protects the skin cells from age-related free radical damage to the cells, as well as boosts the production of new skin cells. This serves a dual purpose. Firstly, it promotes the healing of scar tissues, and prevents formation of new ones. Secondly, it delays the appearance of wrinkles and other signs of aging.

What benefit does Rosemary Oil provide as a skin revitalizing agent?

Rosemary Oil exhibits excellent skin-regenerative properties. As such it helps fade fine lines and wrinkles; as well as lightens pigmentation marks and other blemishes. It also reduces skin puffiness and grants health to the cells by stimulating blood flow. This rejuvenates and nourishes the skin. Further on, being anti-inflammatory in nature, it helps soothe the skin. While it's anti-microbial property helps heal wounds and keeps the skin free of infective and acne-causing microbes.

How does Cinnamon oil help in exfoliation?

Cinnamon oil is highly anti-bacterial and anti-microbial; and mildly astringent. These properties help fight acne and other skin infections; while helping ease any redness and inflammation. Cinnamon oil is also a rich source of anti-oxidants; neutralizing free radicals; and delaying the aging of our skin. Moreover, because of its warming effect, cinnamon oil stimulates blood circulation; granting your skin an increased supply of nutrients. This too reduces acne break-outs, as well as improves the overall health of the skin.

How does Gold help in skin revitalization?

Gold is truly a skin rejuvenator. It reduces inflammation; heals the skin; detoxifies it; as well as prevents premature aging of the skin; giving it health and glow. Firstly, it slows down secretion of the skin-darkening pigment, or melanin. Melanin is responsible for darkening of the skin-tone, as well as discoloration. Next, it improves the cell turnover rate; increasing the production of new skin cells. It even preserves the elastin; maintaining the elasticity of the skin. And also improves the production of collagen, an essential skin protein. This delays the onset of wrinkles and skin sagging. A higher cell turnover and its anti-inflammatory property, help in accelerating healing of rashes, burns, eczema, fungal and other skin problems.

What is Saffron and how does it help in skin's revitalization?

Obtained from the flower of Crocus sativus is the popular spice called Saffron, or kesar, used since ancient times due to its powerful cleansing, toning and anti bacterial properties. It not only prevents and fights skin infections, but also works against acne by removing dead skin cells and excess oil, hence keeping pores from clogging. Its ability to stimulate collagen formation and cellular regeneration makes it a powerful anti oxidant which delays appearance of wrinkles and maintains skin's elasticity. It is also a popular skin lightening agent due to its ability to lighten sun tan, as well as marks from acne, blemishes and pigmentation. It also evens out complexion and repairs dry skin.

What is Lemon Peel Extract? And how does it contribute to revitalization of skin?

Extract from lemon's skin or rind, scientifically called Citrus limon, and commonly known as lemon peel extract, has been used over several years as an astringent, toner and anti microbial, due to its acidic properties. It maintains skin's oiliness and pH balance and also calms skin's redness and minor rashes. It is also known to remove impurities and dead cells from the skin's surface and promote growth of new cells. It also has bleaching properties which help lighten pigmentation, sun-tan and acne marks. It has also been used to work against acne and better skin's elasticity.

Fruit Cleansing Cream :- Apply A Generous Layer On The Face And Neck. Massage Gently In Circular Motions For 5-7 Minutes. Rinse Thoroughly Or Remove With Moist Cotton.

Gold Face Pack :- Apply A Generous Amount Of This Pack On Face And Neck, Avoiding Eyes. Relax Till Completely Dry. Rinse With Fresh Water. Follow With Vaadi Herbals Sun Shield Sunscreen Cream.

Lavender Face Scrub :- This orange and lemon peel scrub gently exfoliates the facial skin while maintaining its moisture balance. It also, supports skin-lightening process to prevent dark spots formation and reduce uneven pigmentation, bringing out a fairer complexion.
Country of Origin: India
Manufacturer & Packer: Vaadi Herbals Pvt. Ltd.
Address: A-40, Jhilmil Industrial Area, Shahdara, East Delhi, Delhi - 110095.