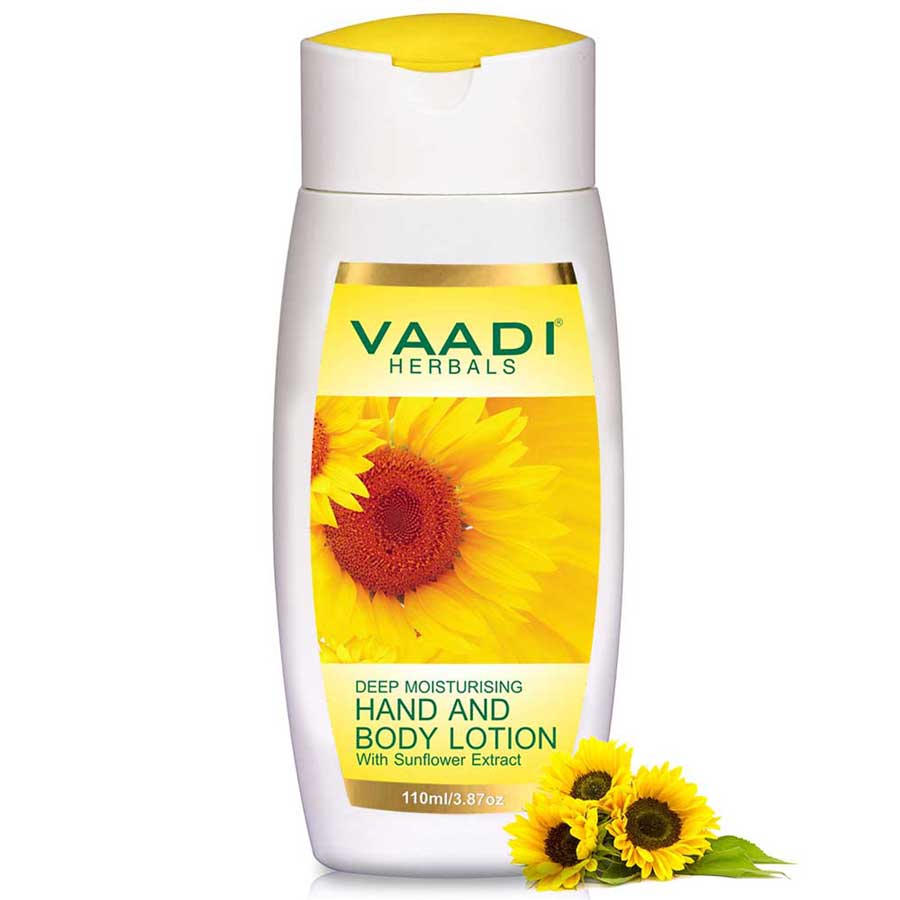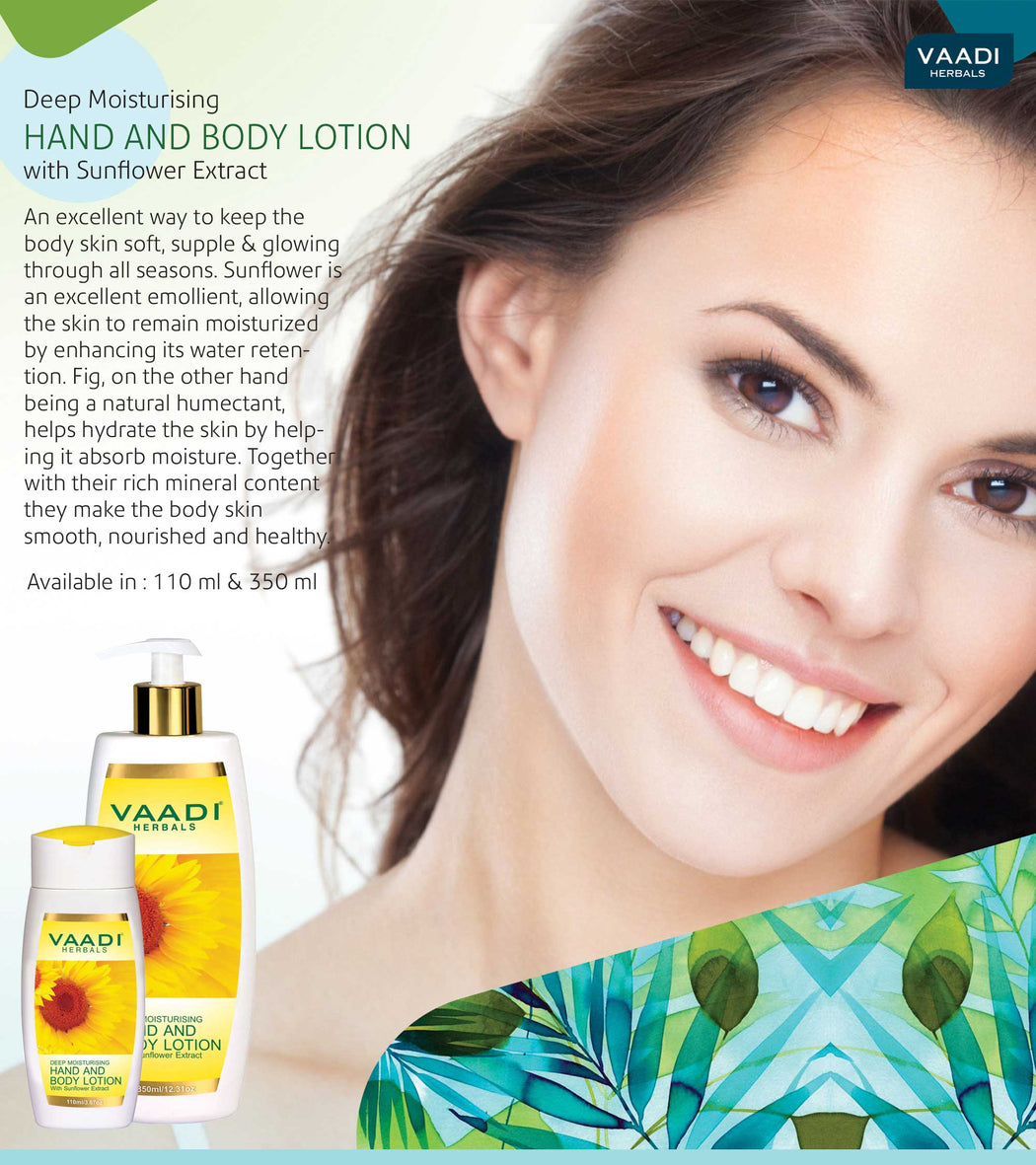 Hand & Body Lotion With Sunflower Extract (110 ml)
M.R.P. incl. of all taxes.
The perfect therapy to make & keep your body skin soft, supple & glowing. Sunflower is an excellent emollient, allowing the skin to keep moisturized by enhancing its water retention. Fig, on the other being a natural humectant, helps hydrate the skin by helping it absorb moisture ability. Together with their rich mineral content they make your body skin softer, smoother & healthy.

Ingredients : Shea Butter (Butyrospermum Parkii Butter), Sunflower Extract ( Helianthus Annuus Extract), Steam Distilled Fig Extract (Ficus Carica Fruit Extract), Organic Honey (Mel Extract), Coconut Oil Derivative (Cocos Nucifera), DM Water (Aqua)

What causes dry and flaky skin ?

One of the main causes of skin dryness is the effect of weather, sun and pollution on the epidermal layer of the skin. The skin tries to protect itself as much as it can, be it production of Melanin in counter of UV rays, but the fact is being exposed all the time makes the skin lose moisture and be prone to attack of foreign bodies. The facial skin is still taken care of by face washes, scrubs, toner, etc once in a while but the skin on the hands, feet and body is otherwise neglected. It is important to thoroughly moisturize the body so as to keep it soft, supple and glowing.

How is Sunflower beneficial for the skin ?

Clearly a magical ingredient for the skin and hair, Sunflower oil is extracted from the seeds of the Sunflower plant. This oil can be used for medicinal as well as cosmetic purposes. Sunflower oil is light in color and pretty light in comparison with other oil based products. Hence, easy to absorb. Sunflower Oil contains beta-carotene in plenty. This is a fat soluble compound that gets converted into Vitamin A which is important for the shine and suppleness of the skin. Skin sensitivity against the sun is drastically reduced as the beta-carotene antioxidants neutralize the free radicals present in the UV rays which are capable of causing skin cancer. Vitamin E is another positive about Sunflower Oil that fights premature skin aging. The over exposure to sun causes an accelerated release of free radicals which in turn wrinkles the skin, soaks away the moisture and causes dryness and patches. Vitamin E takes care of your skin like no other by locking the moisture and emending the harm caused.

What is the importance of Fig Extract in skin care ?

A star ingredient in spa and skin therapy, the Fig Extract has taken over the skin care market with a boom, thanks to it's immense benefits to the skin. Similar to the skin's mechanism of moisture balancing, the Fig Extracts are natural humectant. A humectant has the capability to hold water (moisture) which comes in handy in dry spells or excessive exposure to heavy wind or constant sun. Blessed with AHA properties, Fig Extracts help in skin brightening and refreshing. Back in ancient Egypt, Fig was a major skin rejuvenatory used by the elites. The presence of high concentration of phytochemicals makes Fig Extracts an excellent counter for cancer causing UV rays. It filters them and thus, protects the skin. Fig has a calming, soothing aroma which helps in relaxation. Regular use of Fig makes the skin baby soft, supple and glowing with health."

Apply Vaadi Hand & Body Lotion All Over The Body, Arms And Neck In The Morning And At Night. Gently Massage Till Totally Absorbed.
Country of Origin: India
Manufacturer & Packer: Vaadi Herbals Pvt. Ltd.
Address: A-40, Jhilmil Industrial Area, Shahdara, East Delhi, Delhi - 110095.