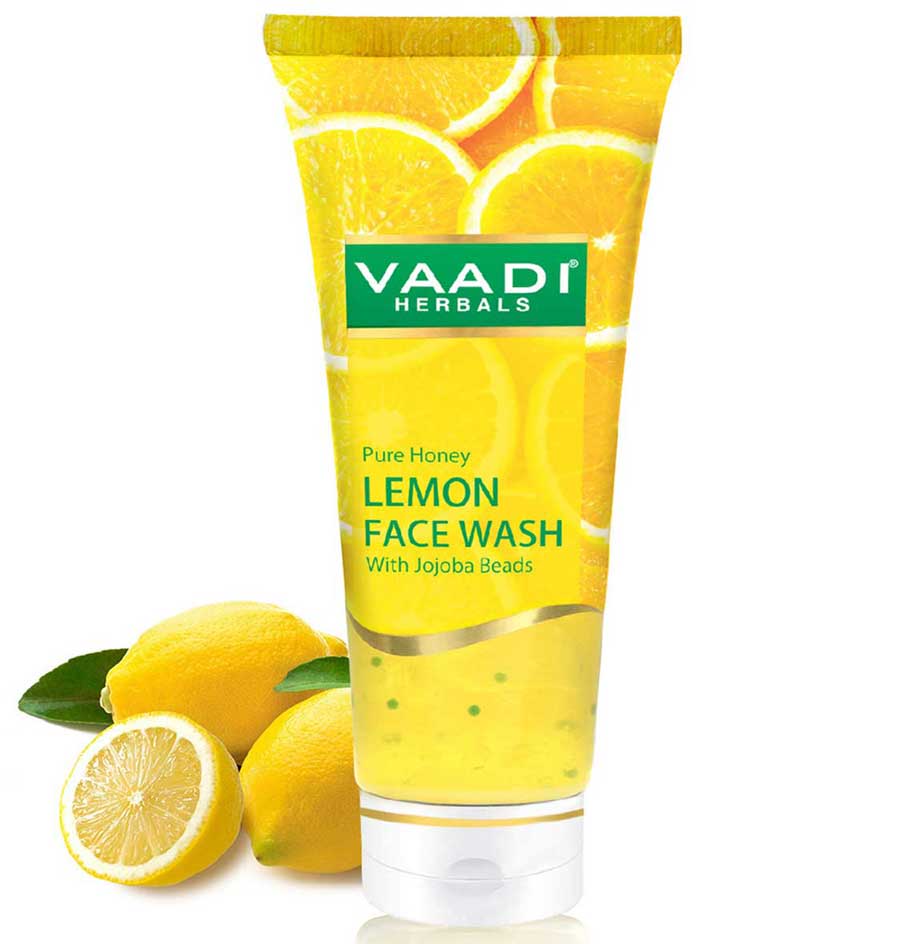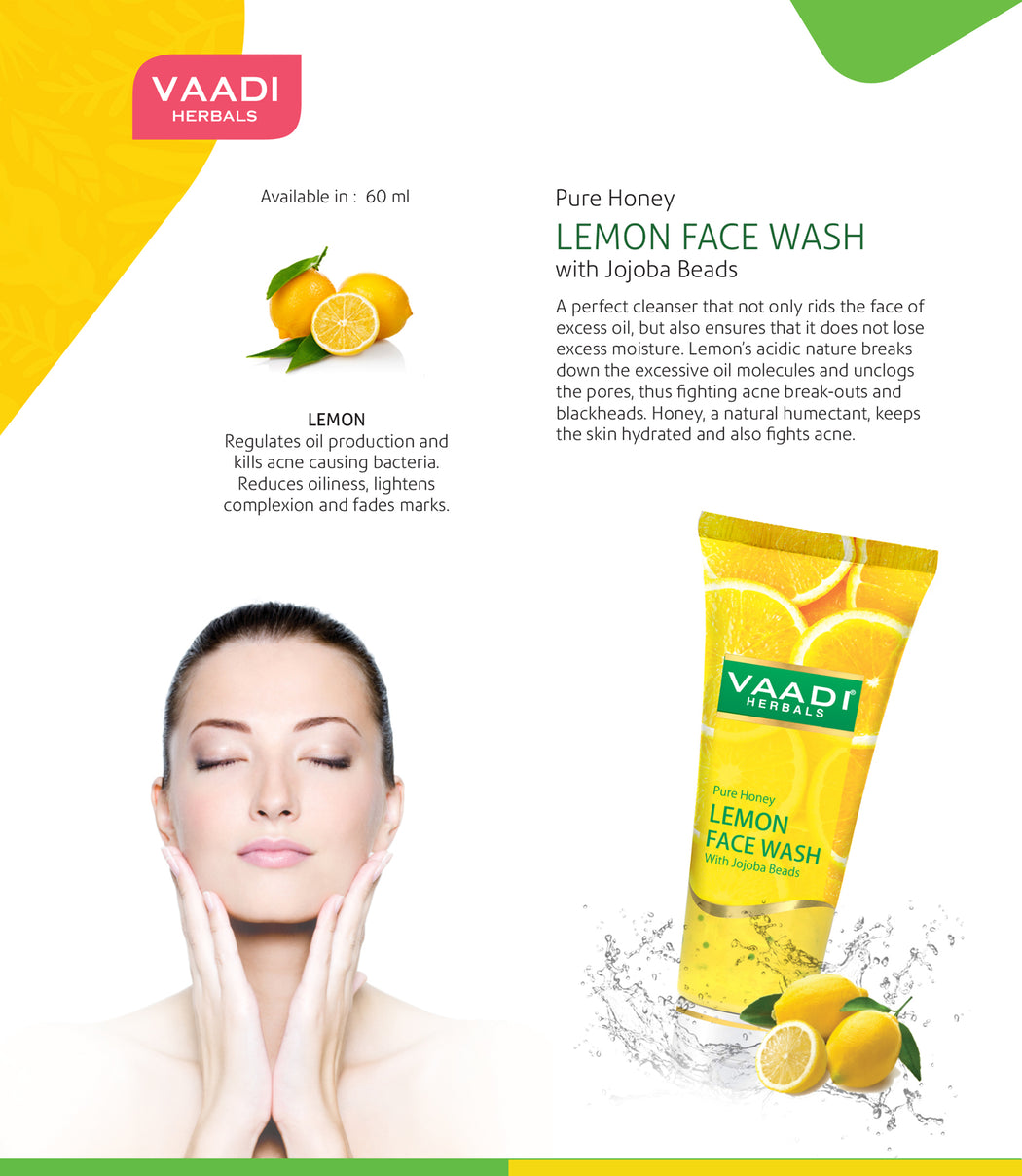 Honey Lemon Face Wash with Jojoba Beads (60 ml)
M.R.P. incl. of all taxes.
A perfect cleanser that only rids the face of excess oil, but also ensures that it doesn't dry up. Lemon's acidic nature breaks down the excessive oil molecules and unclogs the pores, thus fighting acne break-outs and blackheads. Honey, a natural humectant, keeps the skin hydrated and also fights acne.

Ingredients : Steam Distilled Lemon Extract (Citrus Medica Limonum), Honey (Mel Extract), Coconut Oil Derivative (Cocos Nucifera), Watermelon Extract (Citrullus Lanatus), Orange Extract (Citrus Sinensis), Vitamin-E (Tocopheryl Acetate), Jojoba Oil (Simmondsia Chinensis), DM Water (Aqua)

Why is a good skin care regime important ?

The skin is as important as the inner-self, mind and soul. The attack of harmful toxins on the body is nullified as the skin acts as a protective covering. Prevention of allergies in another important reason for skin care as allergies can cause cracked, red and swollen skin which is further vulnerable to microbes which can break in the layers and cause infection to the body. Also, regular skin care fades away tan, sun spots and blemishes which are caused due to sun exposure. A face wash enriched with the goodness of honey, lemon and jojoba beads will act as a prevention as well as cure against all the harmful effects listed.

How does Lemon act as a natural skin whitener ?

Pure concentrated lemon juice is extracted from the citrus plant. Lemon juice has a powerful pore cleansing action wherein it removes excess oil which further prevents blackheads and acne outbreaks. It clears off the dead cells from the skin surface making skin radiant and clean. Vitamin C rich Lemon is a great anti-oxidant which nullifies harmful effects of chemicals on the skin thereby preventing wrinkles. Lemon hydrates, repairs and renews skin in no time. The presence of Vitamin B6, potassium, magnesium and foliate give lemon its distinguished skin detoxification properties that aid yielding a beautiful, flawless and radiant you.

How honey helps in bringing out a radiant skin ?

By the process of regurgitation, bees make honey out of nectar. This honey works wonders for the skin. Honey is an ideal cleansing agent as it absorbs the trapped impurities within the skin surface and pores making it bacteria free. Honey, thus, is helpful in treating of Acne, break-outs and skin irritation. Also, it lightens scars and blemishes. With regular use of this honey-rich face wash, the dull, dry and tanned skin is rejuvenated , the sun damaged repaired and the skin is softer, kissable glowing. Honey is known to provide immense hydration to the skin which in turn tabs wrinkles and premature aging.

What is Jojoba oil and how do Jojoba beads add that dazzling effect on the skin ?

Commonly called Wax ester, Jojoba Oil is extracted from Simmondsia chinenis or Jojoba trees which are mostly found in South California, Mexico and South Arizona. The Jojoba beads contain in the this highly moisturizing Jojoba Oil which regulates the oil balance, removes flakiness and cures dry patches making the skin feels softer, healthier and has a glow about itself. Jojoba Oil contains anti-oxidants which act as a shield from external factors that cause break-outs, blemishes and dry patches. Since this oil does not evaporate, it keeps the skin hydrated round the clock without making the skin feel greasy."

Squeeze A Small Quantity On Wet Palms. Crush Mili Capsules And Work Out Lather. Apply On Wet Face With Circular Movements. Wash Off.
Country of Origin: India
Manufacturer & Packer: Vaadi Herbals Pvt. Ltd.
Address: A-40, Jhilmil Industrial Area, Shahdara, East Delhi, Delhi - 110095.