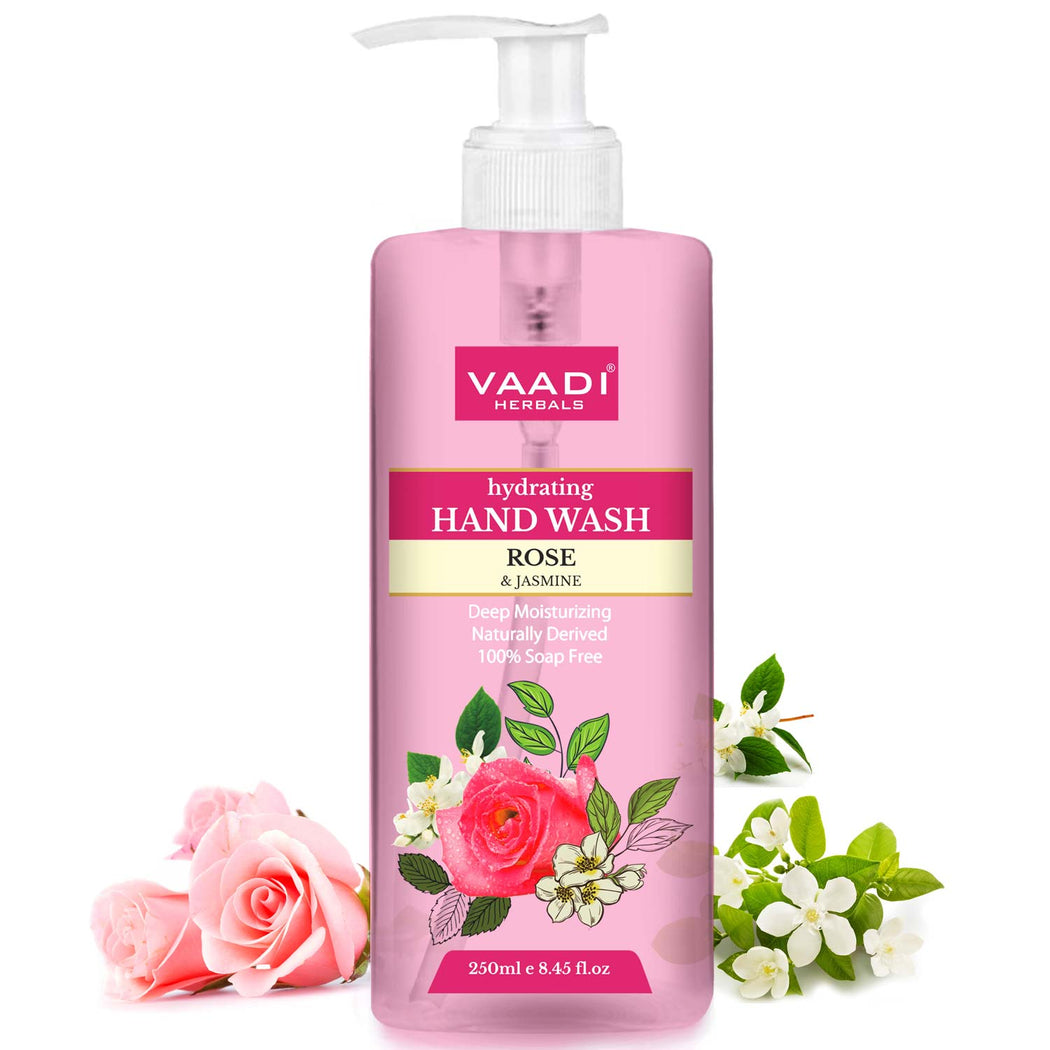 Hydrating Rose & Jasmine Hand Wash (250 ml)
M.R.P. incl. of all taxes.
Aroma of sweet Rose Oil and Jasmine Extract in this formulation revive the senses as they leave the hands squeaky clean and super soft. Rose oil which is rich in antioxidants, hydrates and heals skin while Jasmine helps retain moisture the natural moisture and repairs damaged skin

Ingredients : Steam Distilled Extract of English Rose, Pure Jasmine (Jasminum Officinale) Flower Extract, Rose Oil, Coconut (Cocos Nucifera) Oil Derivatives, Pure Rose Water, Corn Extract, Organic Honey,DM Water (Aqua).

Rose and Jasmine hand wash is an effective cleanser that leaves your skin feeling fresh, healthy and clean. The gentle frangrance leaves behind a trail of freshness and calms senses. This hand wash helps maintain the natural moisture balance in skin and the hands feel beautifully soft and conditioned.

Oil of Pink Rose, carefully extracted from Pink Rose petals, works great on the skin irrespective of the skin type. Even sun burnt skin finds relief with the inclusion of Rose oil. Rose extract is an amazing astringent that soothes the skin from within and provides a gentle, cooling effect. Regular scrubbing and cleansing robs the skin off its moisture. Rose Extracts helps in re-balancing the skin's natural moisture and imparts a glow from within.

This oil contains analgesic, anti-inflammatory and tonic agents. Because of its antioxidants, jasmine can help protect from environmental stressors. This can help give a youthful appearance to your skin. The oil is very effective in evening the tone of skin as well as reducing the appearance of age spots. Like many natural oils, jasmine oil helps treat dry skin and provide natural moisture that won't clog pores.

Wet your hands and take a coin sized amount of the liquid wash. Rub to form lather and wash hands fully. Rinse under running water
Country of Origin: India
Manufacturer & Packer: Vaadi Herbals Pvt. Ltd.
Address: A-40, Jhilmil Industrial Area, Shahdara, East Delhi, Delhi - 110095.