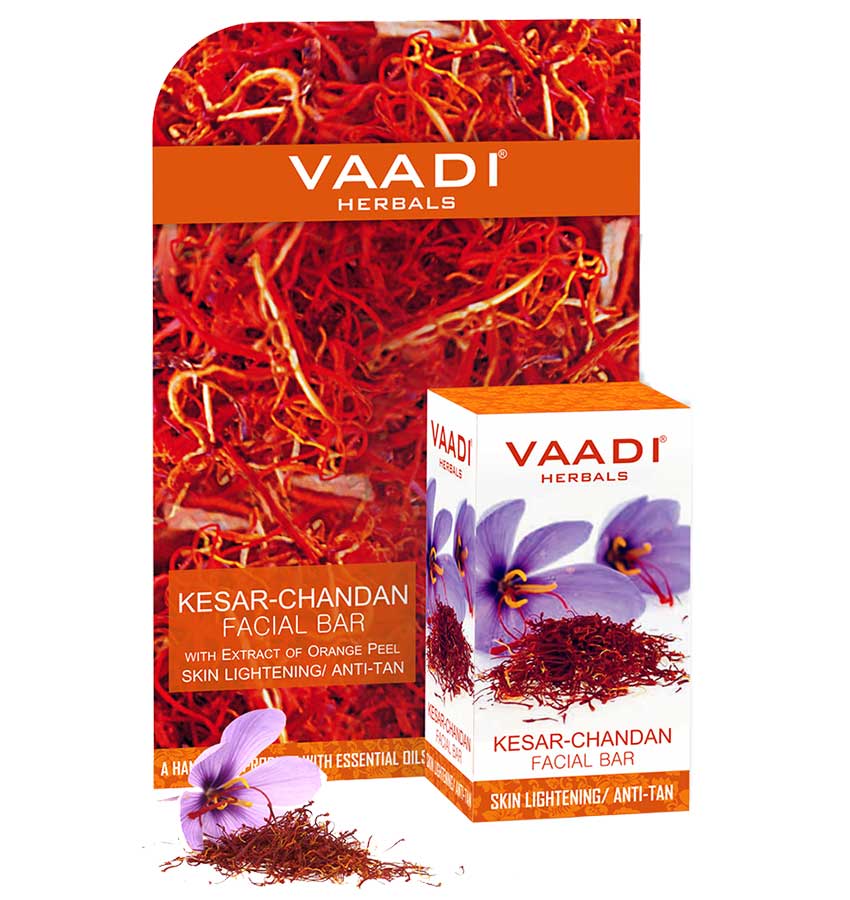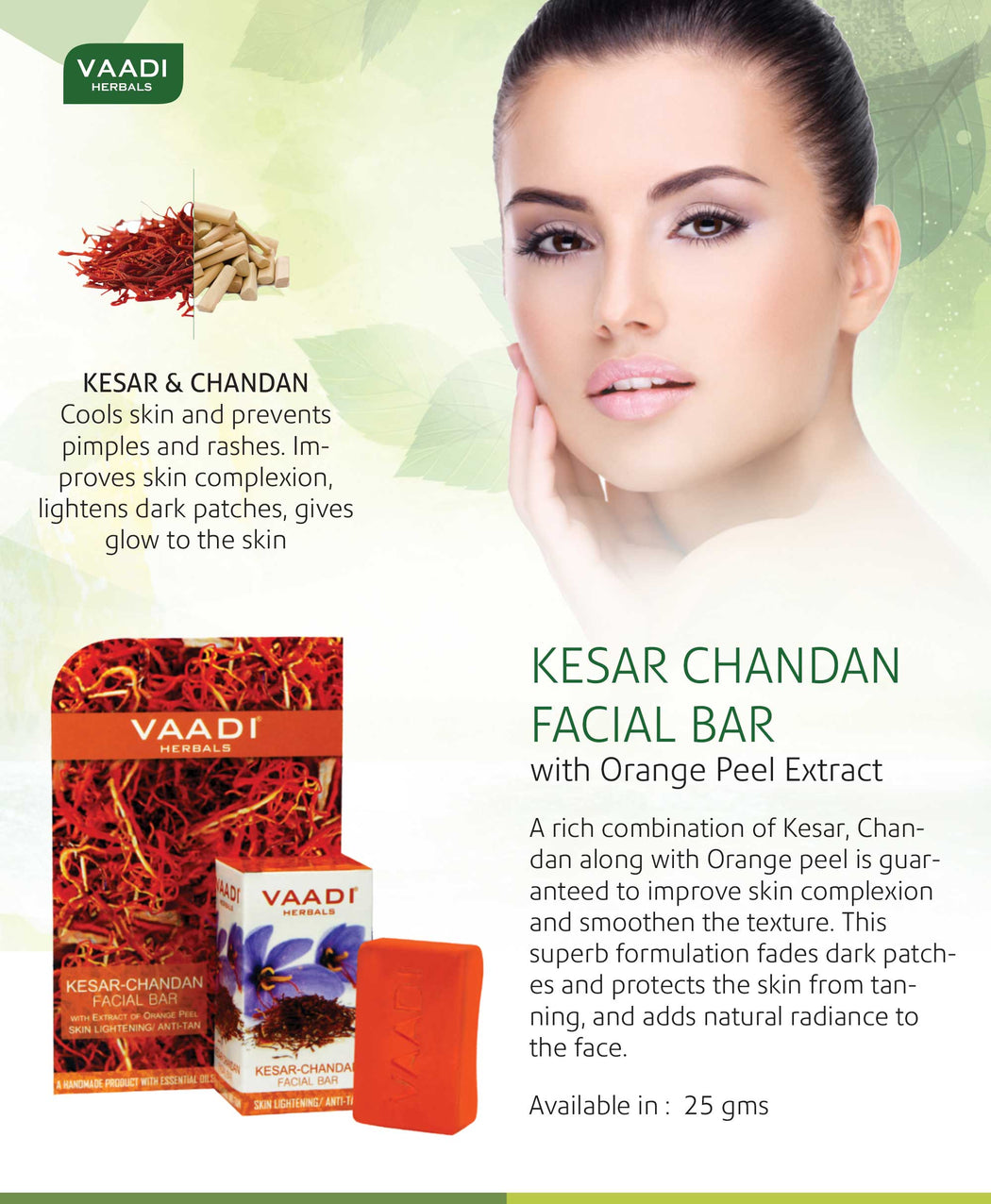 Kesar Chandan Facial Bar with Extract Orange Peel (25 gms)
M.R.P. incl. of all taxes.
A rich combination of Kesar, Chandan along with Orange peel is guaranteed to improve your skin complexion and smoothen the texture. This superb formulation fades dark patches and protects the skin from tanning, adding natural radiance to your face.

Ingredients :Sandal Oil (Santalum Album), Steam Distilled Saffron Extract (Crocus Sativus), CoconutOil Derivative (Cocos Nucifera), Orange Peel Extract (Citrus Aurantium Amara), DM Water (Aqua) 

What are the reasons for unclear complexion ?

The three main complexion concerns happen to be pigmentation, acne and wrinkling. Pigmentation, tanning, freckles and age spots, result in a darker and uneven skin tone; and are all accredited to over-exposure of the sun. They can be avoided by a sunscreen, but only to an extent. Acne (and blackheads), not only look ugly themselves; but leave even uglier, stubborn marks behind. And the factors responsible for it include excess oil and impurities, which clog (enlarged) skin pores. Wrinkling, though a part of the natural aging process, may appear sooner, with lack of optimum skin care.

How does Sandalwood oil contribute to lightening and brightening complexion ?

Sandalwood oil is often used as a skin lightening agent, due to its ability to reduce freckles, acne marks and pigmentation spots, as well as under eye circles. It is also known to tighten skin, thus reducing the appearance of fine lines. It is used to shrink pores when used for oily skin, and adequately moisturize dry skin, making it supple. Often used for sensitive skins too, as an anti inflammatory to soothe skin irritations and inflammation, this extract of Santalum album also has anti septic properties which keep pimples and boils from getting infected.

What makes Saffron beneficial to complexion and skin tone ?

Saffron, or kesar, is popular for its anti bacterial property which keeps the skin free from infections and acne break outs. This spice, derived from the flower of Crocus sativus has been used historically as a cleanser and toner. It also works against clogged pores by removing oiliness and dead cells. Its powerful anti oxidant properties promote the production of collagen and regeneration of cells, while its equally effective skin lightening and smoothening properties prove beneficial against sun tanned skin, or skin that has pigmentation, blemishes, acne scars or uneven tone. It also works well to repair dry skin.

What is orange peel and how does it improve skin color and health ?

Orange peel is the skin/rind of the fruit orange. It is a rich source of Vitamin C. The acidity of this vitamin helps break down dead skin cells, impurities and excess oil from the skin surface. Thus, allowing healthier cells to surface; as well as fighting and preventing problems such as blackheads and acne. The citric acid is also a bleaching agent, and helps in lightening of acne scars, burn marks and other blemishes; as well as the overall tone of the skin. Due to the presence of a particular oil, in the orange peel, it also makes an effective moisturizer. Finally, the anti-oxidant effect of its constituents helps prevent premature aging and wrinkling, while protecting skin from further sun-caused damage.

Apply Over Wet Face And Neck. Gently Work Up Rich Lather. Massage Gently In Circular Motion. Rinse Off And Pat Dry.
Country of Origin: India
Manufacturer & Packer: Vaadi Herbals Pvt. Ltd.
Address: A-40, Jhilmil Industrial Area, Shahdara, East Delhi, Delhi - 110095.