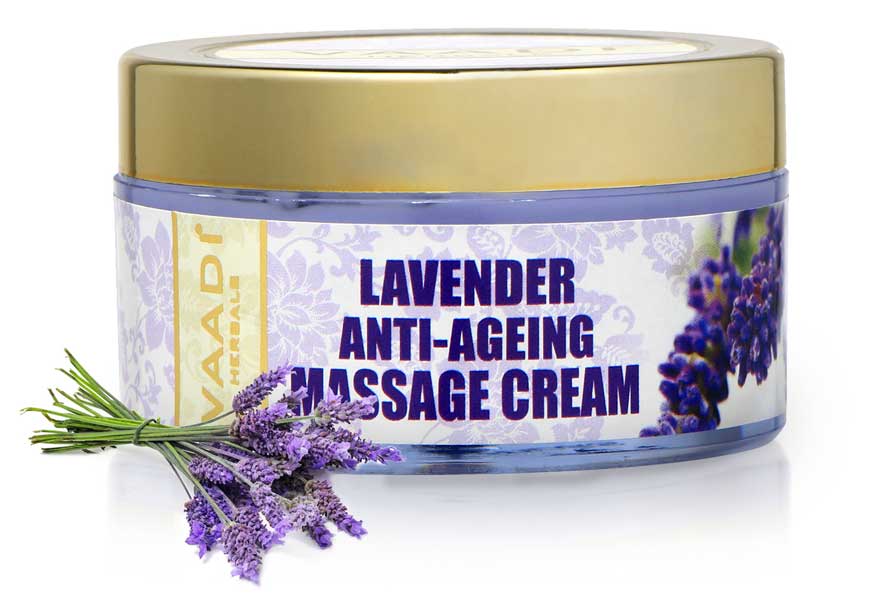 Lavender Anti-Ageing Massage Cream (50 gms)
M.R.P. incl. of all taxes.
Lavender & Rosemary with other aromatherapy oils, prove extremely effective as anti-aging agents. Their astringency firms up the skin, while their regenerative property boosts cellular renewal process. You are left with a skin that is vibrant and youthful.

Ingredients : Lavender Essential Oil (Lavandula Officinalis Flower Oil), Rosemary Oil (Rosmarinus Officinalis Oil), Steam Distilled Sweet Almond Oil (Prunus Amygdalus Dulcis Oil), Jojoba Oil Derivative (Simmondsia Chinensis Seed Oil), Carrot Seed Oil (Daucus Carota Sativa Oil), Dm Water (Aqua)

Isn't massaging in itself beneficial, no matter what product we use? Well, yes; massaging in itself is extremely beneficial for your skin. But, the intensity and the extent of benefits of massaging that you enjoy, is determined by the particular product; or more specifically its ingredients that you use. Moreover, the ingredients even add on their individual benefits to the massaging. Thus, it is important to choose such products that intensify the effects of massaging. Ingredients which contribute towards bettering the blood circulation, provide nourishing minerals to the skin, as well as promote healthy re-growth of the skin cells; and are devoid of harmful chemicals; would prove to be the right option.

How is Lavender Oil beneficial as a massaging agent?

Decongestant blood and lymph flow affects the health of skin cells, as proper nutrient supply is hampered. Lavender oil, derived from the spikes of Lavandula officinalis flower, effectively improves circulation; thus improving the health of the cells. A better circulation also helps in flushing out toxins from the skin. The detoxification of skin cells, plus the anti-microbial activity of the oil, keeps the skin free of acne and other minor skin infections. Also a potent anti-oxidant, it boosts the re-growth of skin cells, which brings fresher & younger skin to the surface as well as allows faster healing of wounds without scar formation.

What makes Rosemary Oil beneficial for skin?

Rosemary oil is extracted from Rosemary (Rosemarinus officinalis) plant, of the mint family. Its topical application is a proven skin rejuvenator; as it increases circulation and stimulates blood flow. This also helps in detoxification of the cells as well as reduction of puffiness. It effectively promotes skin regeneration. As such it comes in handy to smoothen out wrinkles, and reduce fine lines. Also anti-microbial and anti-inflammatory in nature, it is useful in healing wounds and clearing acne.

What role does Almond Oil play in this formulation?

Almond Oil is extracted from the kernels of sweet almonds. It is known to revitalize the skin by removing dead cells, clearing off impurities and by stimulating the blood circulation. This oil is a rich source of Vitamin E; which is a natural anti-oxidant. Thus, it helps delay aging of the skin too; including appearance of wrinkles. The presence of olien glyceride and linoleic acid render almond oil a natural emollient. It means that it helps skin absorb moisture, from the air and keeps it hydrated. It even soothes dry and irritated skin, and lessens inflammation. Thus, it is an excellent moisturizer for dry skin. Almond oil is a good moisturizing agent for oily skin too. It maintains the moisture balance of the skin, while treating and preventing its most common problems, i.e. acne and blackheads. Almond oil is effective in taking care of sun-tan, sunburn, sun-spots as well as skin peeling; as well as in reduction of dark-spots and under-eye circles.

Why has Mulethi been added to this cream?

Mulethi is more commonly known as licorice; and is the root of Glycyrrhiza glabra. It is extremely popular because of its anti-inflammatory and anti-oxidant properties; the latter of which is attributed to the presence of galbrene in it. Scavenging harmful free radicals of the skin, galbrene, together with the sunscreen properties of licorice, control skin-aging. Licorice also contains a molecule named licochalcone, which works wonders for acne-prone skin; by controlling sebum/oil production and killing bacteria. Another active ingredient in licorice is galbridin. It is a mild and non-toxic bleaching agent; and thus helps in skin lighting and brightening, as well as fighting hyper-pigmentation; without the risk of permanent discoloration.

What is Carrot Seed Oil and how does it benefit the skin?

Carrot seed oil is extracted from the seed of the carrot plant or Daucus carota. It is rich in Vitamins B, C, D and E as well as beta-carotene. Owing to this content it is granted with the ability to stimulate cell growth. Cell regeneration increases elasticity of the skin, keeping wrinkles at bay. Even any kind of damage to the skin, including trauma and sun burns, is diminished quickly. Also an emollient, this oil keeps skin adequately hydrated. And it is also known to reduce puffiness and firm up the skin, by flushing toxins and excess water from the skin.

Take An Appropriate Amount Of The Cream On Your Finger Tips And Apply All Over The Face And Neck. Massage With Firm Circular, Upward And Outward Movement Till It Is Completely Absorbed In The Skin.
Country of Origin: India
Manufacturer & Packer: Vaadi Herbals Pvt. Ltd.
Address: A-40, Jhilmil Industrial Area, Shahdara, East Delhi, Delhi - 110095.