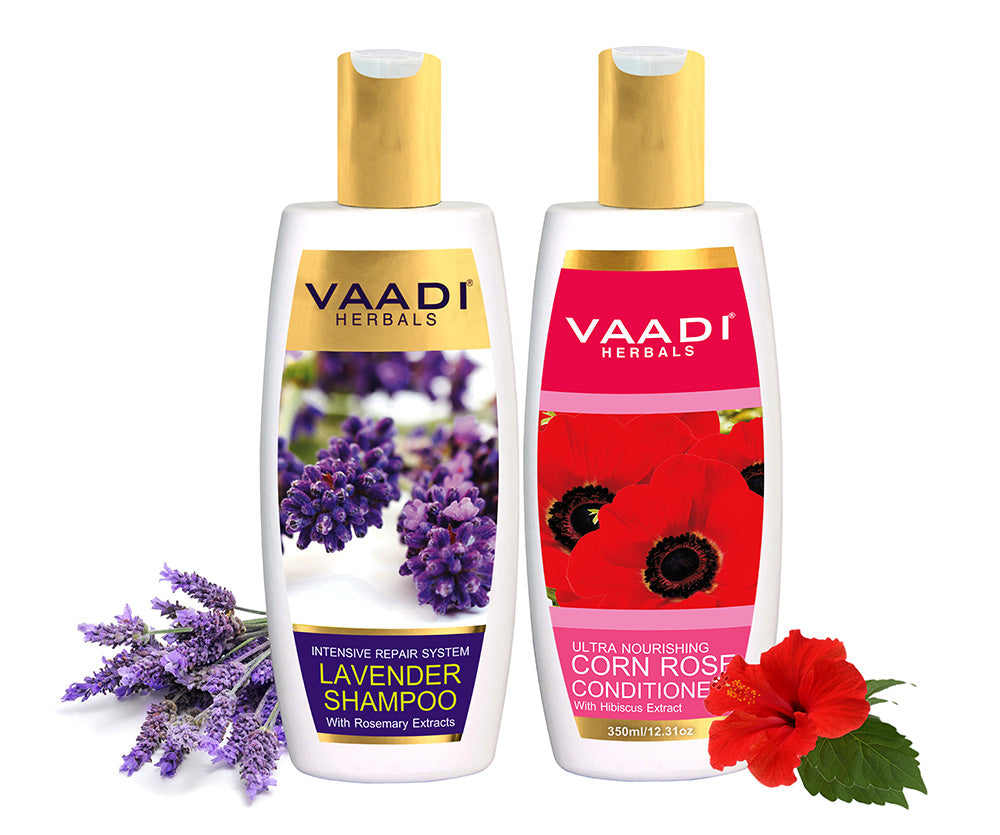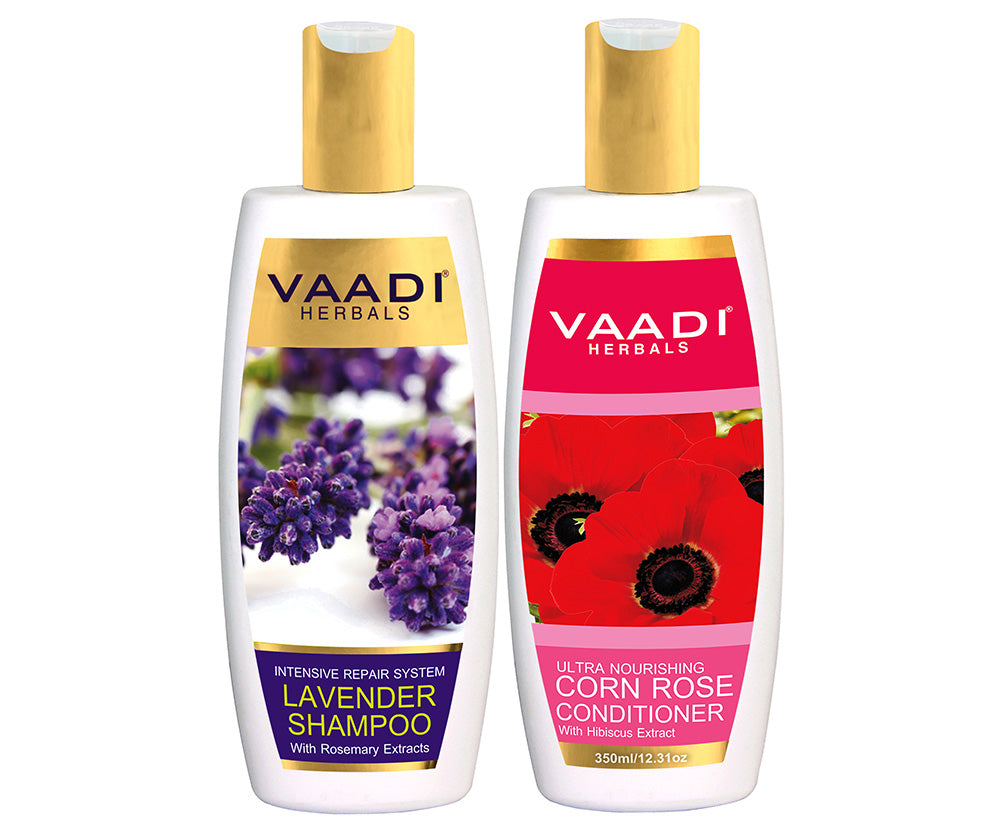 Lavender Shampoo with Corn Rose Conditioner ( 350 ml x 2)
M.R.P. incl. of all taxes.
The ultra nourishing therapeutic shampoo in this combination for extremely damaged hair repairs the cuticles and strengthens roots, to give you super soft, shiny and healthy hair. Lavender balances the oil production while Rosemary extract naturally conditions the hair. The mineral content of Corn Rose & Hibiscus Extract moisturizes & nourishes each strand from root to tip, increase hair elasticity and repairs damage. The result is stronger, softer and shinier hair with each use.

Ingredients : Lavender Extract (Lavandula Angustifolia), Rosemary Extract ( Rosmarinus Officinalis Extract), Soya Extract (Glycine Soja), Calendula Extract ( Calendula Officinalis Extract), Pure Honey (Mel Extract), Coconut Oil Derivatives ( Cocos Nucifera Oil), Shea Butter (Butyrospermum Parkii Butter), Corn Rose extract, Hibiscus extract (Hibiscus rosa-sinensis), Grapefruit extract (Vitis Vinifera extract), Heena extract (Lawsonia inermis), DM Water (Aqua)

What causes damage to the hair ?

They can make or mar your first impressions. A glossy, healthy mane always speaks for itself but in today's hectic lifestyle it is almost impossible to take care of hair. Sun's UV rays, wind, pollution, excessive shampoo, heat styling, hard water and stress are some of the important factors that damage hair and cause hair fall. While extreme weather conditions target the hair follicles, growth is tapered with and these also give rise to a number of hair problems. Be it premature greying, hair fall, dandruff, lice, itching, lack-lusterless, etc. The hair contains keratin which makes them strong, shiny and healthy. When hair follicles aren't strong enough, hair-growth is hampered. Regular shampoo and conditioning with a good therapeutic shampoo will bring back the life in your hair. Chemicals damage hair to an extent that only an effective therapeutic shampoo can regenerate hair follicles' strength and improve hair texture.

What are the benefits of Lavender in Hair care ?

Lavender Oil is a well-known aromatherapy oil that is extracted by the process of stream distillation from flowers of lavender plant. With its intoxicating aroma that calms the nerves and helps DE-stress, Lavender Oil restores the scalp moisture lost to excessive weather conditions and improves the texture of the hair. Scalp conditions are distorted with the external stimuli acting on it making it vulnerable to fungi (dandruff), lice and dullness. Lavender Oil effectively tackles hair loss. Even severe conditions like Alopecia areata wherein bald patches are formed on the scalp, can be treated with Lavender oil. Dry scalp, lice eggs, limpness, thinning, etc. are things of past when it comes to Lavender Oil. Dandruff and itchiness disappear within a few days of use. Lavender Oil soothes the senses and works miraculously to give you that dream mane.

How is Rosemary essential in nourishing damaged hair ?

One of the most important aspects of hair care is its growth. With everything natural being used to cleanse and condition hair, Rosemary or Rosmarinus Officinalis plays a pivotal role in nourishing hair and nullifying the damage caused by the various factors including extreme weather, bad hair care regime or even heat styling. Rosemary, a naturally fragrant herb makes up for the perfect volumizer and deep-conditioner for the hair as it makes hair more manageable, glossier and healthier. Split ends and itchiness vanish away within days of Rosemary treatment. A soft and beautiful mane is a gift of Rosemary's nourishment and root to tip care. A radiant shine is evident."

Why is a conditioner important after shampooing your hair ?

So you are done cleansing your hair with your favorite fruity smelling shampoo. Do you step out the bath or put on that melt-in-my-hands conditioner? If you are the latter, well you know why. If the former, let's see why. Mind boggling as it gets choosing the right conditioner for hair, the basic purpose of using one needs to be known first. When hair are washed, with the impurities and dirt, an important substance is also lost to froth. This is called sebum which in other words is the oil secreted by sebaceous glands in the scalp to maintain moisture balance in hair and keep them from drying out. So, the conditioner is just a replacement for that lost sebum. It keeps hair shiny, healthy and soft. Benefits of using a conditioner with natural ingredients is evident from the fact that no unnecessary chemicals get to play with your scalp and damage the recently-washed hair follicles.

What are Corn Rose Extracts and why are the beneficial for hair ?

Palaver rheas or Corn Rose is a species of herbaceous plant of poppy family called Papaveraceae which grows every year is known to have excellent moisture retention capability. The extracts of this Corn Rose when added to the conditioner make it butter soft and when applied on strands of hair, finely seep in and smooth the hair texture. The presence of alkaloids makes Corn Rose potent mind relaxants. With frequent use, the minerals in Corn rose will give your hair volume which makes them bouncy and a strikingly beautiful shine is forever on your hair. The texture is smooth and frizz free. Corn Rose extracts balance the moisture content of the scalp after hair wash and replenish the lost oils almost instantly providing for a healthy and gorgeous mane.

How is Hibiscus Extract good got hair ?

If there is any plant known to be the best treatment for hair, it is Hibiscus (biological name: Hibiscus sabdariffa). From its roots to leaves to flower, every part of Hibiscus is a boon to the hair. Being on a little acidic side, Hibiscus is a great hair cleanser that also strengthens the roots making hair fall stop and greying subside. Scalp disorders are a thing of past if you are treating your hair with Hibiscus extracts as they scrub off dirt and impurities off the scalp. Adding volume to your hair, Hibiscus Extracts make hair shine amazingly. A beautiful red tinge is seen on light colored hair. Hibiscus Extracts deeply condition hair follicles and strengthen them facilitating hair growth."

Apply Vaadi Shampoo On Wet Scalp And Hair. Massage It Gently Into The Scalp. Rinse And Repeat If Required.For Best Results Use Vaadi Herbals Red Flower Nourishing Conditioner. After Shampooing, Take An Appropriate Amount Of Conditioner On Your Palm. Apply All Over The Hair Working Through Ends. Wait 3-5 Minutes. Rinse Thoroughly. For Best Result Use With Vaadi Herbals Shampoo.
Country of Origin: India
Manufacturer & Packer: Vaadi Herbals Pvt. Ltd.
Address: A-40, Jhilmil Industrial Area, Shahdara, East Delhi, Delhi - 110095.