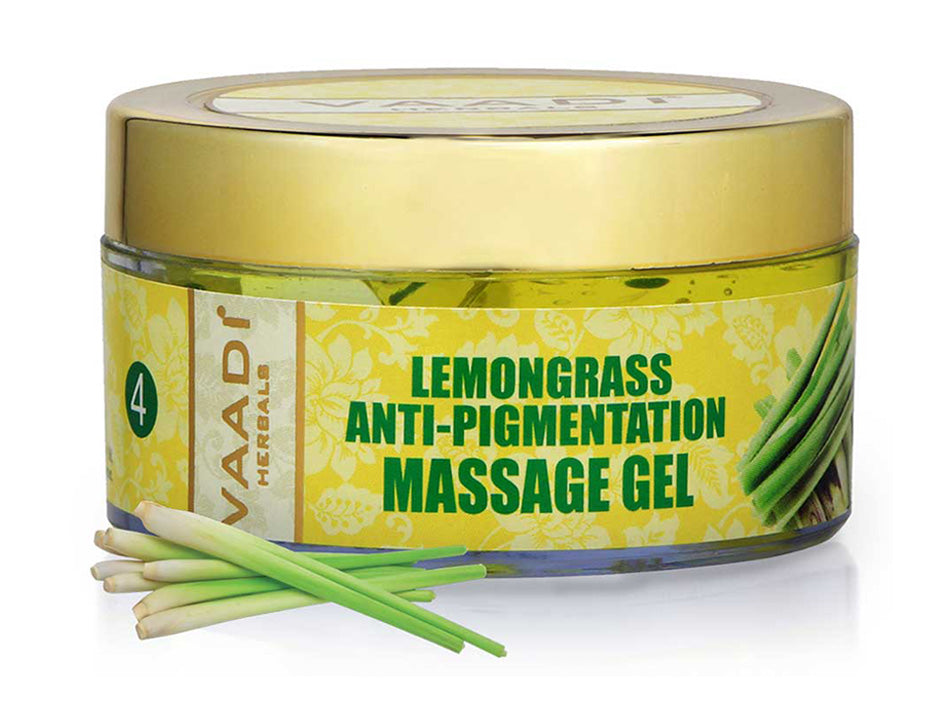 Lemongrass Anti-Pigmentation Massage Gel (50 gms)
M.R.P. incl. of all taxes.
This anti-oxidants rich massage gel boosts both your skin's tone as well as texture. It grants your face long-lasting hydration, leaving it supple. And its regenerative properties promote healing of scars & fading of marks. The result: an amazingly envious complexion.

Ingredients :Lemongrass Essential Oil (Cymbopogon Schoenanthus), Cedarwood Oil (Cedrus Atlantica Bark Oil), Grape Seed Gel (Vitis Vinifera Extract), Sandalwood Oil (Santalum Album), Jojoba Oil (Simmondsia Chinensis), DM Water (Aqua)

 

How is a regular massage with a Massage Gel good for the skin ?

With stress taking a toll on life, how is the skin gonna be spared. Hectic lifestyle, make up, less of time for exercise and most importantly, self-pampering leads to adverse effect on the skin. With no time to relax or let the skin breathe, the beauty and shine that the skin possesses naturally is all lost. What's left is blotchy, dry and unattractive skin. A Massage Gel ensures to bring back the flawless, impressive skin with regular massage. Containing the goodness of Lemongrass Oil, Cedar wood Oil, Sandalwood Oil, Jojoba Oil and the anti-oxidant rich Grape Seed Extract, this Massage Gel will gently and nourishing give you the skin you have always dreamt of having. An envious complexion will be seen with a regular massage thereby making your skin smooth and supple, breathing in health.

What is lemongrass and how does it benefit the skin ?

The Cymbopogon Citratus yield extracts of a powerful astringent called Lemongrass. Lemongrass oil, being an exceptionally great skin toner percolates down the layers of the skin, helping in controlling the secretion of sebum from the sebaceous glands. Also, further facilitating the unclogging of pores and gentle exfoliation, Lemongrass Oil keeps the skin acne-free and other allergies and infections also keep off. Lemongrass oil has great anti-septic properties which make it an excellent healer. Curing scars, pigmentation, blemishes and patches is another huge benefit of having Lemongrass Oil as an active ingredient. Cellulite is treated with Lemongrass Oil.

How does Cedar wood Oil prove to be beneficial for the skin?

Cedarwood Oil is an essential oil. It is extracted from the Juniperus virginiana. Cedar Wood Oil doubles as an effective acne specialist for the skin. By controlling oil, Cedarwood Oil ensures the cleansing of dirt and impurities off the skin which is attracted by oil. Cedarwood oil prevents and protects the skin from any external damage. Also, its anti-inflammatory property makes it a great shield from the UV rays of the sun. Cedar Wood oil is an excellent astringent and is effective in clearing post-acne scarring and blemishes.

What are the benefits of Jojoba Oil ?

Simmondsia chinenis or Jojoba tree yields this highly moisturizing Jojoba Oil. It is commonly called as wax ester. Jojoba tree plantations are found in North-west Mexico, South Arizona and South California. Out of all the oils found in nature, Jojoba Oil is most comparable to the oil produced by sebaceous glands of the human skin. Providing skin with high level of nutrients and moisture, Jojoba oil regulates the oil balance, removes flakiness and cures dry patches. Also, the skin feels softer, healthier and has a glow about itself. Jojoba Oil does not evaporate and hence keeps the skin hydrated round the clock. With a high percentage of anti-oxidants, Jojoba Oil envelopes the skin safe from external factors without making it greasy.

How does Sandalwood Oil impart a glow to the skin ?

Sandalwood is extracted from the Santalum trees which are found in the Indian Sub-continent, Indonesia, Australia and Pacific Islands. The Australian and Indian Sandalwood (also called Santalum album) are regarded as the best. Sandalwood Oil is a naturally occurring antiseptic that works on skin effectively and gives skin a natural glow. Its medicinal behavior helps in curing acne and prevent their recurrence. With frequent use, Sandalwood Oil can make the skin fairer. With a good exfoliation action, Sandalwood Oil helps in rejuvenating the skin bringing out a more beautiful and squeaky clean you.

How are Grape Fruit Extracts good for the Skin ?

Grape fruit Extracts are excellent anti-oxidants which double up being potent anti-inflammatory agents that act as a powerful astringent. They help in pore-tightening and reducing any signs of age. The skin looks amazingly healthy and younger with regular application. Grape Fruit Extracts moisturize the skin from within and keep the moisture locked for hours. Purified and healthy skin glow with health.

Apply A Scoop Of The Gel, Gently Massage All Over The Face And Neck In Circular Upward Direction Until It Gets Absorbed In The Skin Completely.
Country of Origin: India
Manufacturer & Packer: Vaadi Herbals Pvt. Ltd.
Address: A-40, Jhilmil Industrial Area, Shahdara, East Delhi, Delhi - 110095.