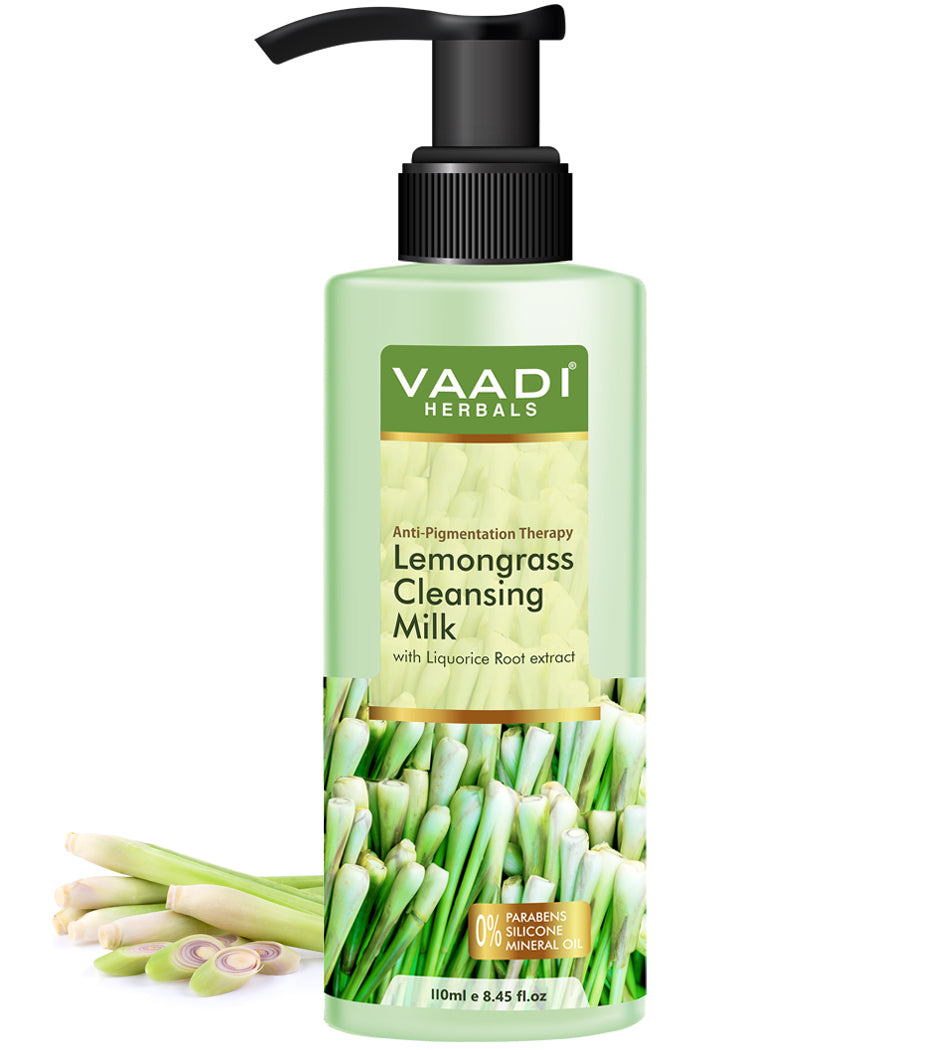 Lemongrass Cleansing Milk with Liquorice Root extract - Anti Pigmentation Therapy (110 ml)
M.R.P. incl. of all taxes.
A super luxurious blend of herbals oils and extracts, that effectively target Blemishes, pigmentation marks and dark spots.

Lemongrass Oil has excellent Anti-pigmentation and scar removal properties.

Liquorice Root extract Remove dark spots by reducing production of melanin.

Ingredients : Lemongrass (Cymbopogaon schoenanthus) Essential Oil, Liquorice Root Extract, Sandalwood (Santalum Album) Oil, Manjistha Extract, Coconut (Cocos Nucifera) Oil derivative, Vitamin E, DM Water (Aqua).

Why cleansing milk is used?

Cleansing is one of the essential steps for a good skin care regime and a cleansing milk is a perfect combination of a cleanser and a moisturizer. It removes dirt, grime, impurities, oil and makeup to keep your face clean and beautiful. A cleansing milk with the goodness of lemongrass and licorice roots perhaps the best cleanser for all skin types that will not only deeply cleanse the skin but also effectively reduce dark spots, pigmentation marks and blemishes.

Lemongrass Oil - Lemongrass oil is extracted from Cymbopogon citratus and is known to be an effective skin toner and powerful astringent. Lemongrass extract seeps deep into the layers of the skin and controls the secretion of oil, opens and unclogs pores, further helping in keeping acne and eruptions away. It is a potent antiseptic which heals the skin without harming it. It helps in reversing the effect of harsh chemicals on the skin. Pigmentation, blemishes, scars and patches are acted on and cured right from the first application. Also skin allergies, fungal infections and even cellulite is effectively attacked and treated with Lemongrass Extract. It improves the blood circulation making nutrients easily available to the skin.

Licorice Root – Licorice root extracts has glycyrrhizin which has antimicrobial and anti-inflammatory properties and thus it is widely used to treat skin issues like acne and eczema. Being a rich source of antioxidants, these roots offer anti-ageing and skin brightening benefits too. Licorice extract fights the free radicals by preventing the excess melanin production and helps treating hyper-pigmentation, lighten dark spots and gives an even skin tone. It is also known to prevent pigmentation marks that occurs due to the sun rays.

Apply a generous layer on the Face and Neck. Massage gently in circular motions for 4-5 minutes. Rinse thoroughly or remove with moist cotton.
Country of Origin: India
Manufacturer & Packer: Vaadi Herbals Pvt. Ltd.
Address: A-40, Jhilmil Industrial Area, Shahdara, East Delhi, Delhi - 110095.