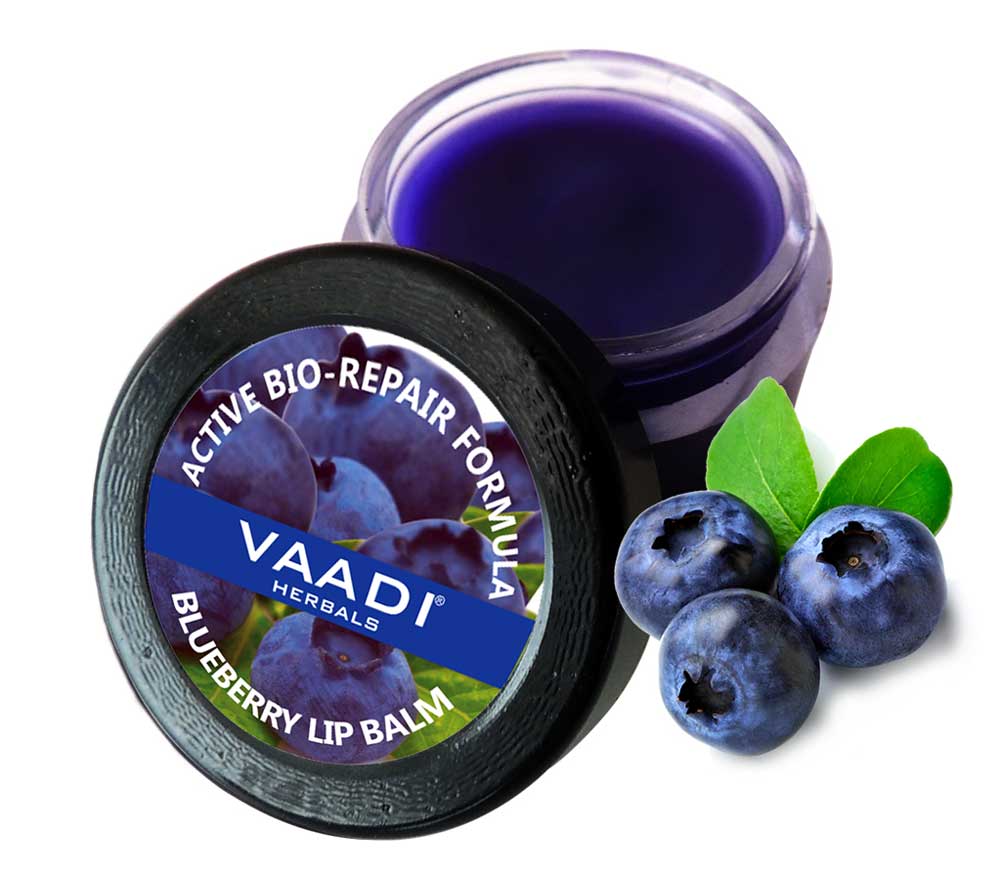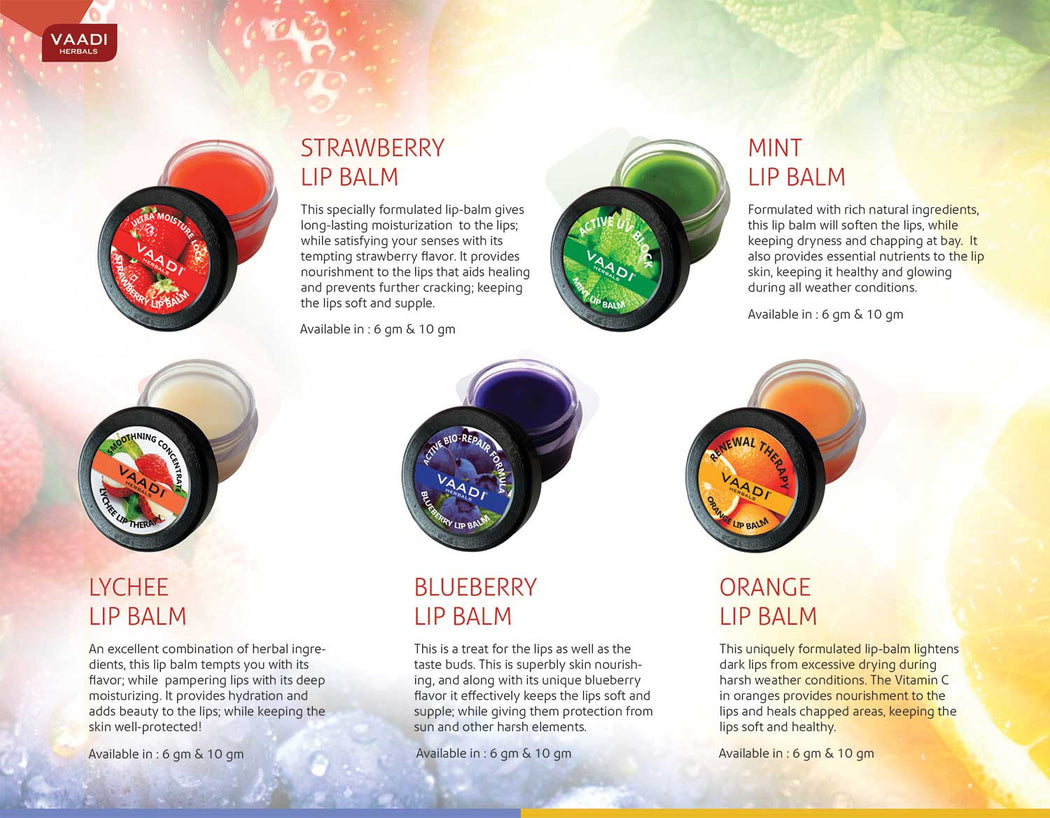 Lip Balm - Blueberry (10 gms)
M.R.P. incl. of all taxes.
A treat for your lips as well as your taste buds. This superbly effective skin nourisher, along with its unique blueberry flavor is bound to keep your lips soft and supple; while granting them protection from sun and other elements.

Ingredients : Jojoba Oil (Simmondsia Chinensis Seed Oil), Honey (Mel Extract), Soya Oil (Glycine Soja), Steam Distilled Blueberry Extract (Vaccinium Angustifolium), Organic Beeswax (Beeswax), Olive Oil (Olea Europaea), Wheatgerm Oil (Triticum Vulgare)

The lips are a sensitive part of the human body which need utmost care and protection from external harmful effects, even more than the usual skin care we indulge in. The lip tissue is thinner and does not contain hair follicles for the maintenance of oil balance. Moreover, it needs round the clock moisture to retain the smoothness and color as the lips have a different complexion mechanism from the skin tissue. Lips easily get effected in harsh environment and chapped lips are a turn off. The new Blueberry Lip balm packs in together the essential butters- Kokum Butter and Shea Butter for protection and round the clock moisture, Wheatgerm oil to fight discoloration and pigmentation and has a delicious blueberry flavor thanks to the natural blueberries which contain high level of anti oxidants.

What is the importance of Blueberry Extracts ?

Blueberries are high antioxidant and phytochemical carriers. These anti oxidants seep in the skin tissue and provide a shield against free radicals by neutralizing them. These free radicals cause a lot of damage to the tissues if not targeted. Blueberries fight early signs of aging and keep lips young, pink and supple. The vitamin C in blueberries helps in strengthening the blood vessels. Weak blood vessels are prone to damage and breakage. These make the lips sensitive and a perfect target for numerous allergies and discoloration. Vitamin C works at the capillary level and provides strength to the vessels beneath the skin surface.

What does Shea Butter do ?

Shea butter is extracted from the nuts of Vitellaria paradoxa or the Shea Tree. Shea butter is the perfect treatment for lips as within the first few applications, it relieves chapped lips, cures dry patches, treats cuts and gives the lips a healthy glow. The protection mechanism of Shea butter is its most important property. By forming a shield over the lips, Shea butter acts as a safeguard from pollution, effects of the sun's UV rays, harsh weather (extreme cold or heat), allergic reactions and dirt. Shea butter's look may say otherwise but it does not clog the skin's pores. It makes the skin tissue more hydrated and helps the skin cells breathe. Shea butter makes lips velvety soft and keeps them protected for hours without constant application.

What is Kokum Butter and how is it beneficial ?

Kokum butter is extracted from the seeds Garcinia indica. This butter is capable of providing moisture of the highest level and help lip tissue in absorption and retention of oils, keeping them hydrated 24*7. Adding to that, Kokum Butter treats irritation, inflammation and allergies better than any natural medicine. Kokum butter's action against the sun makes it an excellent ingredient for sun protection products. The lips tend to lose their shine and pinkness with constant sun exposure. Kokum butter acts as a shield against sun-tan, sunburn and pigmentation. Kokum butter helps in oxygenation of skin cells making them healthier and more strong with continued application.

How is Wheatgerm oil effective ?

Wheat grain's kernels yield the Wheatgerm oil which is highly rich in Vitamin E, making it a potent antioxidant and a perfect treatment for early signs of aging, wrinkling and slow healing. Lips are very sensitive to the sun, environment, pollution and dirt. Anything and everything can turn out to be a hazard for the lips. Wheatgerm Oil seeps in to make the lip tissues stronger and heals them faster. With continued use, dry patches, dark spots, pigmentation, etc. disappear in no time. Wheatgerm Oil increases skin elasticity by facilitating the skin renewal process."

Clean Lip Gently And Use Your Fingers To Apply The Lip Balm To Your Lips.
Country of Origin: India
Manufacturer & Packer: Vaadi Herbals Pvt. Ltd.
Address: A-40, Jhilmil Industrial Area, Shahdara, East Delhi, Delhi - 110095.