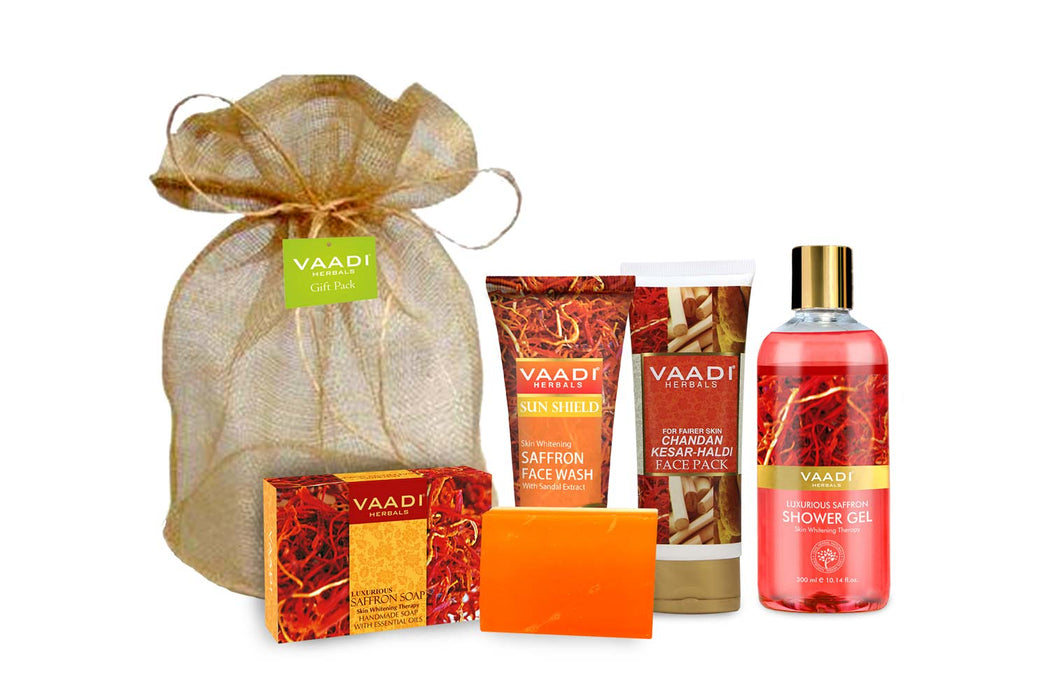 Luxurious Saffron - Skin Whitening Set (555 gms)
M.R.P. incl. of all taxes.
This Skin Whitening set is excellent for visibly improving the texture and complexion of the skin using the age old benefits of Luxurious Saffron. The gentle face wash and face pack ensure that the facial skin absorbs all the nutrients to give a healthy and natural glow. This set also comprises of the saffron Soap and Shower Gel that pamper the body daily and make the skin luminous.

Ingredients : Steam Distilled Saffron Extract (Crocus Sativus), Pure Turmeric Extract (Curcuma Longa), Sandalwood Extract (Santalum album), Manjistha Extract (Rubia Cordifolia), Saffron Extract (Crocus Sativus), Coconut Oil Derivative (Cocos Nucifera), Goat Milk (Caprae Lac), Palm Oil (Elaeis Guineensis), Pure Saffron Extract (Crocus Sativus Flower Extract),Carrot Ext ( Daucus Carota Sativa Juice), Sandal Oil (Santalum Album), DM Water (Aqua)

This skin care set comprises of the following

Saffron Face Wash (60 ml)

An innovative after-sun-care herbal formulation, this face-wash fights and reverses the UV damage to the skin, while leaving it feeling cool and refreshed. Anti-oxidants, Saffron and Sandal, further soothe the exposed skin, as well as miraculously fade away sun-tan and pigmentation, granting you a fairer and smoother complexion.

Saffron Soap (75 gms) 

Enriched with multi-mineral-rich content of Saffron & goat Milk, this soap lightens and evens your skin tone, while cleansing away pore-deep impurities. It gently fades away pigmentation marks and blemishes; and grants you a fairer & flawless complexion!

Saffron Shower Gel (300 ml)

Made with multi-mineral-rich content of luxurious Saffron, this shower gel lightens and improves skin tone, while cleansing pore-deep impurities. It gradually reduces pigmentation marks and gives a fairer and flawless complexion!

 

Chandan Face Pack (120 gms)

Scientifically made skin whitening treatment that also reduces skin blemishes and removes skin pigmentation marks.

 

 

Saffron Face Wash - Before You Apply Sun Block Cream/Lotion, Wash Face With This Anti-Tan Gel. Squeeze Out A Small Quantity. Apply On The Face And Workout Lather. Rinse Off, Pat Dry.

Chandan Kesar Face Pack - Apply A Generous Amount Of This Pack On Face And Neck, Avoiding Eyes. Relax Till Completely Dry. Rinse With Fresh Water. Follow With Vaadi Herbals Sun Shield Sunscreen Cream.

Luxurious Saffron Soap - Take Soap And Lather In The Hands. Apply The Lather To The Entire Body, Gently Massage And Enjoy The Pure Delight Of Our Herbal

Luxurious Saffron Shower Gel - Turn on the shower and step inside Pour some gel onto a ponge or washcloth Lather the soap Gently scrub yourself all over Rinse it all off.
Country of Origin: India
Manufacturer & Packer: Vaadi Herbals Pvt. Ltd.
Address: A-40, Jhilmil Industrial Area, Shahdara, East Delhi, Delhi - 110095.