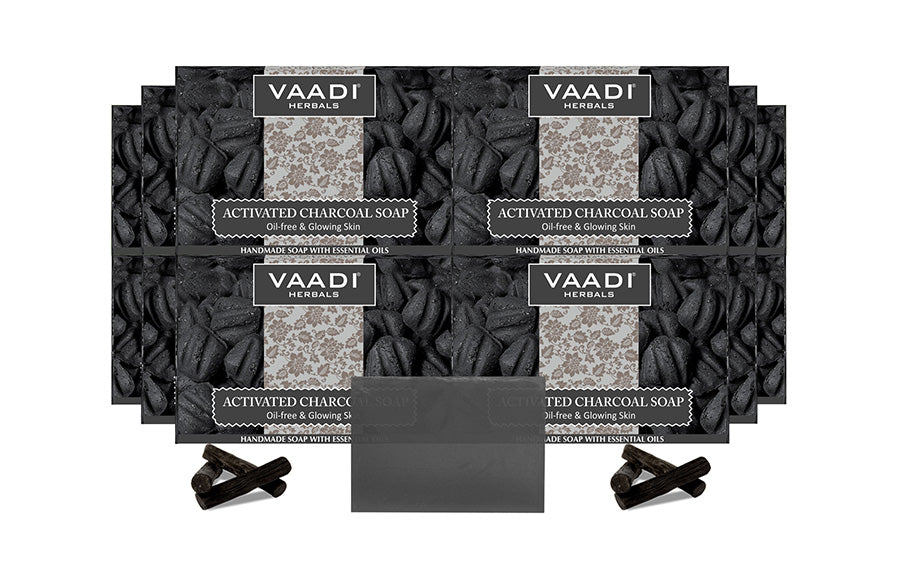 Pack of 12 Activated Charcoal Soap (12 X 75 gms)
M.R.P. incl. of all taxes.
Formulated with activated Charcoal and moisturizing Shea Butter, this unique face and body soap is excellent for all skin types and reduces acne and excessive oiliness. It detoxifies the skin by deeply cleansing and reducing large pores and is ideal for everyday use. Yang Yang essential oil imparts a soothing and long lasting aroma to your skin.
Activated Charcoal : Deeply detoxifies the skin by removing dirt & germs. Exfoliates the skin by removing dead skin cells. Imparts a smooth and brighter skin complexion



Ingredients : Activated Charcoal Powder, Shea Butter (Butyrospermum Parkii), Coconut Oil Derivative (Cocos Nucifera), Organic Honey (Mel Extract), Yang Yang Oil, DM Water (Aqua)

What is activated charcoal and why it is good for your skin?

Activated charcoal is simply a common charcoal that has been heated in a way that it develops a lot of small pores or spaces in it that trap chemical. Produced by small particles of carbonaceous substances like coconut shells and saw dust or olive pits, the charcoal is activated by processing it at a very high temperature which changes its internal structure and results in a charcoal that is more porous than regular charcoal. Activated charcoal is one of the most useful beauty ingredients. It boasts beauty benefits for skin by drawing oil, dirt and other harmful substances from clogged pores due to its adsorption powers, helping you to achieve a flawless complexion and fight acne as well.

How does Charcoal detoxify the skin and bring out a beautiful new look?

For once if you do not hesitate to let the black run over your skin, Charcoal is one ingredient that holds surprises. If your skin is lifeless, doesn't have that attractive sheen you have been wishing for or there are marks, pimples or even blackheads, is the answer to it all and more. Not many know this but Activated Charcoal has the unique ability to suck out impurities, toxins, chemical residue and microbes from the pores cleansing and detoxifying the skin to levels unimaginable. Providing the perfect exfoliation, Charcoal kills germs, polishes the skin and leaves a radiant glow that stays with you all the time. With Charcoal, you can actually feel the dirt and oil being stripped off from your skin almost instantly. Healing is accelerated on the skin's surface and the skin is left unclogged, breathing and soft to touch.

How does Shea butter keep skin nourished and moisturized?

Shea butter is a fat extracted from a particular African Shea tree, or Vitellaria Paradoxa. Among its many advantages are its humectants and emollient properties. In layman's terms, it not only elevates the hydration of the skin; but also helps the skin retain the moisture, by reducing evaporation. This substance contains some beneficial fatty acids that better the circulation, improve skin elasticity; and along with Vitamin D promote regeneration of cells. Thus, act as a great anti-aging ingredient. Apart from this, it reduces dark spots and blemishes; and is anti-inflammatory and soothing in nature.

Why is honey useful in cleansing the skin?

Apart from being an excellent cleanser, the most exceptional thing about honey is that it moisturizes the skin at the same time. Honey absorbs the skin's natural moisture and forms a protective film over the skin's surface, keeping it supple and soft. Honey work amazingly on all skin tones and is an instant relief from dry patches or oily overtones. Honey contains methylglyoxal, which is antibacterial in nature. It kills any organism on the skin's surface, shielding it against acne and allergy. It does not irritate the skin and makes it smooth and healthy within no time. The skin stays happy with proper hydration and the perfectly cleansed look.

How Coconut oil act as a good anti-ageing ingredient?

Coconut oil has been praised and popularized for its anti-aging properties. Like coconuts themselves, coconut oil is rich in many proteins. These proteins keep skin healthy and rejuvenated, both internally and externally. Proteins also contribute to cellular health and tissue repair, along with a wide range of other essential activities within the body. When you apply it on the skin, it can work for a longer time, unlike many other oils, without it getting rancid. 

Take Soap And Lather In The Hands. Apply The Lather To The Entire Body, Gently Massage And Enjoy The Pure Delight Of Our Herbal
Country of Origin: India
Manufacturer & Packer: Vaadi Herbals Pvt. Ltd.
Address: A-40, Jhilmil Industrial Area, Shahdara, East Delhi, Delhi - 110095.