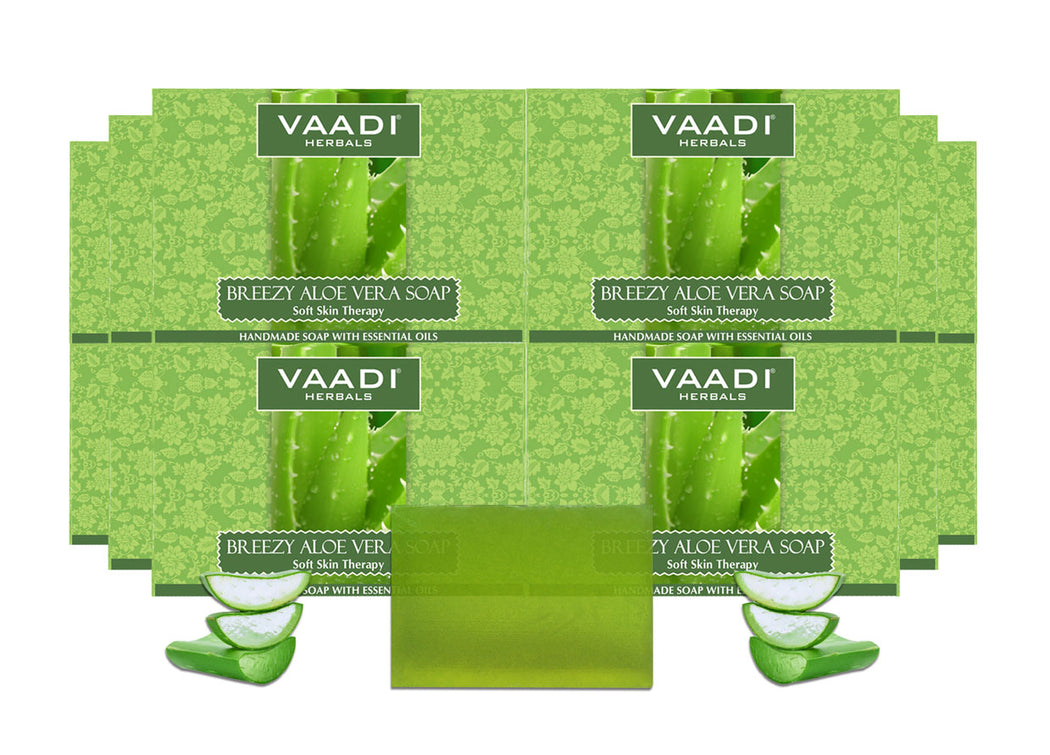 Pack of 12 Breezy Aloe Vera Soap (75 gms x 12)
M.R.P. incl. of all taxes.
This specialized formulation of a two layered soap provides you with the combined benefits of both Aloe Vera and Honey. The Aloe Vera extract in the soap acts as an anti-inflammatory and anti-infective, which along with its soothing property, makes this soap a must have in your cleansing regime. Honey in the soap hydrates dull, dry and chapped skin and helps to regain its natural glow from within.

Ingredients :Steam Distilled Aloe Vera Extract (Aloe Barbadensis), Green Tea Extract (Camellia Sinensis), Coconut Oil Derivative (Cocos Nucifera Oil), Pure Kokum Butter (Garcinia Indica Seed Butter), Jojoba Oil (Simmondsia Chinensis Seed Oil), Shea Butter (Butyrospermum Parkii Butter), DM Water (Aqua)

Why is blend of Honey and Aloe Vera good for skin ?

An amalgamation of natural ingredients such as Honey & Aloe-Vera in a product is no less than a secret treasure for damaged skin. Both of these put together form the best combination for a crystal-clear skin from outside which is as healthy from the inside. How honey helps in bringing out a radiant skin? By the process of regurgitation, bees make honey out of nectar. This honey then collected and used for a variety of purposes. Honey works wonders for the skin as the following: Treats Acne and Pimples: Honey is an ideal cleansing agent as it absorbs the trapped impurities within the skin surface and pores making it bacteria free. Honey, thus, is helpful in treating of Acne, break-outs and skin irritation. Also, Honey helps in lightening blemishes and scars. Rejuvenates and Refreshes the depleted skin: The damage on skin due to UV rays is one of the major cause that skin may become dull, dry and tanned. The skin starts to age before time. Honey is an essential ingredient which rejuvenates such a skin, repairs the sun damaged skin, making it soft & supple. It reduces wrinkles remarkably.

How does Aloe Vera prove to be beneficial in moisturizing the skin ?

Extracted from the medicinal Aloe Vera plant's leaves by process of squeezing, Aloe Vera gel is a skin-repair factory in itself. For every possible skin ailment that can occur, Aloe Vera gel holds the solution. Aloe-Vera is an excellent ingredient because it nourishes dull and dry skin from within, makes the skin softer. The skin looks graceful is thoroughly moisturized. Aloe Vera cures dry patches and treats post-acne rough skin. With lemon acting as a perfect cleanser, Aloe Vera makes sure to retain the suppleness and lock the moisture. Aloe Vera also catalyzes the action of lemon in facilitating the removal of accumulated dead cells, trapped impurities and dirt yielding a flawless sheen.

Why is Honey useful in cleansing the skin ?

Apart from being an excellent cleanser, the most exceptional thing about honey is that it moisturizes the skin at the same time. Honey absorbs the skin's natural moisture and forms a protective film over the skin's surface, keeping it supple and soft. Honey work amazingly on all skin tones and is an instant relief from dry patches or oily overtones. Honey contains methylglyoxal, which is antibacterial in nature. It kills any organism on the skin's surface, shielding it against acne and allergy. It does not irritate the skin and makes it smooth and healthy within no time. The skin stays happy with proper hydration and the perfectly cleansed look.

Take Soap And Lather In The Hands. Apply The Lather To The Entire Body, Gently Massage And Enjoy The Pure Delight Of Our Herbal
Country of Origin: India
Manufacturer & Packer: Vaadi Herbals Pvt. Ltd.
Address: A-40, Jhilmil Industrial Area, Shahdara, East Delhi, Delhi - 110095.