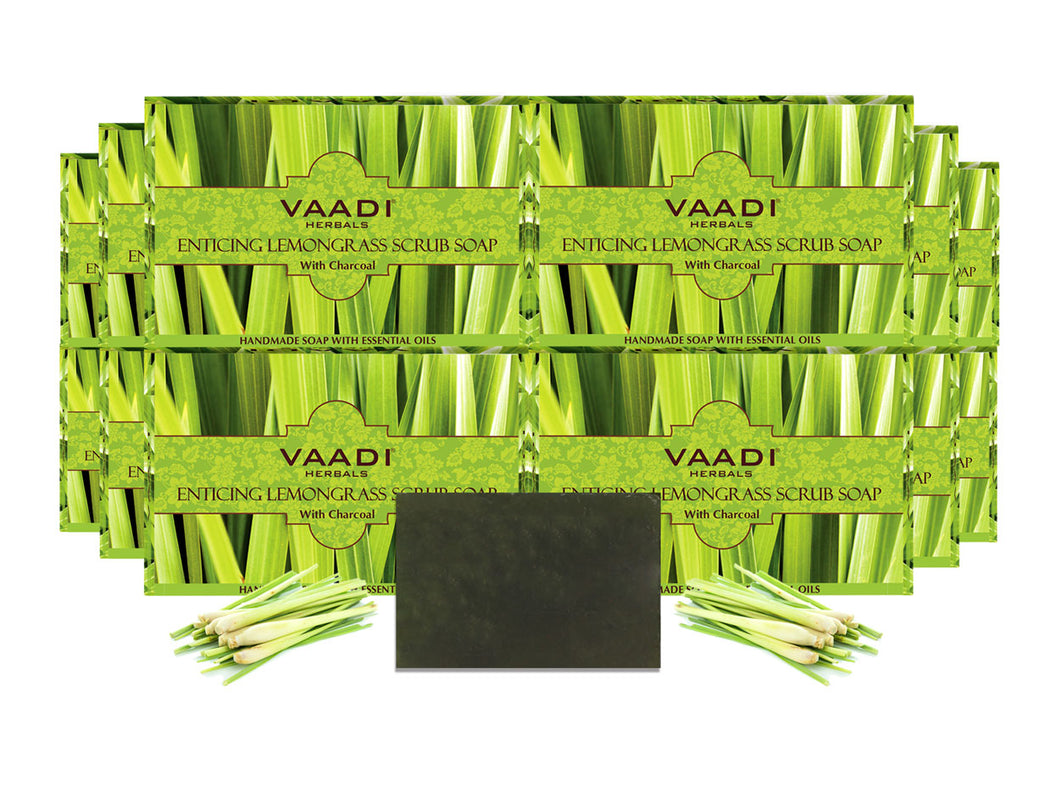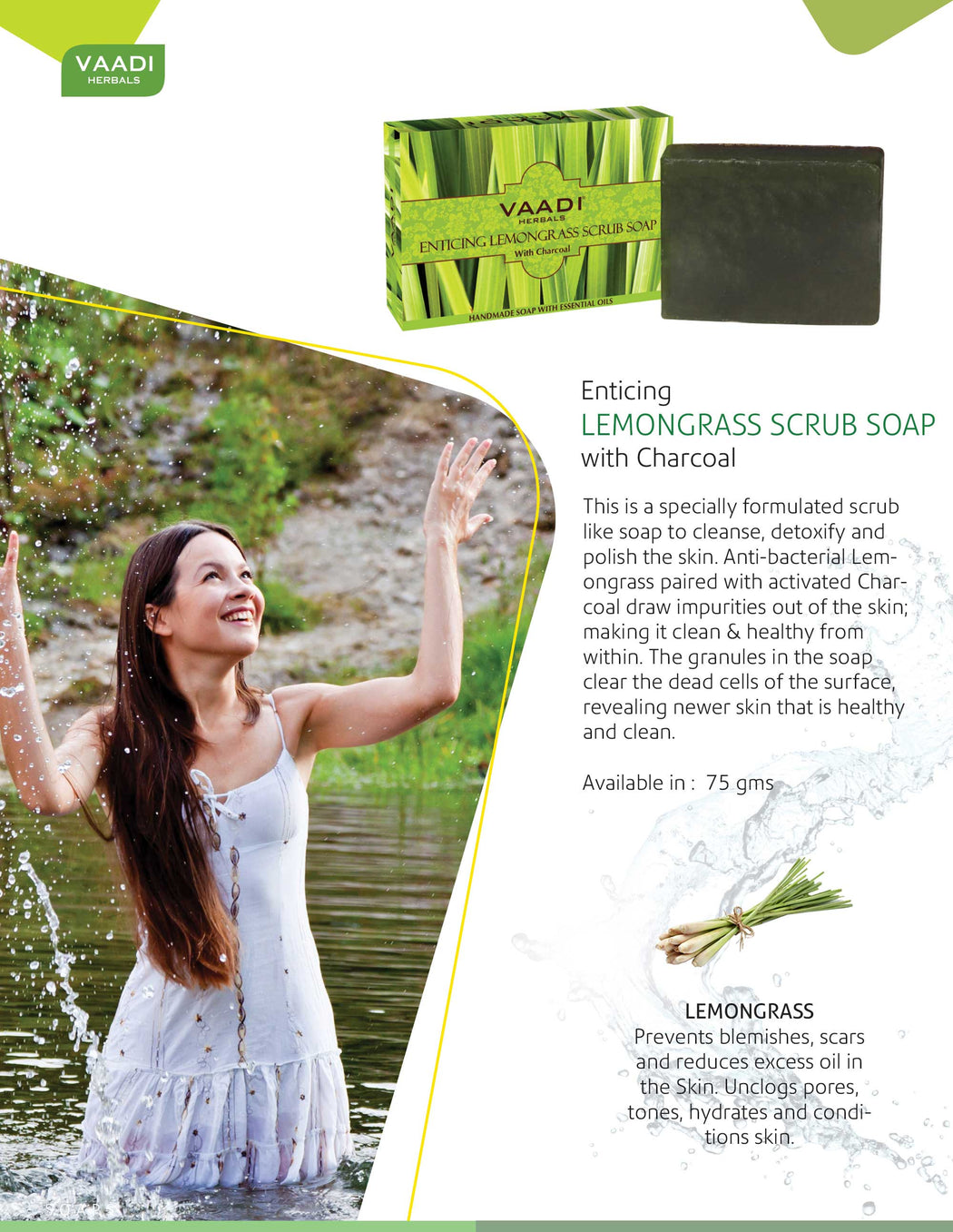 Pack of 12 Enticing Lemongrass Scrub Soap (75 gms x 12)
M.R.P. incl. of all taxes.
A specially formulated soap to truly cleanse, detoxify and polish your skin. Anti-bacterial Lemongrass paired with activated Charcoal, draw impurities out of the skin; leaving it clean & healthy within. On the outside, the dead cells are scrubbed off; smoothing & adding glow!

Ingredients :Lemongrass Oil (Cymbopogon Schoenanthus), Charcoal Powder, Walnut Shell Powder (Juglans Regia), Jojoba Oil (Simmondsia Chinensis), Coconut Oil Derivatives (Cocos Nucifera), Pure Honey (Mel Extract), DM Water (Aqua)

Why is regular scrubbing an important part of skin care ?

Scrubbing is undoubtedly an eminent part of skin care as it ensures that the skin gets rid of unwanted accumulated dirt and dead skin. When it comes to choosing an apt scrub for the skin, many advice to go for one which suits the skin. However, no scrub benefits the skin in a way the natural scrub does. Since there are no chemicals, the skin is treated in nature's care. A good scrub penetrates down the layers of the skin and unclogs the pores, fighting tough blackheads and acne. A flawless complexion is visible within few days of use. Scrubbing not only relaxes the facial tissues and muscles but also reduces fine line and wrinkles.

How does Lemongrass Extract cleanse and condition the skin ?

From Cymbopogon citratus, Lemongrass extracts are taken. Lemongrass extract is an effective skin toner. It keeps the pH balance of the skin to neutral, preventing allergies and being a powerful astringent, regulates the oil secretion by sebaceous glands so as to keep blotching and acne at bay. Lemongrass extracts unclog pores thereby preventing any eruptions or break outs. Lemongrass oil is a potent antiseptic which heals the skin without harming it. Reversing the effect of harmful chemicals on the skin, Lemongrass nourish it from within to give a smooth and healthy appearance. Lemongrass Extracts fade away pigmentation, scars, dry patches and blemishes. Lemongrass Oil efficiently targets Cellulite too.

How does Charcoal detoxify the skin and bring out a beautiful new look ?

For once if you do not hesitate to let the black run over your skin, Charcoal is one ingredient that holds surprises. If your skin is lifeless, doesn't have that attractive sheen you have been wishing for or there are marks, pimples or even blackheads, is the answer to it all and more. Not many know this but Activated Charcoal has the unique ability to suck out impurities, toxins, chemical residue and microbes from the pores cleansing and detoxifying the skin to levels unimaginable. Providing the perfect exfoliation, Charcoal kills germs, polishes the skin and leaves a radiant glow that stays with you all the time. With Charcoal, you can actually feel the dirt and oil being stripped off from your skin almost instantly. Healing is accelerated on the skin's surface and the skin is left unclogged, breathing and soft to touch.

Take Soap And Lather In The Hands. Apply The Lather To The Entire Body, Gently Massage And Enjoy The Pure Delight Of Our Herbal
Country of Origin: India
Manufacturer & Packer: Vaadi Herbals Pvt. Ltd.
Address: A-40, Jhilmil Industrial Area, Shahdara, East Delhi, Delhi - 110095.