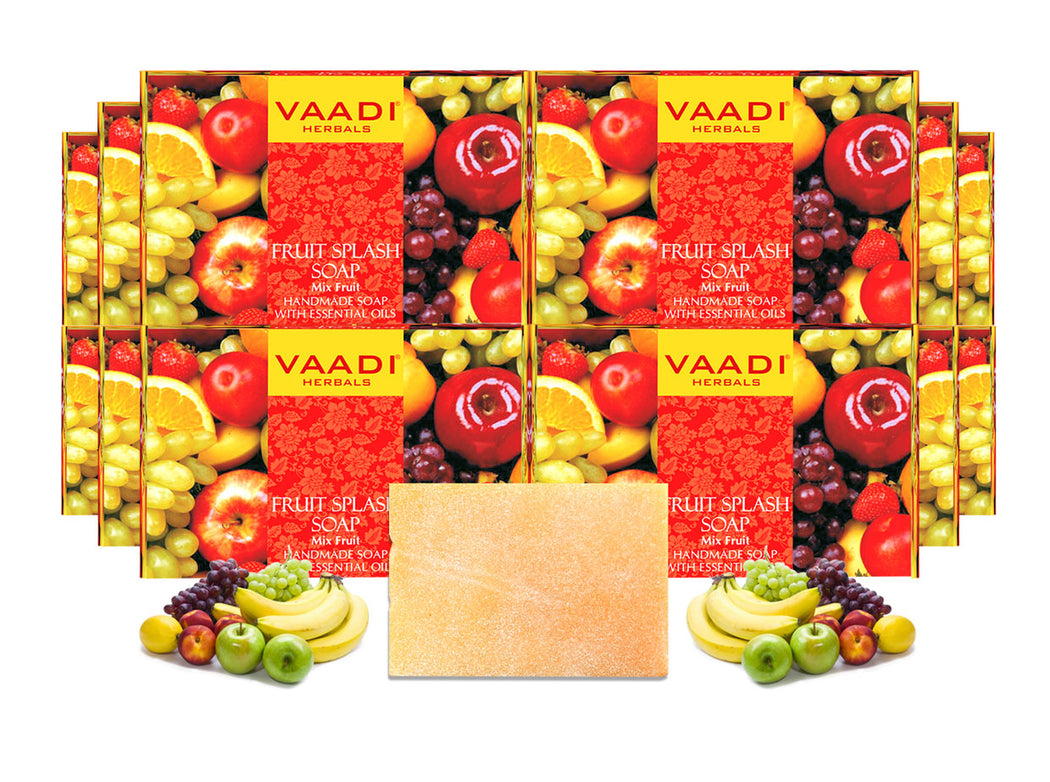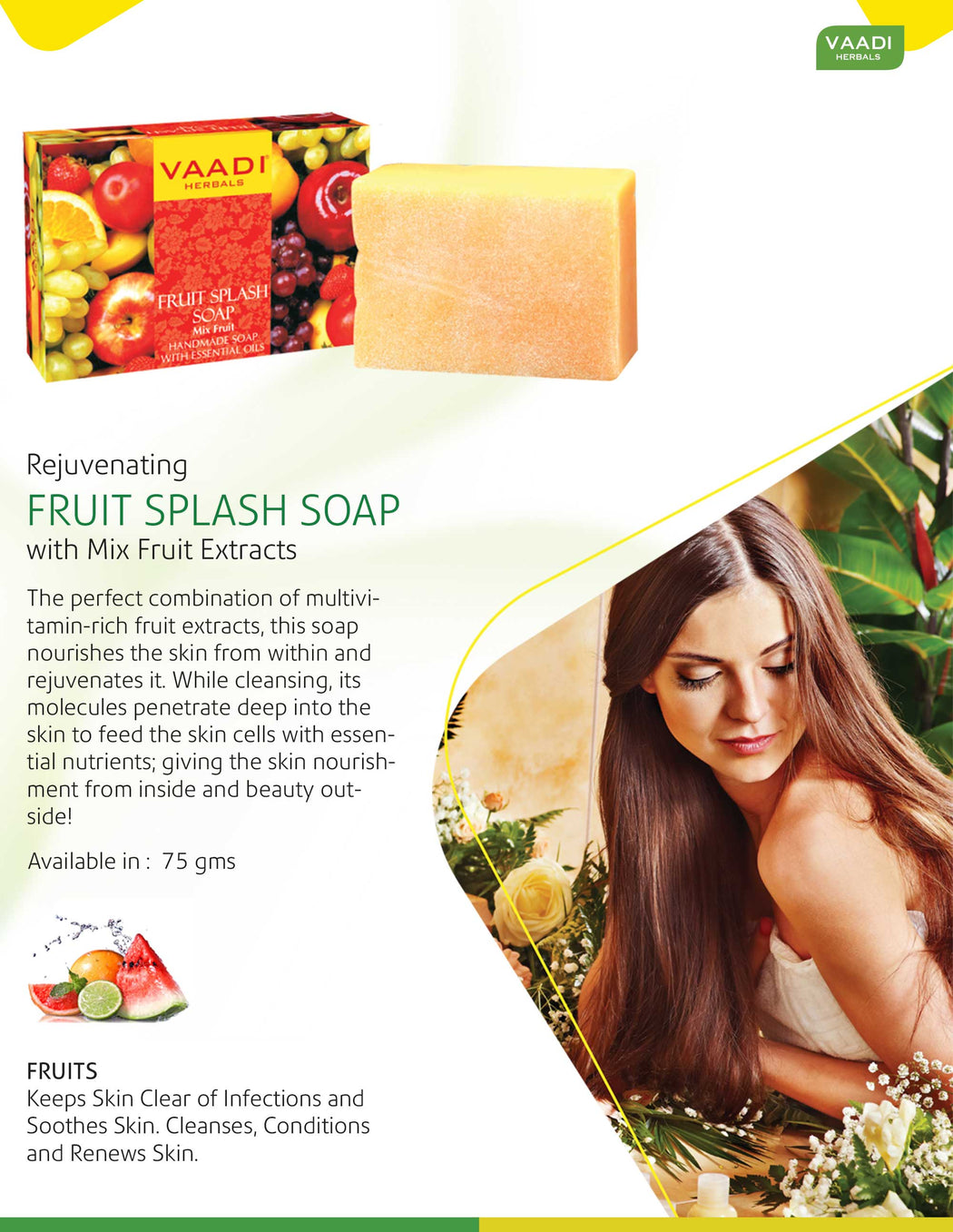 Pack of 12 FRUIT SPLASH SOAP with extracts of Orange, Peach, Green Apple & Lemon (75 gms x 12)
M.R.P. incl. of all taxes.
The perfect combination of multivitamin-rich fruit extracts; this soap is bound to nourish your skin from within. While cleansing, its molecules penetrate deep into the skin to feed the skin cells with essential nutrients; granting your skin health inside & beauty outside!

Ingredients :Coconut Oil Derivative (Cocos Nucifera), Orange Extract (Citrus sinensis), Peach Extract (Prunus Persica), Green Apple Extract (Pyrus Malus), Lemon Extract ( Citrus Medica limonum), Shea Butter (Butyrospermum Parkii), Cocoa Butter (Theobroma Cacao), DM Water (Aqua)

How does the choice of soap effect the texture of your skin ?

Life is pretty hectic these days. With stress levels soaring top of the roof and sun and environment leaving no stone unturned in robbing the the skin off the natural essential nutrients and adding dullness to the skin, all one is left with is a choice. There are a plethora of fancily packed, heavenly fragrance promising soaps available in the market but only a few are capable of giving the skin the vital nutrients it needs to fight against the external stimuli. A regular and proper exfoliation is highly important to maintain the skin's glow. If not taken care of, the skin loses it's sheen and softness and you are just another face in the crowd with a normal looking lack-luster skin. Beautiful skin always attracts compliments and makes one feel confident. A very low percentage of chemically-made soaps that claim to be full of natural ingredients stand by what they say. The wrong soap can harm the skin to extent unimaginable. They strip away the natural moisture cover exposing the skin to all sort of hazard- acne, allergies, sun, dirt and pollutants. A handmade soap, on the other hand, ensures that the skin get its due vitamins, minerals and most importantly, moisture lock so as to be safe from damage.

How is Lemon an effective skin cleanser ?

Accumulation of dry cells and dead skin makes it appear dull, lifeless and rough. Lemon gently exfoliates the skin and cleanses off the dead skin. Being a natural anti-aging ingredient, Lemon treats dry patches, blackheads and high percentage of Vitamin C ensures a flawless complexion free from blemishes, scars and wrinkles. Being a citrus fruit, Lemon facilitates cell rejuvenation bringing out a new you everyday. It is antiseptic in nature and treats pimples and break-outs within no time. The skin glows with health and a soft to touch texture. Keeping the skin safe from UV rays of the sun, Lemon also acts as a cooling-agent which cools the skin, giving a refreshed feeling altogether.

In what ways are Green Apples beneficial for the skin ?

Chosen over red apples for their high Vitamin C content, Green Apples rejuvenate the skin from within giving it a supple, soft and squeaky clean look and an even-tone texture. With potent minerals such as zinc, iron and calcium present and power-packed vitamins such as Vitamin A, B6 and C, Green apples clear blemishes and marks and are known for their skin-whitening properties. Acting from the deep pore level, Green apples have a gentle action on the skin and in a non-abrasive way provide the perfect exfoliation as well as moisture The skin is soft and irresistibly healthy.

What is the use of Peaches in skin care ?

Peach is a wonder fruit for the skin. Being a great source of anti-oxidants, peaches guard the skin from the attack of free radicals. Vitamin A, an essential nutrient is packed in peaches which make them an effective food for the skin keeping it hydrated, healthy and soft. Peach skin is an effective blemish clearer. Scars and acne marks fade away within a day or two of use. Skin elasticity is something not many fruits are capable of claiming but peaches do. They help in elasticity restoration and cell-regeneration thereby preparing the skin for its everyday combat with sun, wind and pollution. Providing instant relief from allergies and redness, Peaches also have a hold over acne. A regular use of peach on the skin makes pimples disappear and also fight premature aging.

What makes Orange a super-food for the skin ?

None can brighten the skin like orange does. So true. With high levels of Vitamin A and C, Oranges have it all to pamper the skin and safeguard it against harmful environmental factors. Oranges take off years from your skin by clearing off wrinkles, fine lines, dry patches and prevent premature aging. Thanks to it's astringent properties, Orange washes away excess oil off the skin surface, making it more radiant and reducing dark spots and blemishes. Acne and break outs are effectively cut out by antibacterial property of the citrus orange. Orange peel contains anti-oxidants that fight free radicals and prevent chemical and UV damage to the skin. With a fruity aroma accompanying you all day, Oranges give the skin a spa-like treatment with each application."

Take Soap And Lather In The Hands. Apply The Lather To The Entire Body, Gently Massage And Enjoy The Pure Delight Of Our Herbal
Country of Origin: India
Manufacturer & Packer: Vaadi Herbals Pvt. Ltd.
Address: A-40, Jhilmil Industrial Area, Shahdara, East Delhi, Delhi - 110095.