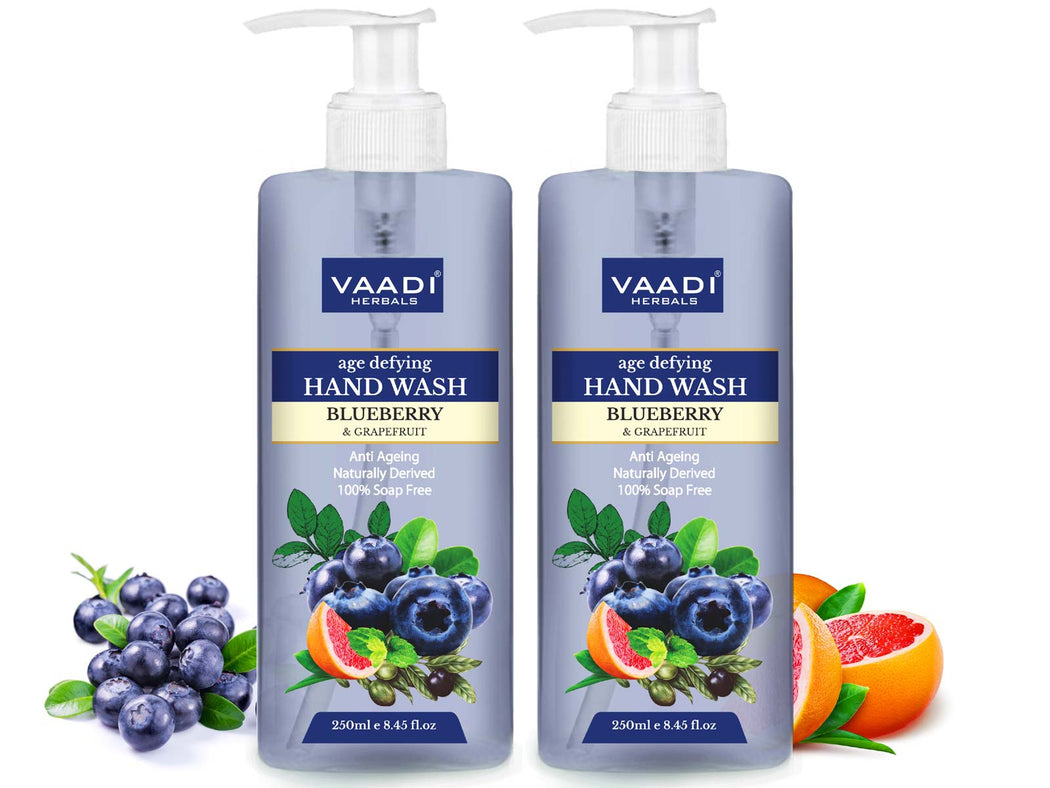 Pack of 2 Age Defying Blueberry & Grapefruit Hand Wash (250 ml x 2)
M.R.P. incl. of all taxes.
This fruity formulation helps clean bacteria and dirt from hands leaving them feeling refreshed and extra clean. Regular use makes hands soft & supple. Its Blueberry prevents premature aging of skin and repairs damaged skin while Grapefruit, rich in antioxidants, evens skin tones and fights free radicals.

Ingredients : Pure Blueberry Extract, Steam Distilled Grapefruit (Citrus Grandis) Extract, Coconut Oil Derivatives, Organic Honey (Mel Extract), Watermelon (Citrullus Lanatus) Extract, Steam Distilled Rose Petals Water, Corn Extract & DM Water (Aqua).

Blueberry and Grapefruit hand wash is an effective cleanser that leaves your skin feeling fresh, healthy and clean. The gentle frangrance leaves behind a trail of freshness and calms senses. This hand wash helps maintain the natural moisture balance in skin and the hands feel beautifully soft and conditioned.

Blueberries are high antioxidant and phytochemical carriers. These anti oxidants seep in the skin tissue and provide a shield against free radicals by neutralizing them. These free radicals cause a lot of damage to the tissues if not targeted. Blueberries fight early signs of aging and keep hands young and soft.

Grapefruit oil is not obtained from the fruit grape; but from the fruit of another citrus tree, namely grapefruit. With anti-oxidants and Vitamin C, grapefruit oil effectively fights signs of aging, including tissue degeneration; by combating the harmful free radicals. It is also known to have strong anti-septic and anti-bacterial properties; which is helpful towards treating skin infections. This also helps in tightening and toning the skin; making it much smoother. 

Wet your hands and take a coin sized amount of the liquid wash. Rub to form lather and wash hands fully. Rinse under running water
Country of Origin: India
Manufacturer & Packer: Vaadi Herbals Pvt. Ltd.
Address: A-40, Jhilmil Industrial Area, Shahdara, East Delhi, Delhi - 110095.