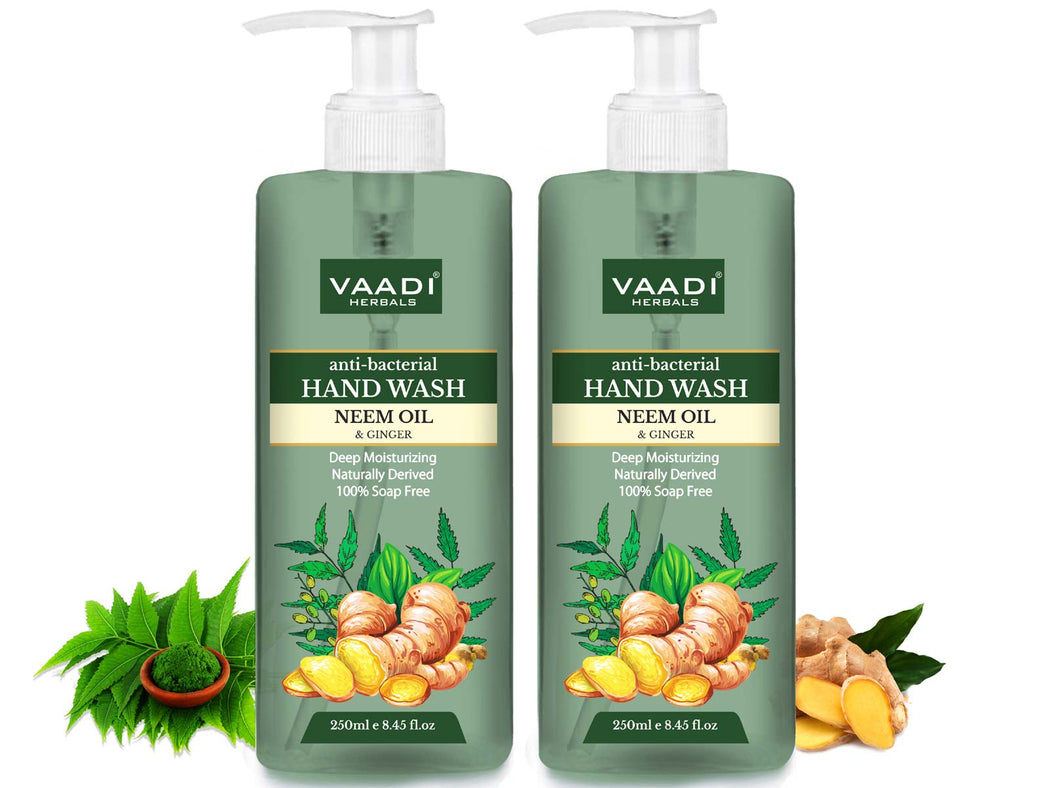 Pack of 2 Anti-Bacterial Neem Oil & Ginger Hand Wash (250 ml x 2)
M.R.P. incl. of all taxes.
Ginger along with Neem oil improves the skin's barrier function and maintains the moisture balance, keeping them soft all day. Neem purifies and protects skin with its anti-bacterial properties while Ginger, an antioxidant, evens skin tone and improves elasticity.

Ingredients : Pure Neem Ext, Steam Distilled Ginger Extract, Turmeric Extract, Pure Tulsi Leaf Extract, Coconut (Cocos Nucifera) Oil Derivatives, Vit. E, Pure Neem Essential Oil & DM Water (Aqua).

Neem Oil and Ginger hand wash is an effective cleanser that leaves your skin feeling fresh, healthy and clean. The gentle frangrance leaves behind a trail of freshness and calms senses. This hand wash helps maintain the natural moisture balance in skin and the hands feel beautifully soft and conditioned.

Neem Oil's excellent anti-inflammatory and anti-bacterial property cures the redness and itchiness. Neem Oil is rich in Vitamin-E, fatty acids & emollients. All these nutrients combine to moisturize skin from within and revive the skin's natural elasticity, making it softer and supple. Neem Oil seeps in and detoxifies the skin, helping in proper regulation of blood, thus preventing pre-mature aging.

Ginger is a powerful antiseptic that gets under your skin and kills acne-causing bacteria. And the best part, it is suitable for all kinds of skin. Use the juice of ginger for acne affected skin. Ginger holds within itself around 40 antioxidant elements. This keeps ageing away and leaves you looking fresh and youthful.  

Wet your hands and take a coin sized amount of the liquid wash. Rub to form lather and wash hands fully. Rinse under running water
Country of Origin: India
Manufacturer & Packer: Vaadi Herbals Pvt. Ltd.
Address: A-40, Jhilmil Industrial Area, Shahdara, East Delhi, Delhi - 110095.