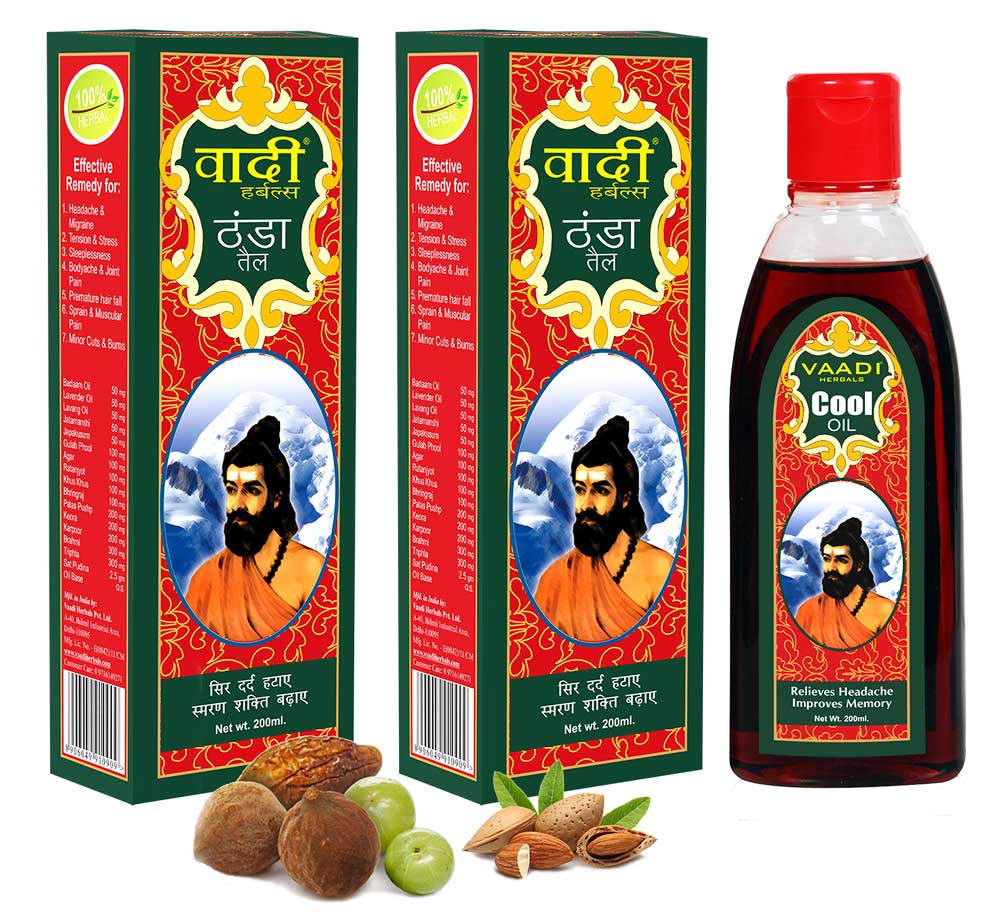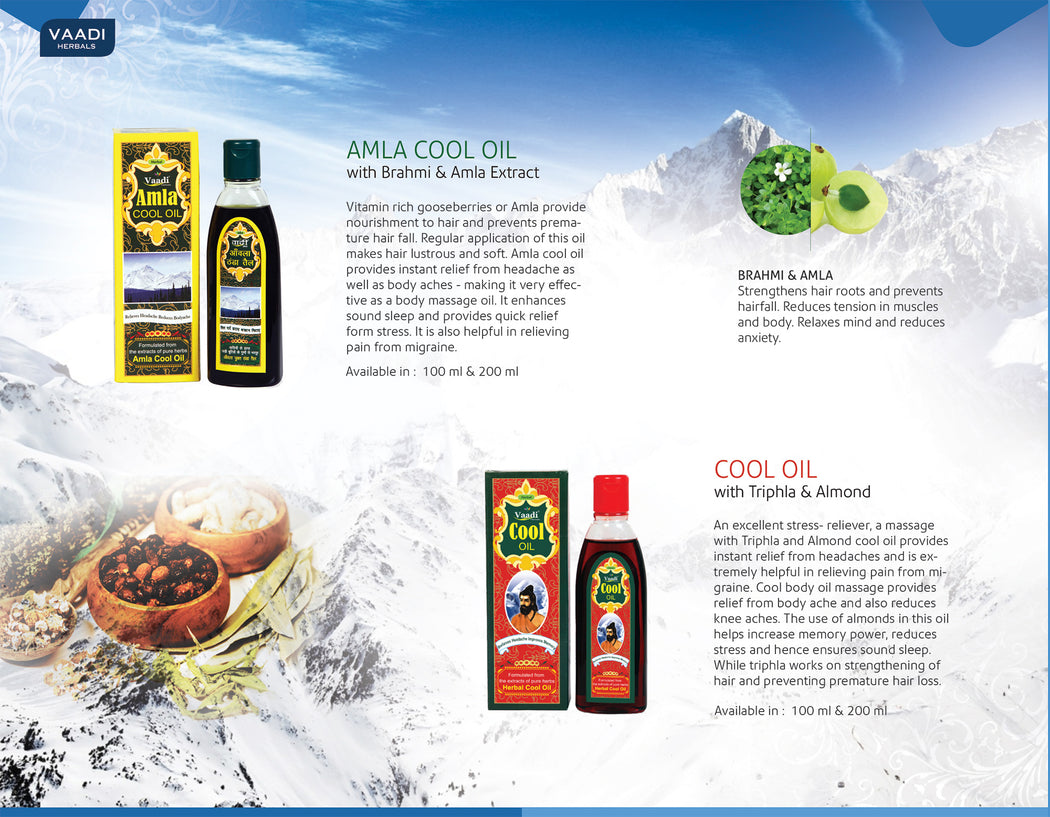 Pack of 2 Cool Oil with Triphla & Almond (200ml x 2)
M.R.P. incl. of all taxes.
An excellent body and hair tonic; this formulation has been specially developed to boost the health of both. When massaged into the scalp, it nourishes it and strengthens the hair follicles; to prevent hair fall. It further helps increase the memory power and relieves migraines. This combination also helps relieve knee joint pains.

Ingredients : Almond Oil (Prunus Amygdalus Dulcis Oil), Lavender Oil (Lavandula Officinalis Flower Oil), Clove Oil (Eugenia Caryophyllus Stem Oil), Hibiscus Extract (Hibiscus Rosa-Sinensis), Rose Flower ( Rosa Centifolia Flower), Agar, Ratanjyot (Onosma Echioides), Khas Khas, Bhringraj (Eclipta prostrata), Palas Pushp (Butea monosperma), Keora (Pandanus tectorius), Karpoor (Camphor), Brahmi (Bacopa Monnieri), Triphla (Phyllanthus Emblica), Sat Pudina (Mentha spicata), Mustard Oil (Brassica Nigra Oil)

How does massaging benefit the mind and the body ? Is the massaging product important ?

Massaging involves stimulating the working of deeper as well as superficial layers, of connective tissues and muscles. It has proven to better the circulation of fluids and blood in the body; facilitating better supply of nutrients to the cells; which is imperative for the health of tissues. This is enhances the functioning of the body (and mind) while aiding in the healing process. Medical research has proved that massaging can relieve pain; reduce stress and anxiety; treat depression; improve sleep; as well as temporarily reduce blood pressure. The products used for massage do matter; as they happen to contribute their individual effects too; increasing the benefits of massage multifold.

How does Badaam Oil help the body ?

Badaam Oil, or oil of sweet almonds, benefits both hair and body. For the hair, it is known to smooth the cuticles; adding shine and health to the hair. It is also known to control dandruff and hair fall; while promoting hair growth. Suitable for all skin types, it deeply moisturizes skin; calms inflammation; soothes irritation and rashes; prevents premature aging; improves complexion and adds glow to the skin. Almond oil is also known to relieve strained muscles and ease pain.

What are the benefits of Lavender Oil massage ?

Lavender oil is known to clear the scalp of dandruff and lice. Its antiseptic property is used to treat minor skin problems; including cuts, wounds, stings, sunburn etc. Its massage is known to physically relieve joint stiffness and muscle pain; while it also provides relief from headaches, anxiety and stress as well as promotes sleep; and betters concentration and mood.

In what ways does Lavang Oil prove beneficial to us ?

Lavang oil, or clove oil, has strong anti-septic and anti-fungal properties; and is thus beneficial is treating skin infections, including laceration ulcers, wounds, cuts etc. Its massage stimulates blood circulation; and its analgesic nature helps relieve muscular and joint pains. Mentally, this oil is known to improve memory and concentration power; while it also helps relieve stress and treat stress-related insomnia. What are the benefits of Jatamanshi for hair and body? Jatamanshi, or spikenard, is known to prevent premature hair loss and graying; while it also promotes hair growth. Physically, it's rejuvenating properties help maintain youthfulness of aging skin; and its anti-septic and anti-inflammatory actions are beneficial against burning sensation, itching, rashes, allergies, swelling and other skin conditions. Mentally, it helps alleviate stress, anxiety, migraine, as well as in treating insomnia.

What is Japakusum and how is it beneficial ?

Japakusum or shoe flower, or Hibiscus rosa-sinensis, has multiple benefits for hair and scalp. It stimulates the blood circulation within the scalp, which revitalizes the hair and promotes hair growth. Adding to the same is its ability to reduce dandruff, which further betters the scalp health. It even conditions the hair; reducing dryness and softening it. Japakusum is also known to help maintain the hair's natural pigment and control premature graying.

How does topical application Gulab Phool prove beneficial ?

Gulab phool, or rose, is excellent for moisturizing dry skin; regulating oil production of oily skin; and disinfecting and soothing inflammation of sensitive/irritated skin. Its astringent action firms up the skin and prevents premature wrinkling; as well as strengthens hair roots and prevents premature hair loss. An anti-depressant too, it helps calm nerves; easing stress and anxiety as well as in treating insomnia. Its physical advantages include relieving respiratory ailments, as well as local pains and muscle cramps; by stimulating blood and lymph circulation.

What positive effects does Agar have on the mind and body ?

Agar, agarwood or oodh exhibits relaxing action on the nerves. It soothes the nerves; relieves stress and anxiety; as well as fights depression and insomnia (or sleeplessness). It is also known to be effective in treating certain respiratory ailments; including asthma, bronchitis, shortness of breath etc.

What role does Ratanjyot play in this oil combination ?

Ratanjyot, or Jatropha curcas, has strong anti-microbial properties; which makes it beneficial in protecting against and treating a number of skin infections. Its major constituent fatty acids, namely oleic and linoleic acids help keep the skin well moisturized. They are also anti-inflammatory in nature, and thus help soothe swelling and irritation. Ratanjyot is also known to prevent hair fall, by strengthening hair roots.

How beneficial is Khas Khas for our well being ?

Khas khas, or poppy seeds are sourced from opium poppy, or Papaver somniferum. Their anti-septic property helps keep the skin free of infections, and in removal of lice. Their anti-inflammatory action relieves inflammation of circulatory and nervous systems. Khas khas also helps relieve muscular and joint aches; as well as pains associated with dry and cracking skin, rheumatism as well as arthritis. And the seeds' sedative property calms anxiety, anger, nervousness etc; while being effective against insomnia.

What are the advantages of using Bhringraj ?

Bhringraj, false daisy, or Eclipta alba, strengthens hair root, preventing hair fall; promotes hair growth; and imparts black color to the hair. Massaging with it helps stimulate blood circulation; and detoxifies the body. It is also known to relax the nerves; thus reducing anxiety, stress and depression; while promoting sleep. It even helps better concentration and relieve migraine headache. Its anti-oxidant effect rejuvenates the whole body; while its cooling effect helps against skin infections and in wound healing.

How does one benefit from use of Palas Pushp ?

Palas pushp, or the flower of Butea monosperma, is known to be extremely effective in preventing hair loss; as well as for stimulating hair re-growth. Its anti-infective property treats minor skin infections; while it also calms inflammation and soothes irritated skin. Palas has also exhibited pain reducing action, when applied topically.

What is Keora ? And what beneficial properties does it have ?

Keora (or Kewra) is an extract obtained from Panandus flower. It is known to have a calming effect on the nerves. As such, it aids in mental relaxation; as well as in relieving headaches; easing chest pain; and treating arthritis and rheumatism. Furthermore, its anti-bacterial and anti-septic nature helps in treating infections; while its anti-oxidant properties help in healing of wounds.

How does Kapoor revitalize the body ?

The soothing effect of kapoor, or camphor, helps calm inflammation and itching; while its anti-microbial action keeps skin free of infections. Its anesthetic effect helps reduce the sensation of pain; and is thus used in cases of muscle or joint pains, strains, sprains, rheumatism and arthritis. Camphor massage betters blood circulation; clears lung congestion; and relieves headache and fever too.

What properties of Brahmi make it an important addition in this combination ?

Brahmi , also known as Indian Pennywort, is known to be effective in clearing dandruff; curing dry scalp; strengthening roots to reduce hair fall; and in preventing premature graying. It helps in improving functioning of the brain; enhancing memory, concentration as well as retention capacity. Brahmi's calming property helps reduce stress and anxiety and treats insomnia. And it is also known to relieve joint pains by relieving swelling.

What are the constituents of Triphala and what are their benefits ?

Is an ayurvedic combination of Haritaki (Terminalia chebula), Bibhitaki (Terminalia bellirica) and Amla (Emblical officianalis). It effectively detoxifies the scalp; inhibits and prevents microbial growth; prevents weakening of hair roots, and thus hair fall, due to infected follicles; delays premature graying; as well as stimulates growth of new, stronger hair. It also soothes irritated skin, reduces inflammation; while the amla in the combination even repairs damaged cells, speeding healing of sunburn and bruises.

What is Sat Pudina? And how is it helpful ?

Sat pudina is the extract of pudina (mint). It is known to relieve muscular pains and headaches. Menthol in it helps reduce inflammation and itching; while its anti-septic property helps keep infections at bay; including ridding the scalp off lice and dandruff. It also controls the oil production in the scalp; while keeping hair moisturized; and promoting hair growth. Sat pudina also boosts blood circulation and brain's concentration power.

Apply All Over The Head. Gently Massage The Oil Onto The Scalp Using Your Fingertips.
Country of Origin: India
Manufacturer & Packer: Vaadi Herbals Pvt. Ltd.
Address: A-40, Jhilmil Industrial Area, Shahdara, East Delhi, Delhi - 110095.