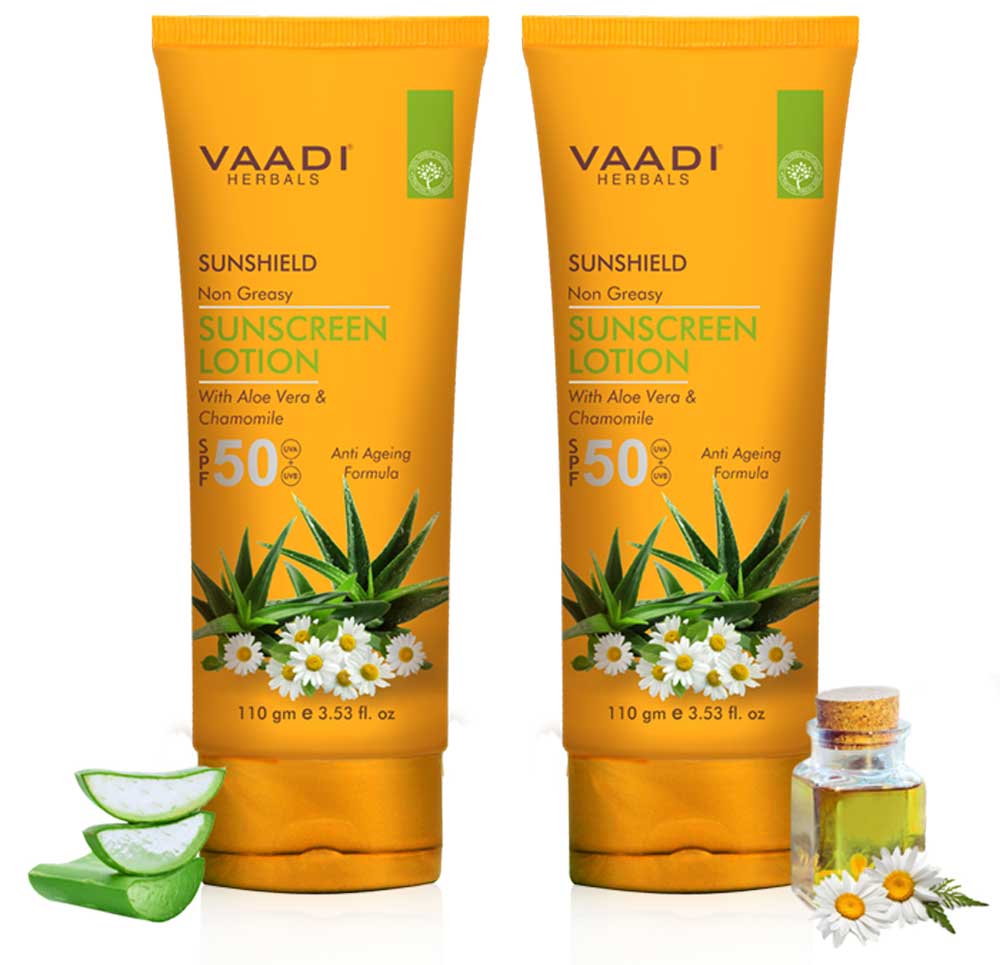 Pack of 2 Sunscreen Lotion SPF-50 with Aloe Vera & Chamomile (110 ml x 2)
M.R.P. incl. of all taxes.
This innovative formulation using Aloe Vera is an excellent sun shield that is non greasy and lasts long. Its components being natural sunscreens protect the skin from harmful UV rays and act as a safeguard from sun burns. This lotion also soothes burnt skin and rashes due to over exposure to the sun; revealing a rejuvenated and healthier skin.

Ingredients : Steam Distilled Aloe Vera (Aloe Barbadensis) Extract, Pure Chamomile Extract, Coconut ( Cocos Nucifera) Oil Derivative, Green Tea Extract, Almond Oil, Honey (Mel Extract), DM Water (Aqua)

Why does the skin need protection from the sun?

The skin acts as a perfect shield from environmental changes and diseases. To carry on its functions effectively, the skin too needs nourishment and strength. The body gets the essential Vitamin D from the Sun. But what one over-rules here is the fact that the same Sun also sends the harmful UVA and UVB rays to the earth which are damaging the skin. If not kept under tab, it can also lead to permanent darkness, excessive pigmentation and in worst cases, skin cancer.

Why is this lotion in SPF 50 important for skin protection?

This lotion is packed with nutrients and comes in an easy to carry tube shaped bottle that promises to keep your sun related worries at bay. It comprises of gentle Aloe vera extract which is a natural sunscreen and protects and soothes damaged skin. Chamomile extract is also known to gently calm sun burns and heal over exposed skin. This lotion in SPF 50 should be liberally and evenly applied on face and exposed parts of body (arms, neck, legs etc). It should be re-applied if in the sun over 2 hours.

Why is Aloe Vera called the Skin Expert?

Aloe Vera is the perfect remedy for any problems associated with the skin. Be it sun burn, irritation, allergies or be it the natural weather conditions going against the skin. Aloe Vera gel which is taken from the leaf of Aloe plan is rich in all vital Vitamins that make up for a perfect shield against adverse conditions. With the goodness of Vitamin A, F, C and B-12, Aloe Vera brings back the flawless suppleness to the skin. By aiding pore opening, Aloe Vera helps in the percolation of important nutrients to the layers of skin thereby healing from within. The skin is restores, nourished and at its attractive best ever.

Apply Liberally And Evenly On Face And Exposed Parts Of Body (Neck, Arms, Legs Etc.) Before Exposure To Sun.
Country of Origin: India
Manufacturer & Packer: Vaadi Herbals Pvt. Ltd.
Address: A-40, Jhilmil Industrial Area, Shahdara, East Delhi, Delhi - 110095.