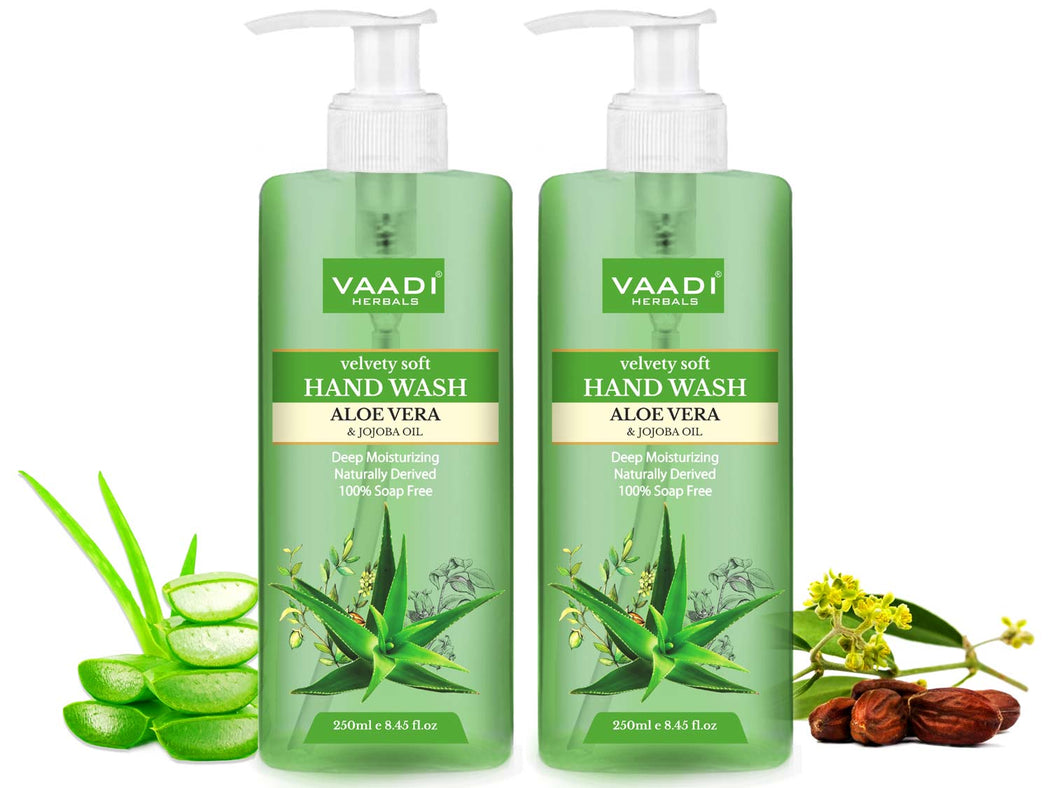 Pack of 2 Velvety Soft Aloe Vera & Jojoba Oil Hand Wash (250 ml x 2)
M.R.P. incl. of all taxes.
This hand wash enriched with extract of Aloe Vera and Jojoba cleanses the skin and leaves the hands feeling clean, super soft and delicately scented. The Aloe Vera ensures thorough cleansing of hands, keeps skin supple while Jojoba prevents excessive drying of skin and keeps hands moisturised.

Ingredients : Steam Distilled Aloe Vera (Aloe barbadensis) Ext, Pure Jojoba (Simmondsia Chinensis) Seed Extract, Manjistha Extract, Goat Milk, Pure Almond Ext, Coconut Oil Derivatives & DM Water (Aqua)

Aloe Vera and Jojoba hand wash is an effective cleanser that leaves your skin feeling fresh, healthy and clean. The gentle frangrance leaves behind a trail of freshness and calms senses. This hand wash helps maintain the natural moisture balance in skin and the hands feel beautifully soft and conditioned.

Aloe Vera is a perfect healer as it restores skin's suppleness in a non-abrasive natural way. It cools the skin and catalyzes the healing process. It hydrates the dry, dull and chapped skin, makes it a lot more supple and the skin regains its natural glow from within. It increases the blood circulation rate.

Jojoba Oil is most comparable to the oil produced by sebaceous glands of the human skin. It provides skin with high level of nutrients and moisture. Jojoba Oil removes dryness and since the oil does not evaporate, it keeps the hands hydrated round the clock.

Wet your hands and take a coin sized amount of the liquid wash. Rub to form lather and wash hands fully. Rinse under running water
Country of Origin: India
Manufacturer & Packer: Vaadi Herbals Pvt. Ltd.
Address: A-40, Jhilmil Industrial Area, Shahdara, East Delhi, Delhi - 110095.