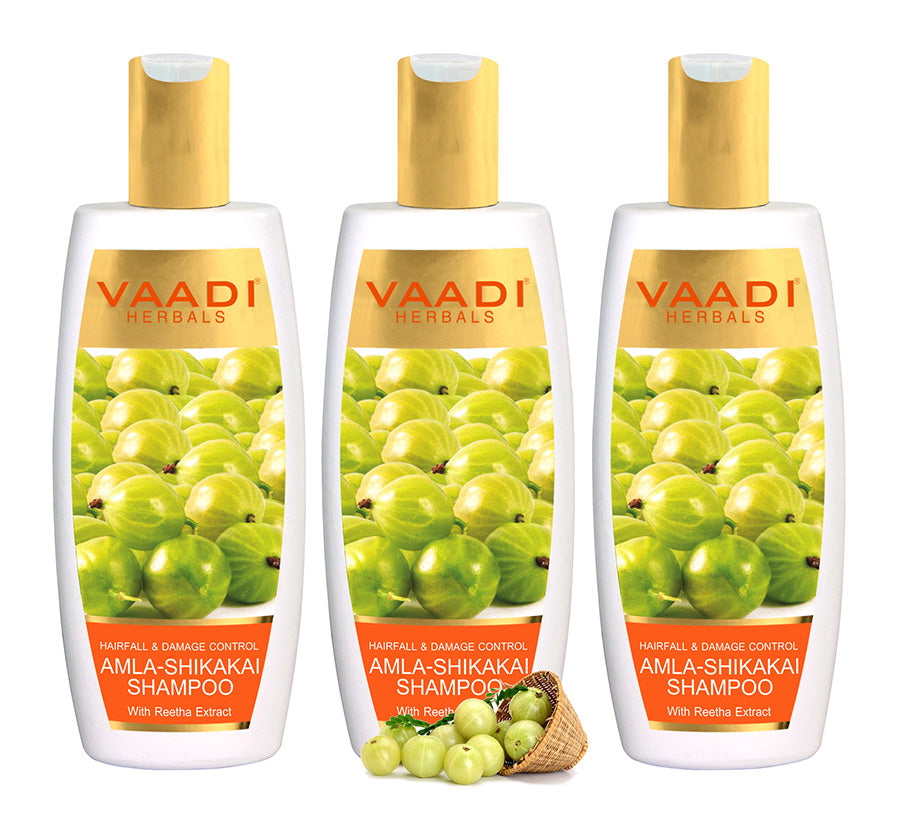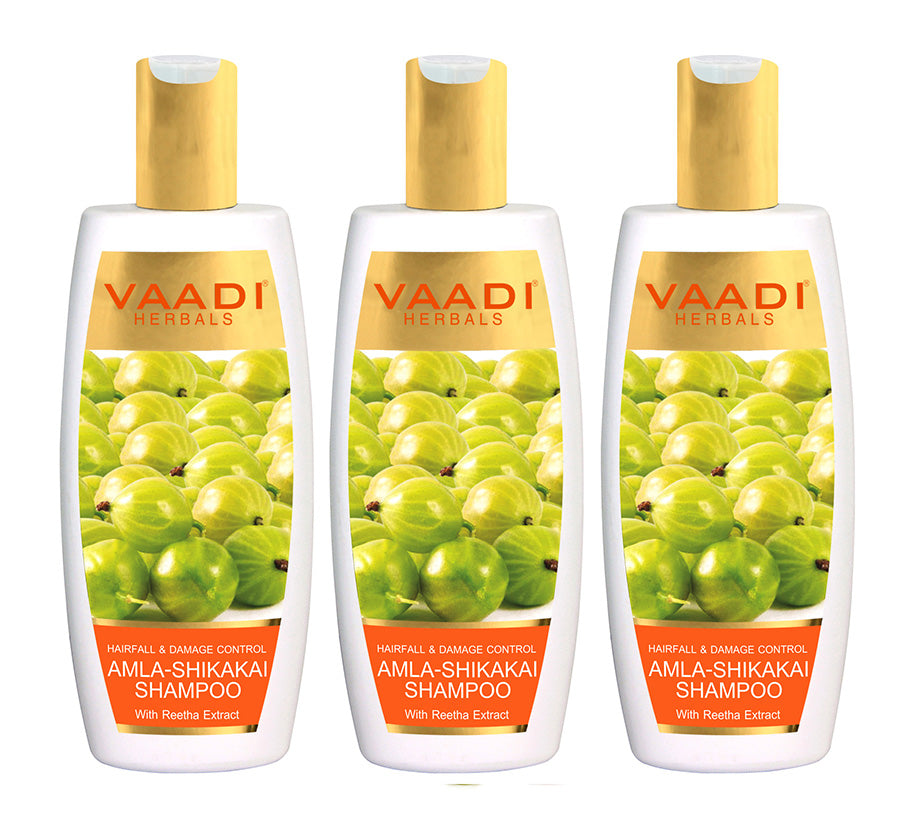 Pack of 3 Amla Shikakai Shampoo - Hairfall & Damage Control (350 ml X 3)
M.R.P. incl. of all taxes.
An expert remedy for hair-fall condition, this shampoo follows a triple-action plan– promoting healthy scalp, strengthening hair roots and deep-conditioning hair. Shikakai and Reetha keep the scalp free of infections. Amla, here, strengthens and stimulates hair follicles, thus controlling hair fall AND promoting hair growth.

Ingredients : Coconut Oil Derivatives (Cocos Nucifera Oil), Amla Extract (Phyllanthus Emblica), Shikakai Extract (Acacia Concinna), Reetha Extract (Soapnuts), Triphla Extract (Emblica Officinalis), Aloe Vera Extract ( Aloe Vera Callus Extract), Organic Honey ( Mel Extract), Soya Protein ( Hydrolyzed Soy Protein), DM Water (Aqua)

A gorgeous mane always catches the beholder's attention. For everything ever written in literature about beauty, the locks have a romanticism of their own. Everyday hectic life takes a toll on hair when one has no time to take care of them. With the sun's UV rays forever shining on the locks, damage is bound to happen. Also, wind takes off the moisture and makes hair frizzy and fragile, prone to breakage and a plethora of hair related problems like dandruff, itching and thinning furthermore elevate the stress levels. It's a cycle. The more the stress, the larger the effect on hair and skin, in general. We tend to buy into what products in the market claim without paying attention that after all it is chemicals we are feeding our dying hair. Natural ingredients, on the other, cleanse hair without harming the hair follicles and nourish them for a better growth and glossier look.

Why is Amla known to be the best solution for scalp conditions ?

Indian gooseberry or Amla is known as the magic ingredient for all hair related problems in Ayurveda. No other herb is known to have this miraculous effects than Amla. Over the time, when the hair have been damaged to a large extent, hair follicles tend to lose the strength. This makes hair brittle, prone to breakage and even premature aging. Amla reaches deep in the scalp and nourishes hair follicles enabling them to resume their regular functions. This prevents hair fall and your mane bounces with health. Amla is extremely rich in Vitamin C which makes it an excellent exfoliating agent. Amla cleanses the scalp like no other making way for essential oils and other nutrients to get to the hair follicles. Being anti-bacterial and anti-inflammatory in nature, Amla prevents scalp conditions from being aggravated and nips them in the bud. From soothing and calming the mind on the inside, Amla treats split-ends and provides natural shine and luster by rejuvenating dull and damaged hair. Amla also takes care of chemically treated hair as it does not allow free radicals to effect the air, thanks to its anti-oxidant nature.

How does Shikakai benefit the hair ?

A proper cleansing for the hair is always talked about but another aspect of hair care which is equally important is conditioning. Hair, after effective exfoliation, tend to lose moisture and this makes them dry, lifeless, lack-luster and frizzy. This sort of hair is unmanageable and looks equally wild. Shikakai tames wild hair and instils in them the beauty that will catch everyone's attention. Literally meaning 'fruit of the hair', Shikakai is an all natural herb that is capable of deeply conditioning the scalp and provide that touchable softness to the hair. Taking care of oil regulation in the scalp, Shikakai works wonders for hair. Without stripping the hair of the natural oils, Shikakai cleanses, tames the texture and provides the necessary nourishment to bring about that sheen, bounce and life back in your hair. Having a low pH, Shikakai is mild on the hair and efficient enough to eliminate lice and tackle dandruff.

Why do hair experts swear by Reetha for a beautiful mane ?

With season changes and a careless lifestyle, the hair are bound to fall prey to damaging factors and infections. Sapindus mukorossi or commonly known by its household name Reetha, is an excellent solution to that gorgeous mane everyone would be envious of. Reetha can be called a scalp guard as it does not allow dandruff, lice or any kind of hair infections to attack you. The nutshell of Reetha contains saponin which has soap-like properties. This helps in effective cleansing. With scalp conditions at bay, the hair grows properly and is shinier, more beautiful and manageable. Reetha makes hair softer to touch and pleasing to look at. Reetha's insecticidal properties do not let microbes to persist on the hair. Hair boom in shine with pampering from this natural herb Reetha."

Apply Vaadi Shampoo On Wet Scalp And Hair. Massage It Gently Into The Scalp. Rinse And Repeat If Required. For Best Results Use Vaadi Herbals Superbly Smoothing Olive Conditioner.
Country of Origin: India
Manufacturer & Packer: Vaadi Herbals Pvt. Ltd.
Address: A-40, Jhilmil Industrial Area, Shahdara, East Delhi, Delhi - 110095.