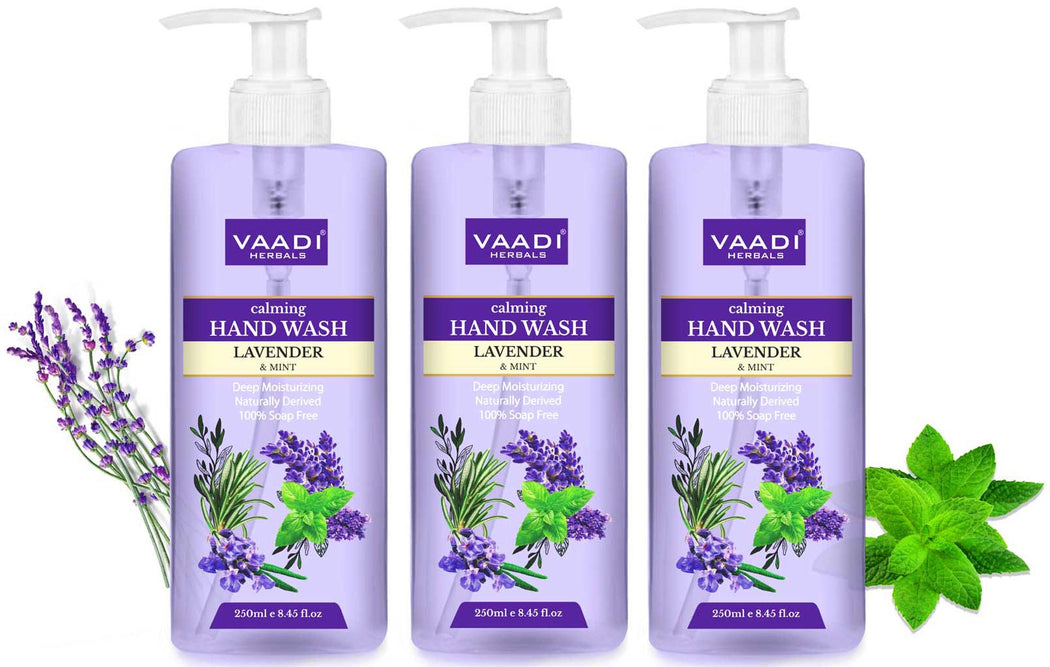 Pack of 3 Calming Lavender & Mint Hand Wash - Deep Moisutirizing (250 ml x 3)
M.R.P. incl. of all taxes.
Enriched with the luxurious fragrance of pure Lavender Oil & Mint extract, this hand wash helps the skin maintain its natural moisture balance and keep hands extra soft. While Lavender renews tired and damaged skin, soothes sense, Mint heals and repairs skin, keeps hands feeling refreshed.

Ingredients : Extracts of Lavender (Lavandula Angustifolia), Steam Distilled Mint (Mentha Piperita) Extract, Lavender Essential Oil, Olive Oil Derivatives, Tea Tree Oil, Pure Lavender Water & DM Water (Aqua).

Lavender and Mint hand wash is an effective cleanser that leaves your skin feeling fresh, healthy and clean. The gentle frangrance leaves behind a trail of freshness and calms senses. This hand wash helps maintain the natural moisture balance in skin and the hands feel beautifully soft and conditioned.

Lavender Oil is extracted from certain species of Lavender flowers by method of distillation. Its pleasant fragrance leaves hands feeling fresh all day and keeps from free from infection. Lavender oil helps relieve pains caused by sore muscles, and sprains. Lavender acts as a refreshing agent which helps in providing relief from stress.

This aromatic ingredient calms the skin and heals it in the process while you enjoy the perfect perfume and cool effect. Rich in Vitamin A and salicylic acid, Mint reduces excess oil by regulating it wherever most necessary and strengthens the skin tissue making it less prone to breakage, dryness and the unpleasant dry look. Mint, acting like a soothing scrub, clears up the dead cells that gather around the fingers making them dark.

Wet your hands and take a coin sized amount of the liquid wash. Rub to form lather and wash hands fully. Rinse under running water
Country of Origin: India
Manufacturer & Packer: Vaadi Herbals Pvt. Ltd.
Address: A-40, Jhilmil Industrial Area, Shahdara, East Delhi, Delhi - 110095.