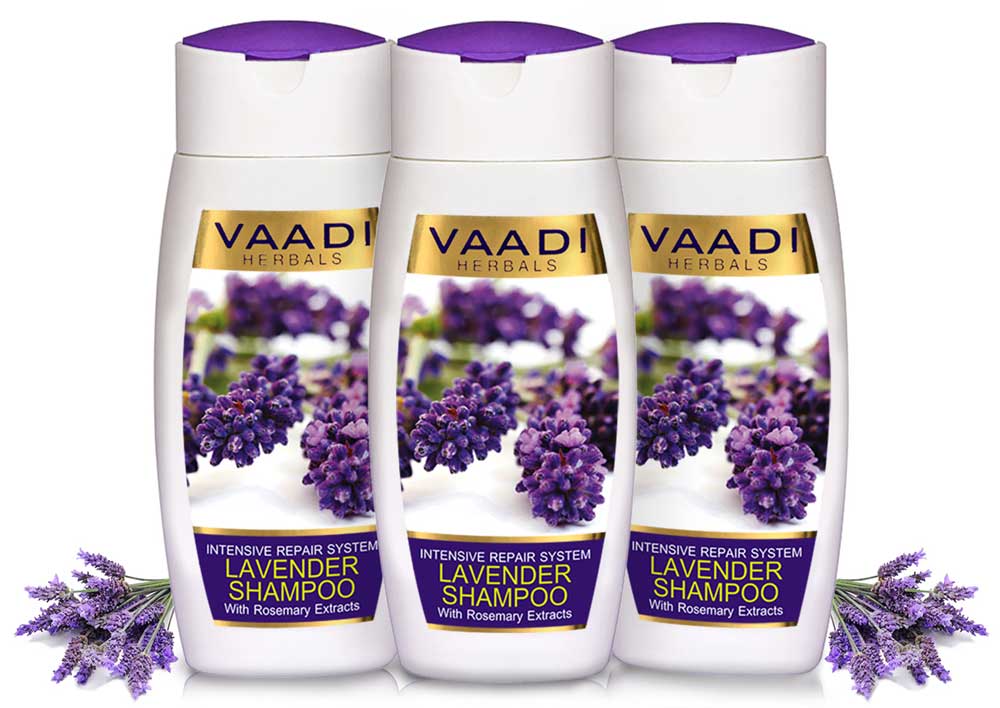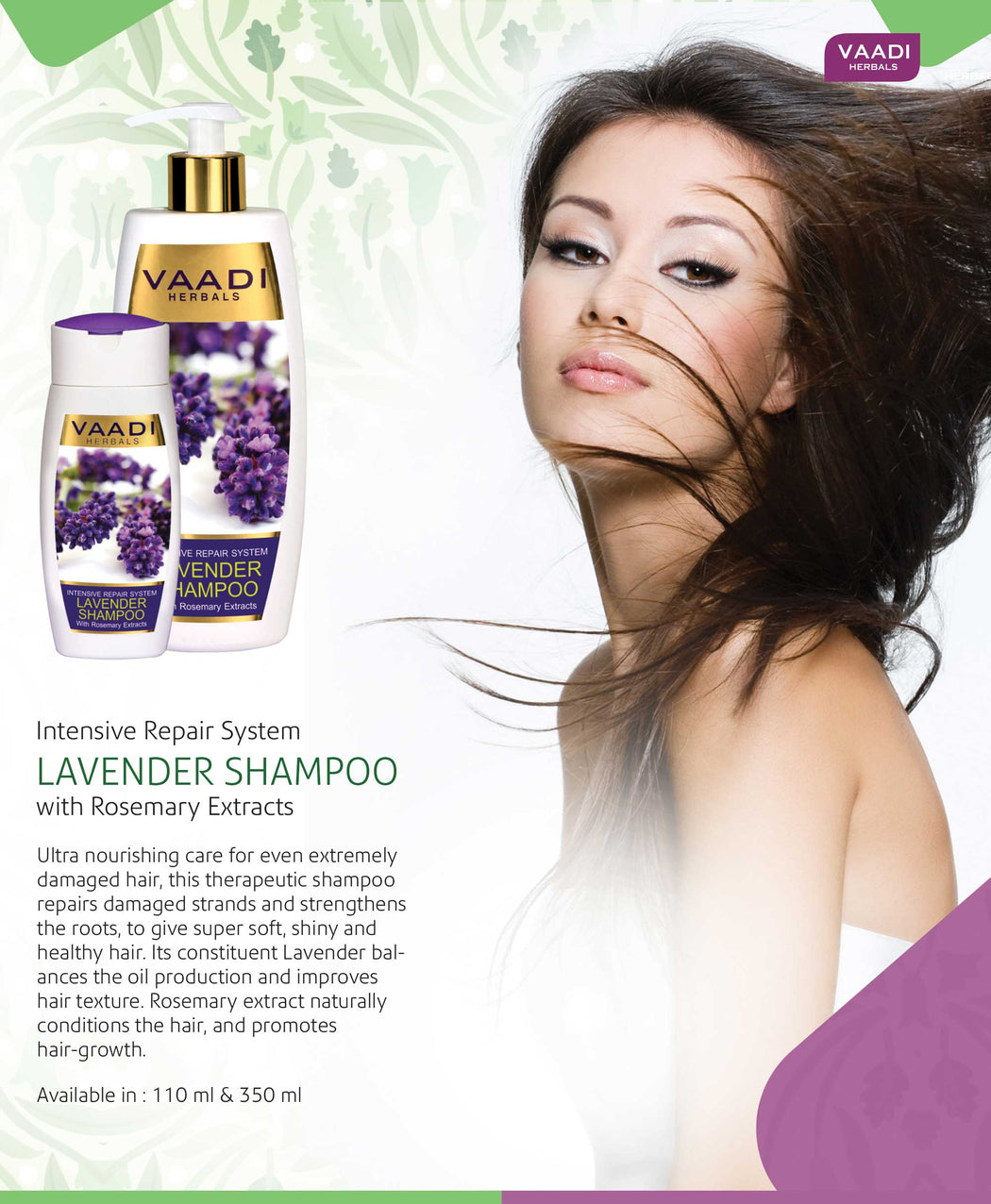 Pack of 3 Lavender Shampoo With Rosemary Extract-Intensive Repair System (110 ml x 3)
M.R.P. incl. of all taxes.
Ultra nourishing care, for even extremely damaged hair, this therapeutic shampoo repairs the cuticles and strengthens the roots, to give you super soft, shiny and healthy hair. Its constituent Lavender balances the oil production and improves hair texture. Rosemary extract naturally conditions the hair, and promotes hair-growth.

Ingredients : Lavender Extract (Lavandula Angustifolia), Rosemary Extract ( Rosmarinus Officinalis Extract), Soya Extract (Glycine Soja), Calendula Extract ( Calendula Officinalis Extract), Pure Honey (Mel Extract), Coconut Oil Derivatives ( Cocos Nucifera Oil), DM Water (Aqua)

What causes damage to the hair ?

They can make or mar your first impressions. A glossy, healthy mane always speaks for itself but in today's hectic lifestyle it is almost impossible to take care of hair. Sun's UV rays, wind, pollution, excessive shampoo, heat styling, hard water and stress are some of the important factors that damage hair and cause hair fall. While extreme weather conditions target the hair follicles, growth is tapered with and these also give rise to a number of hair problems. Be it premature greying, hair fall, dandruff, lice, itching, lack-lusterless, etc. The hair contains keratin which makes them strong, shiny and healthy. When hair follicles aren't strong enough, hair-growth is hampered. Regular shampoo and conditioning with a good therapeutic shampoo will bring back the life in your hair. Chemicals damage hair to an extent that only an effective therapeutic shampoo can regenerate hair follicles' strength and improve hair texture.

What are the benefits of Lavender in Hair care ?

Lavender Oil is a well-known aromatherapy oil that is extracted by the process of stream distillation from flowers of lavender plant. With its intoxicating aroma that calms the nerves and helps DE-stress, Lavender Oil restores the scalp moisture lost to excessive weather conditions and improves the texture of the hair. Scalp conditions are distorted with the external stimuli acting on it making it vulnerable to fungi (dandruff), lice and dullness. Lavender Oil effectively tackles hair loss. Even severe conditions like Alopecia areata wherein bald patches are formed on the scalp, can be treated with Lavender oil. Dry scalp, lice eggs, limpness, thinning, etc. are things of past when it comes to Lavender Oil. Dandruff and itchiness disappear within a few days of use. Lavender Oil soothes the senses and works miraculously to give you that dream mane.

How is Rosemary essential in nourishing damaged hair ?

One of the most important aspects of hair care is its growth. With everything natural being used to cleanse and condition hair, Rosemary or Rosmarinus Officinalis plays a pivotal role in nourishing hair and nullifying the damage caused by the various factors including extreme weather, bad hair care regime or even heat styling. Rosemary, a naturally fragrant herb makes up for the perfect volumizer and deep-conditioner for the hair as it makes hair more manageable, glossier and healthier. Split ends and itchiness vanish away within days of Rosemary treatment. A soft and beautiful mane is a gift of Rosemary's nourishment and root to tip care. A radiant shine is evident."

Apply Vaadi Shampoo On Wet Scalp And Hair. Massage It Gently Into The Scalp. Rinse And Repeat If Required. For Best Results Use Vaadi Herbals Red Flower Nourishing Conditioner.
Country of Origin: India
Manufacturer & Packer: Vaadi Herbals Pvt. Ltd.
Address: A-40, Jhilmil Industrial Area, Shahdara, East Delhi, Delhi - 110095.