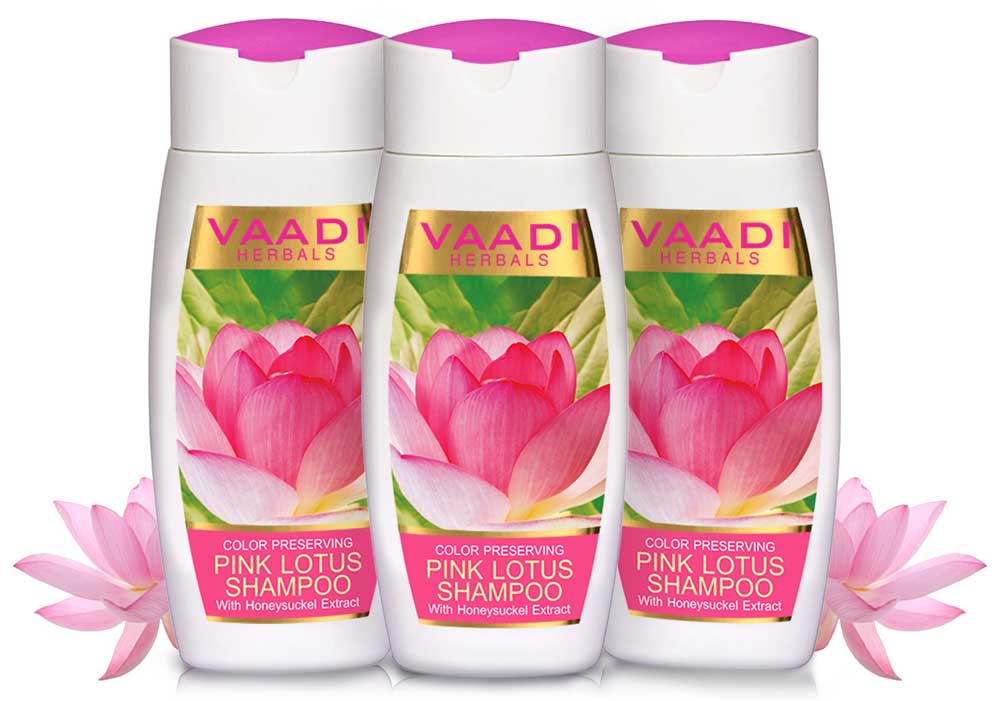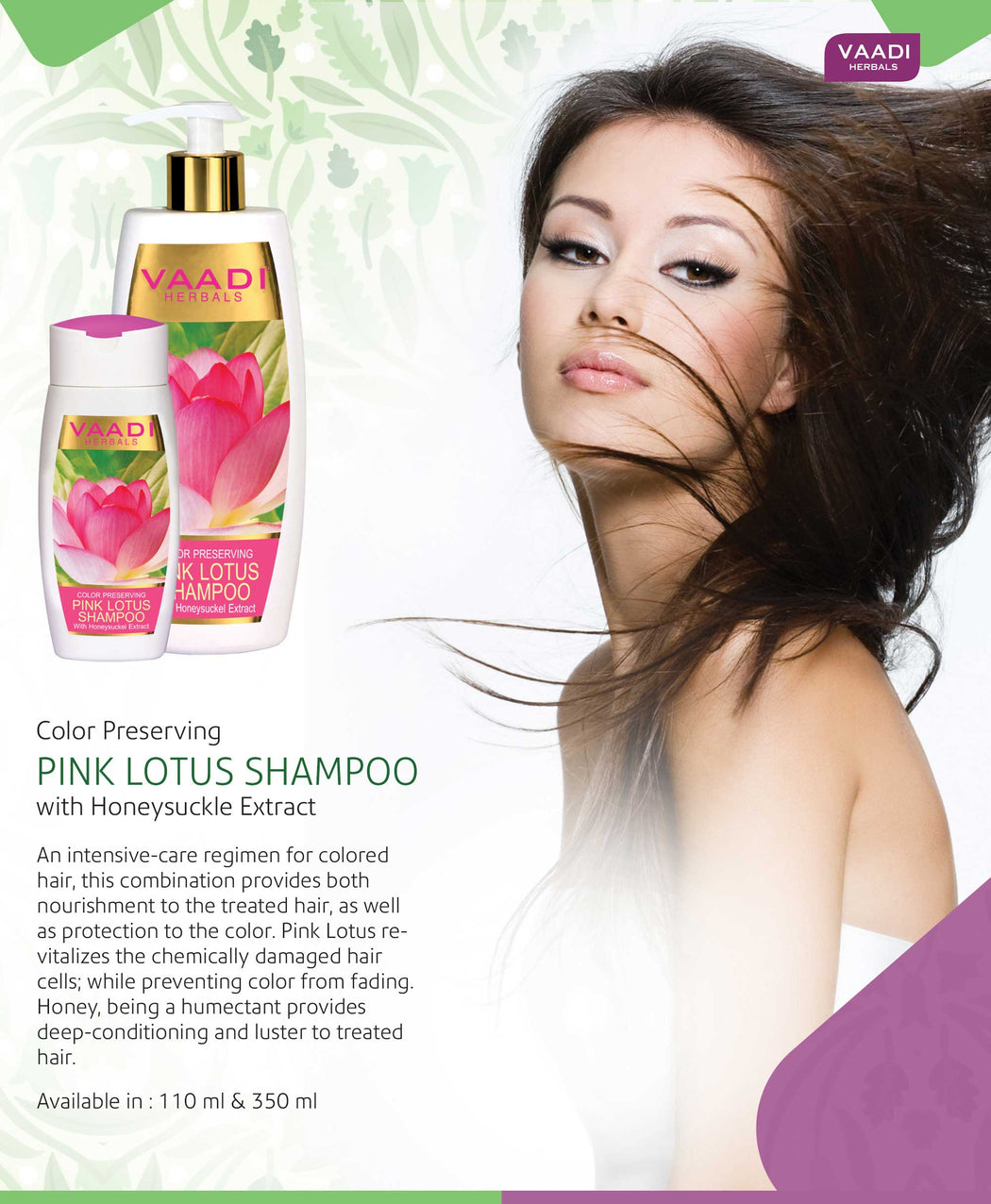 Pack of 3 Pink Lotus Shampoo With Honeysuckel Extract - Color Preserving (110 ml x 3)
M.R.P. incl. of all taxes.
An intensive-care regimen for colored hair, this combination provides both, nourishment to the treated hair, as well as protection to the color. Pink Lotus revitalizes the chemically damaged hair cells; while preventing color from fading. Honey, being a humectant provides deep-conditioning and luster to treated hair.

Ingredients : Pure Pink Lotus Extract ( Nelumbo Nucifera), Coconut Oil Derivative (Cocos Nucifera), Organic Honey (Mel Extract), Pure Aloe Vera Juice (Aloe Barbadensis Leaf Juice), Jojoba Oil (Simmondsia Chinensis), Vegetable Protein ( Hydrolyzed Soy Protein), Honeysuckle Flower Extract , DM Water (Aqua)

Why does Chemically treated hair or colored hair need special care ?

Chemicals have a harmful effect on the hair follicles, hair texture as well as the scalp. No matter how we try to stay away from ammonia and other frequently used chemicals, when we are coloring our hair or going in for rebonding treatments, we can't escape this fact that our hair will react in a certain way. Therefore, it is important to give back the lost nutrients to the hair and strengthen them so as to not having to repeat the treatment again and again. If the color fades off to soon or the straightening doesn't work for long, it will have to be repeated and hair face the same drill all over again.

How is Pink Lotus beneficial for colored hair ?

The benefit of Lotus have their origin in the Indian Vedic Science- Ayurveda. It is known to be a spiritually sacred flower and has numerous healing benefits including its role in enlightenment and peace. Apart from that, Lotus has unique effects on the skin and hair. Pink Lotus extracts promote regeneration and strengthening of hair follicles thereby making hair more stronger and prevent premature graying. Pink Lotus Extracts helps in re-balancing the scalp's natural moisture. Pink Lotus is rich in alkaloids and flavonoids. It leaves the hair silky and preserve chemically treated hair or colored hair from any possible damage. Color lasts longer and hair retains its health and luster throughout. It softens the hair by conditioning each strand. Pink Lotus has an amazing fragrance which stays with you all day long.

What is Honeysuckle Extract and how does it benefit hair ?

One of the oldest medicinal herbs known in history, Honeysuckle is an enticing fragrance herb which proves extremely beneficial for hair care. Honeysuckle has different varieties in China, India, Europe and North America. It smooths hair strands, helps in strengthening hair and provides a beautiful shine to the hair. The hair texture is drastically improved and dull, brittle hair bounce with health and life. Honeysuckle Extract, also known as woodbine, helps in longer color retention by nourishing hair with essential minerals, making them more capable of holding on the color for longer duration. It gives hair a fruity fragrance and also has refreshing cooling benefits which cure headache.

Apply Vaadi Shampoo On Wet Scalp And Hair. Massage It Gently Into The Scalp. Rinse And Repeat If Required.For Best Results Use Vaadi Herbals Red Flower Nourishing Conditioner.
Country of Origin: India
Manufacturer & Packer: Vaadi Herbals Pvt. Ltd.
Address: A-40, Jhilmil Industrial Area, Shahdara, East Delhi, Delhi - 110095.