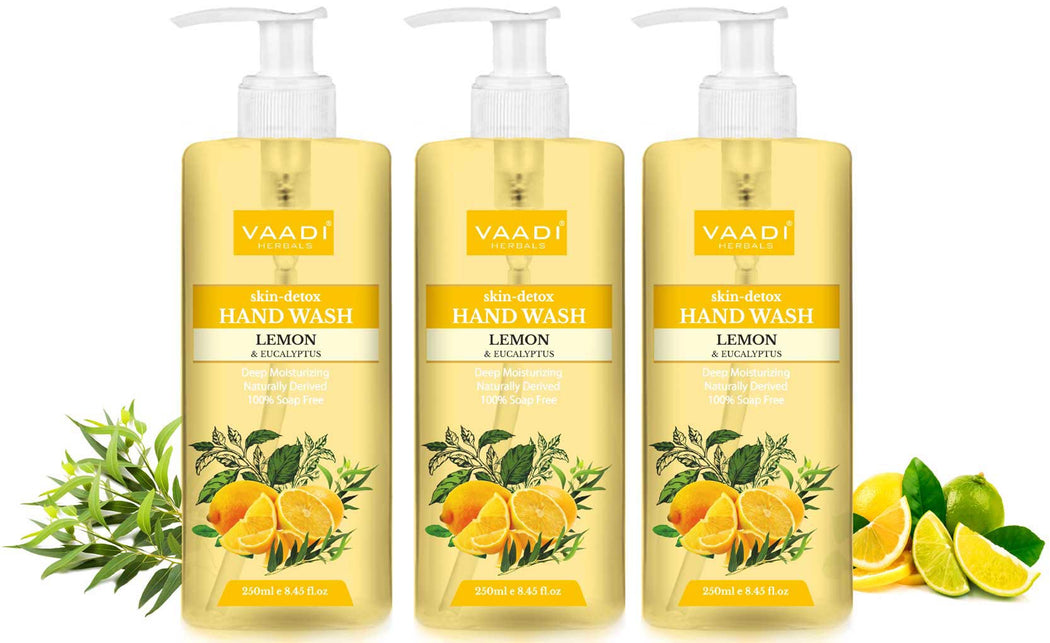 Pack of 3 Skin-Detox Lemon & Eucalyptus Hand Wash (250 ml x 3)
M.R.P. incl. of all taxes.
Vitamin C rich and anti-bacterial Lemon oil along with Eucalyptus extract keep the hands feeling renewed, extra soft and supple. Lemon is anti bacterial in nature, fights infection and keeps hands clean while Eucalyptus keeps skin pores thoroughly clean and hydrated

Ingredients : Pure Extract of Lemon (Citrus medica limonum) Peel, Steam Distilled Eucalyptus leaf Extract, Coconut Oil Derivatives, Lemon Essential Oil, Corn Extract, Aloe Vera Extract & DM Water (Aqua).

Lemon and Eucalyptus hand wash is an effective cleanser that leaves your skin feeling fresh, healthy and clean. The gentle frangrance leaves behind a trail of freshness and calms senses. This hand wash helps maintain the natural moisture balance in skin and the hands feel beautifully soft and conditioned.

The Lemon peel extract is acidic in nature, quite like the fruit itself. Its acidity makes it useful as an astringent or toner, and also as an anti microbial. Additionally, it has a bleaching action too; lightening dark spots caused by sun damage, aging or acne. As a toner, it controls skin's oiliness and restores the natural pH balance. It also removes impurities and dead cells.

It is a natural antiseptic with antifungal, antiviral, anti-inflammatory and antibacterial properties making it highly effective in treating minor cuts, boils, insect bites, skin infections and more. It also makes a natural mositurizing agent that provides protection against sun and easily gets massaged into the skin.

Wet your hands and take a coin sized amount of the liquid wash. Rub to form lather and wash hands fully. Rinse under running water
Country of Origin: India
Manufacturer & Packer: Vaadi Herbals Pvt. Ltd.
Address: A-40, Jhilmil Industrial Area, Shahdara, East Delhi, Delhi - 110095.