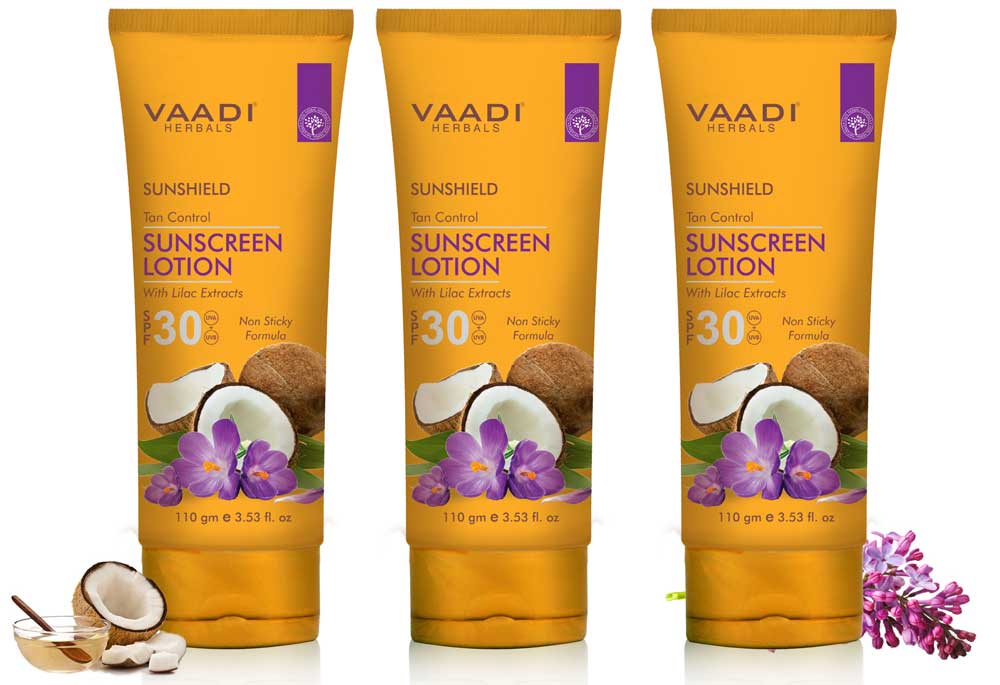 Pack of 3 Sunscreen Lotion SPF-30 with Lilac Extract (110 ml x 3)
M.R.P. incl. of all taxes.
An all-season essential, this non-greasy lotion protects the skin from harmful UV rays of the sun and prevents it from tanning. The Lilac extract protects the skin against sun burn, while soothing it post exposure. Its anti-oxidant components act as a shield and prevent damage to the skin cells due to over-exposure to the sun's rays.

Ingredients : Lilac Extract (Syringa Vulgaris), Steam Distilled Lavender Extract (Lavandula Angustifolia), Birch Extract ( BETULA ALBA BARK EXTRACT), Coconut Oil Derivative (Cocos Nucifera), Pure Black Plum Extract (Prunus Domestica), Shea Butter (Butyrospermum Parkii), DM Water (Aqua)

Why does the skin need protection from the sun?

The skin acts as a perfect shield from environmental changes and diseases. To carry on its functions effectively, the skin too needs nourishment and strength. The body gets the essential Vitamin D from the Sun. But what one over-rules here is the fact that the same Sun also sends the harmful UVA and UVB rays to the earth which are damaging the skin. If not kept under tab, it can also lead to permanent darkness, excessive pigmentation and in worst cases, skin cancer.

Why is this sunscreen lotion in SPF 30 important for my skin?

This lotion is packed with nutrients and comes in an easy to carry tube shaped bottle that promises to keep your sun related worries at bay. It comprises of ingredients such as Lilac which protects the skin from excessive tanning while soothing sun burns. It also consists of Lavender which protects the skin from UV induced damage. This lotion in SPF 30 should be liberally and evenly applied on face and exposed parts of body (arms, neck, legs etc). It should be re-applied if in the sun over 2 hours.

How do Lilac extracts counter the effect of the sun?

Lilac flower extracts prove to be excellent skin soothing agents. Easily penetrable Lilac extracts seep down the layers of the skin and unleash their anti-microbial action on the bacteria and infections that may result in allergies and acne. Sun tans, Sun burns and pigmentation instantly disappear with regular use of Lilac Extracts on the skin as the skin breathes properly with pores unclogged and skin perfectly protected, making it beautiful day after day.

How does Lavender Extract prove to be effective?

Over exposure to the sun results in damaging of the free radicals in the skin. Lavender Extracts are known to act as an apt skin protector. Lavender Extracts facilitate the regulation of sebum and oil production in the skin and also help in removal of sun tan by its skin whitening effect and retarding the production of Melanin. Lavender Extracts are beneficial for all kinds of skin- dry, normal of combination and aid in clearing acne, dark spots, blemishes and soothing of sun burns. Allergies are drastically reduced and skin breathes healthy and flawless. Lavender Extracts' anti bacterial property and damage-reversal behavior makes it an ideal ingredient.

Apply Liberally And Evenly On Face And Exposed Parts Of Body (Neck, Arms, Legs Etc.) Before Exposure To Sun.
Country of Origin: India
Manufacturer & Packer: Vaadi Herbals Pvt. Ltd.
Address: A-40, Jhilmil Industrial Area, Shahdara, East Delhi, Delhi - 110095.