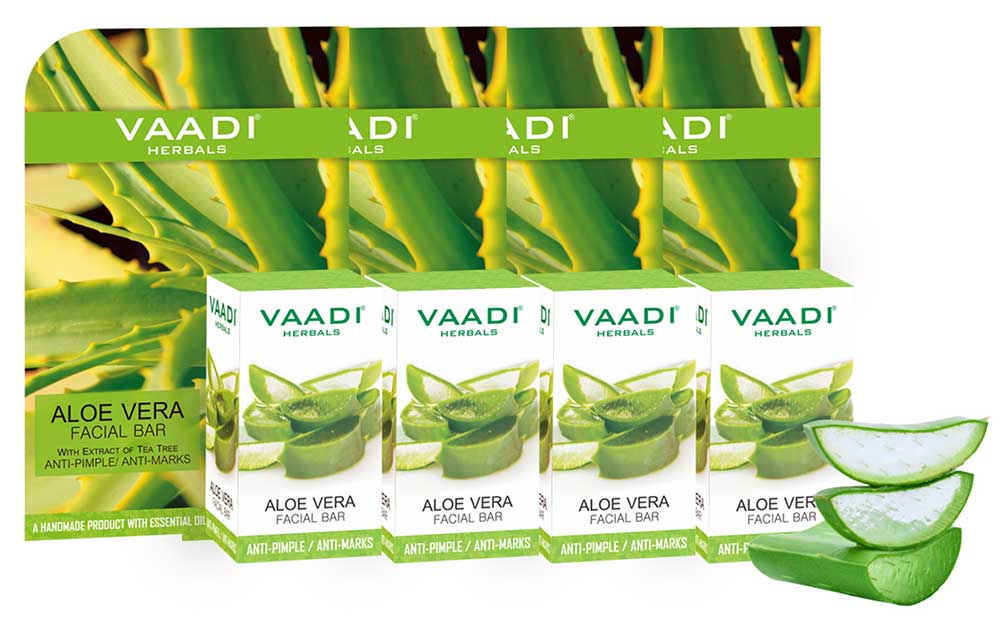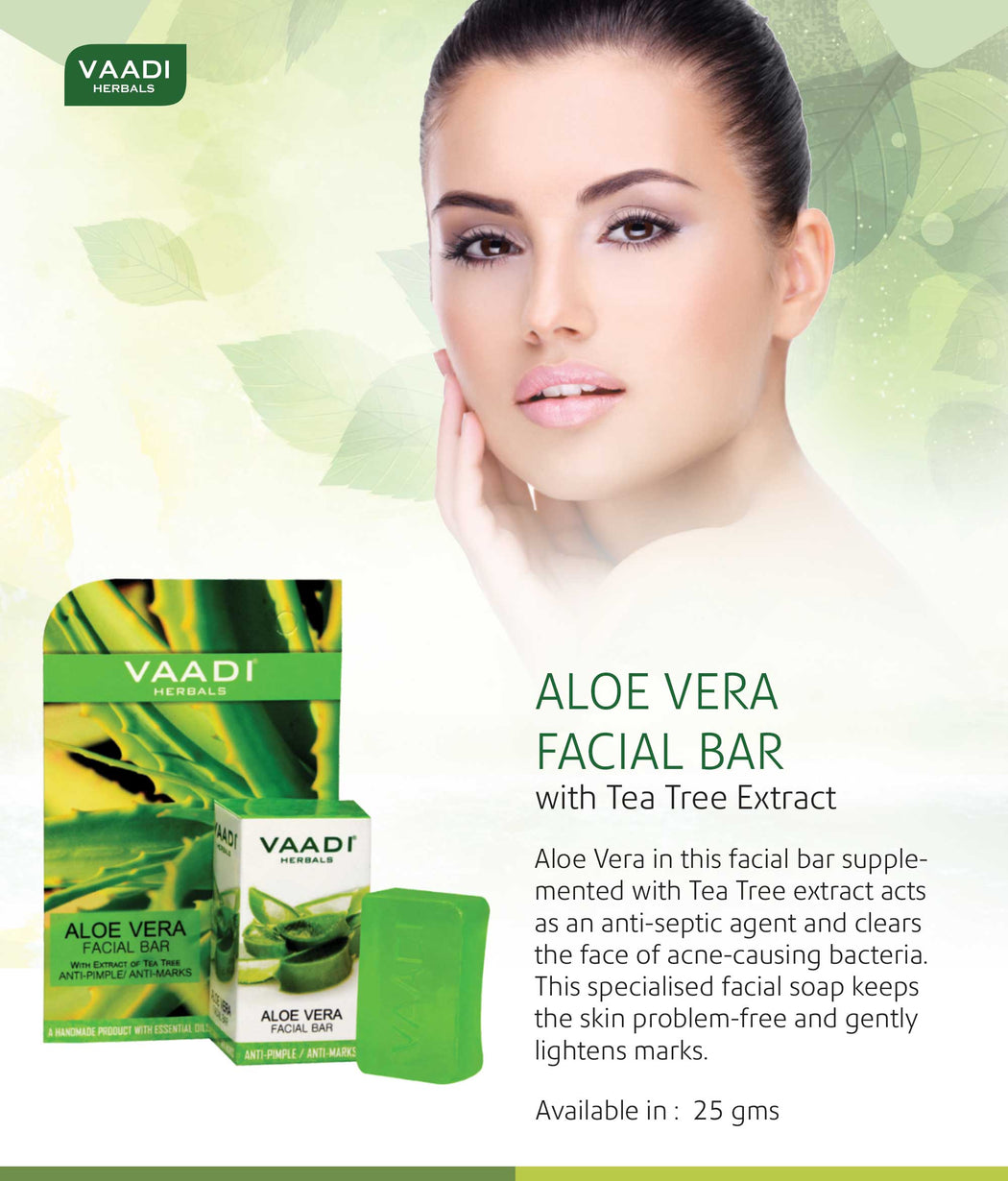 Pack of 4 Aloe Vera Facial Bars with Extract of Tea Tree (25 gms x 4)
M.R.P. incl. of all taxes.
Aloe Vera in this facial bar supplemented with Tea Tree extracts acts as an anti-septic agent and rids the face of acne-causing bacteria. This specialised facial soap keeps the skin problem free and gently lightens marks.

Ingredients :Apple Extract (Pyrus Malus), Steam Distilled Papaya Extract (Carica Papaya), Coconut Oil Derivative (Cocos Nucifera), Pure Honey (Mel Extract), Aloe Vera Gel (Aloe Barbadensis), DM Water (Aqua) 

What comprises of proper skin nourishment ?

Glowing or radiant skin is a sign of healthy skin. The health of the skin is further dependent on proper nourishment; which includes proper cleansing, along with hydration and nutrient supply. Milder soaps cannot properly cleanse the skin. And harsher ones do rid the skin of impurities; but also steal away its moisture. But, neither cleansing nor moisturizing can be ignored. This is because proper cleansing betters the nutrient supply to the cells, while keeping skin free of infections and acne. Adequate nutrient supply helps skin repair faster, and stay healthier. As for hydration, it strengthens the cells, maintains skins elasticity, delays wrinkling. And a well hydrated skin is less prone to damage from external factors.

What are the benefits of using honey as a skin cleanser and moisturizer ?

Honey is both a skin cleanser and a moisturizer. A natural humectant, honey not only has the ability to absorb moisture, but also retain it. It thus hydrates and nourishes the skin, without making it oily; and as such is suitable for both oily and dry skin. Optimum hydration makes the skin soft and supple; granting it elasticity and delaying the appearance of wrinkles. Its cleansing activity is attributable to the presence of methylglyoxal; which renders it anti-bacterial property. This makes it effective against acne and other skin infections. And its anti-irritant property helps soothe the skin. Honey exhibits anti-oxidant properties too.

How does Aloe Vera add to the softness and smoothness of skin ?

Being rich in Vitamins E and C, aloe vera nourishes the skin effectively. It stimulates blood circulation, as well as removes dead cells from the surface. The former helps in better transportation, while the latter helps in better penetration of beneficial nutrients. A brightening agent for the skin, aloe vera not only moisturizes the skin, but also betters its ability to hydrate itself; that too while keeping the oiliness in check. It is even effective in reduction of dark spots and pigmentation. Aloe vera is also known for its capacity as a soothing agent for dry, irritated skin. Its anti-bacterial properties help fight a number of skin infections; as well as reduce and prevent recurrence of acne. The anti-oxidants in aloe vera, including Vitamin A and polysaccharides; render it effective as an anti-aging and healing substance. As it has the capacity to repair damaged tissues; while stimulating cell regeneration.

How does apple extract contribute to skin health ?

The extract of papaya (Carica papaya) owe much of its beneficial properties to a constituent enzyme, papain. The enzyme is a natural exfoliant cum toner. It removes dead skin cells from the surface; unclogs pores of impurities; shrinks enlarged pores; as well as treats acne and blackheads. The very same enzyme is also an effective skin whitening agent. It works wonders on dark spots, blemishes, freckles as well as sun-tan. Vitamins A, E and C in the extract are potent anti-oxidants. They improve cell turnover; stimulate production of collagen and repair cell damage; thereby, maintaining skin's elasticity and delaying wrinkles.

Apply Over Wet Face And Neck. Gently Work Up Rich Lather. Massage Gently In Circular Motion. Rinse Off And Pat Dry.
Country of Origin: India
Manufacturer & Packer: Vaadi Herbals Pvt. Ltd.
Address: A-40, Jhilmil Industrial Area, Shahdara, East Delhi, Delhi - 110095.