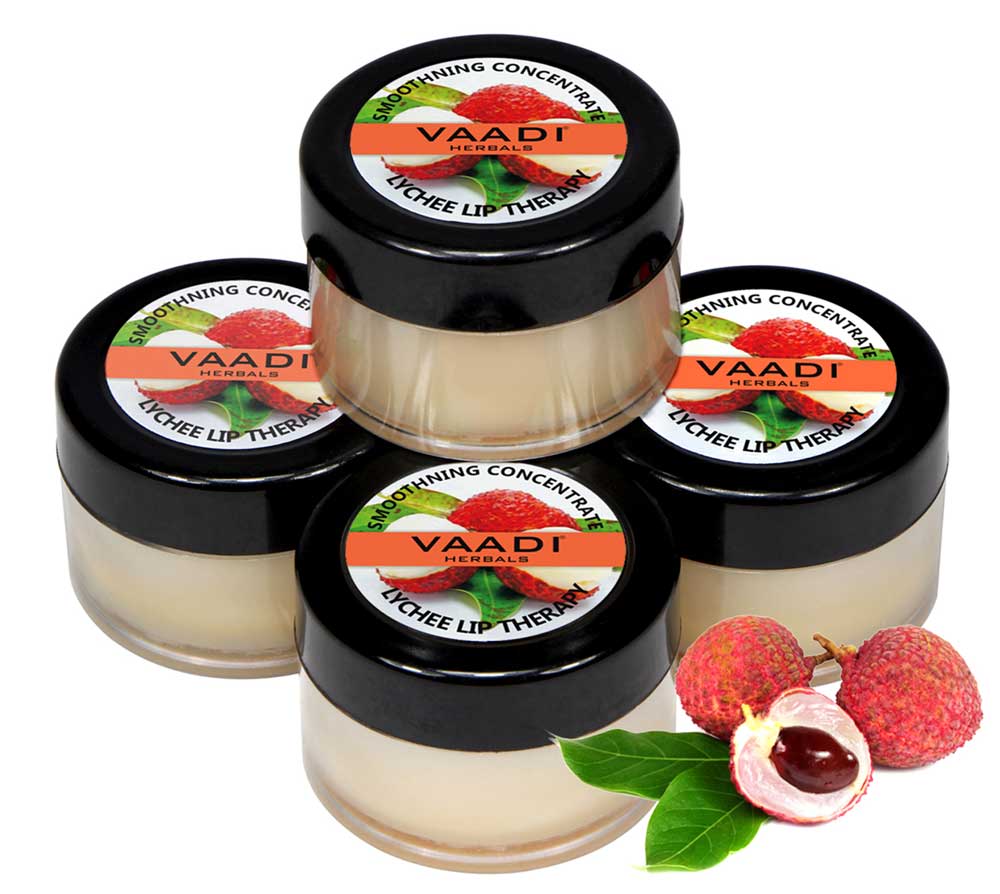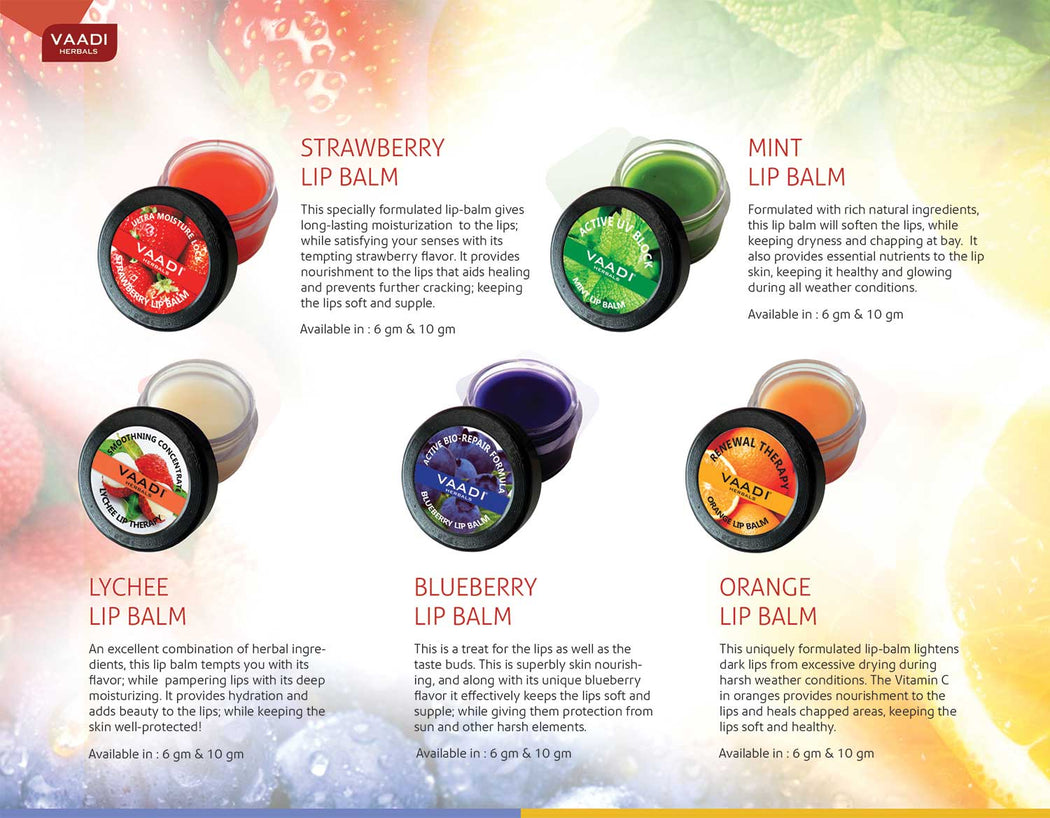 Pack of 4 Lip Balm - Lychee (10 gms x 4)
M.R.P. incl. of all taxes.
An excellent combination of herbal ingredients, this lip balm tempts you with its flavor; while pampering your lips with its deep moisturizing. It grants health and beauty to your lips; while keeping the skin well-protected!

Ingredients : Almond Oil (Prunus Amygdalus Dulcis Oil), Honey (Mel Extract), Soya Oil (Glycine Soja), Lychee Extract (Litchi Chinensis), Organic Beeswax (Beeswax), Olive Oil (Olea Europaea), Wheatgerm Oil (Triticum Vulgare)

Why do Lips need extra care ?

We wear layers of clothes to protect our self from extreme weather conditions, put on a lot of sun block to stay protected from the sun's UV rays but what about the lips? They are forever exposed, be it the winter chill or summer's skin burning air. Lips have a thinner layer of skin as compared to the skin on our body. Lips are sensitive to allergies, external factors, sun's UV rays and dirt. Lips need all the more protection to serve you better. After all, its the smile that makes the first impression. Why not make it an ever lasting one?

How is Lychee effective for lips ?

The evergreen Lychee (or Litchi) trees originated from the Fujian provinces of China and Guangdong. It is now grown in many parts of the world and is a common fruit in South Asia, Southeast Asia and Southern Africa. Lychee contains the one essential vitamin in abundance that the human body does not produce- Vitamin C. Lychee is highly rich in Vitamin C, Selenium, Potassium, Calcium and Vitamin B complex. Vitamin C keeps the lips safe from external factors such as pollution, extreme weather conditions, allergy, dryness and bleeding and makes the lips softer. The most important ingredient found in Lychee is Oligonol. This contains anti-influenza action and several important anti oxidants. Oligonol regulates the blood circulation and acts as a shield against the sun's harmful UVA rays thereby protecting lips from tanning. Pigmentation, spots and any kind of abnormalities are removed with a regular use of Lychee on the lips.

What is Jojoba Oil? How is it beneficial ?

This highly moisturizing oil is taken from Jojoba tree (Simmondsia chinenis) which is abundantly found in Southern California, South Arizona and North West Mexico. Wax Ester, as it is commonly called, Jojoba oil doesn't have the oil-like texture. Rather, it is similar to the oil produced by our skin's sebaceous glands. Jojoba Oil does not evaporate off the surface which makes it an excellent moisture locking agent, keeping lips hydrated round the clock. Chapped and damaged lips are intensively nourished and dryness is cured. Lips do not have oil glands. This makes it very important to keep them under a total moisture cover or else they fall prey to environmental changes, sun's UV rays and pollution. With Jojoba Oil lips become healthier, soft and have a natural shine. The presence of anti oxidants in Jojoba Oil helps in countering external stimuli, making lips pink.

How does Shea Butter keep lips soft ?

From the nuts of Vitellaria paradoxa or the Shea Tree which is found in Africa, Shea butter is extracted. Elevating the basic hydration level of the lips, Shea butter works its magic on the first few applications itself. This ivory-yellow butter promotes the regeneration of cells due to high content of Vitamin D. This makes it an excellent healer. Shea butter acts as a solid shield from sun, dirt, pollution and any kind of infections prevailing in the environment. Despite its look, Shea butter is anti-clogging in nature which means that it lets the lips breathe and absorb the most of all ingredients, not hindering the beautification process. Shea butter is anti inflammatory in nature and vanishes away dark spots within few applications. It is a natural sunscreen with SPF 6 and soothes the lips like no other.

Why is Almond Oil important for lip care ?

Since the lips do not have oil glands, they need extra moisture and protection from external factors. Almond oil is a great emollient which is known to regulate moisture balance effectively. Almond oil is easily absorbed and cures any kind of unpleasant sights- dry patches, chapped lips, cuts and bruises, that make the lips appear unhealthy. Almond oil is the perfect friend to brave the winter chill and harsh climatic conditions. It has a sweet smell and regular application of Almond oil makes lips soft, reduces any pigmentation, darkening and makes lips shimmer pink with health. "

Clean Lip Gently And Use Your Fingers To Apply The Lip Balm To Your Lips.
Country of Origin: India
Manufacturer & Packer: Vaadi Herbals Pvt. Ltd.
Address: A-40, Jhilmil Industrial Area, Shahdara, East Delhi, Delhi - 110095.